Cheap DIY Home Décor
Cheap DIY Home Décor
---
Just choose some of our top 10 selection and boost your creativity and let us know how it goes!
1. Decorate Your Wall With Paper Flowers Dahlias
via hgtv.com
You can decorate your wall with this stunning late summer flowers using paper in color of your choice. The project is very easy to make; you also can find a video here with step-by-step demonstration.
2. The DIY Plastic Bottle Bouquet Lamp Shade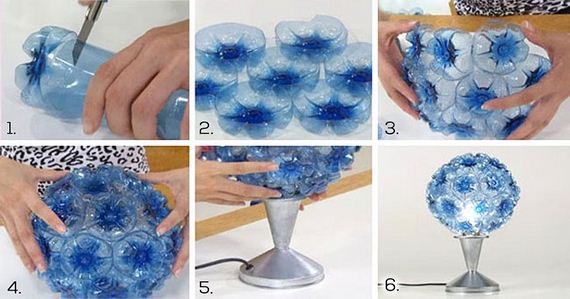 Here is a great idea for DIY bouquet lamp shade made from plastic bottles. This lamp is very decorative and beautiful and not too hard to make, just follow the project guide. Moreover you can choose bottle with different color to make sophisticate ambient lightening in your room.
3. Vintage Chic Storage Cans Containers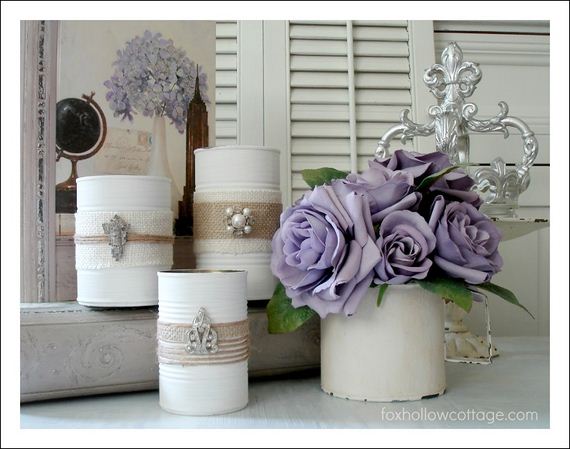 via foxhollowcottage.com
Make your own beautiful decorations repurposing old cans into elegant chic storage containers. You can paint them in any color that match to your home ambient and add bits of old jewellery, buttons, and ribbons from the stash. You can add fresh flowers in it or you can use them to store small things, or put your make-up inside. A perfect decor!
4. Gold Fringe Chandelier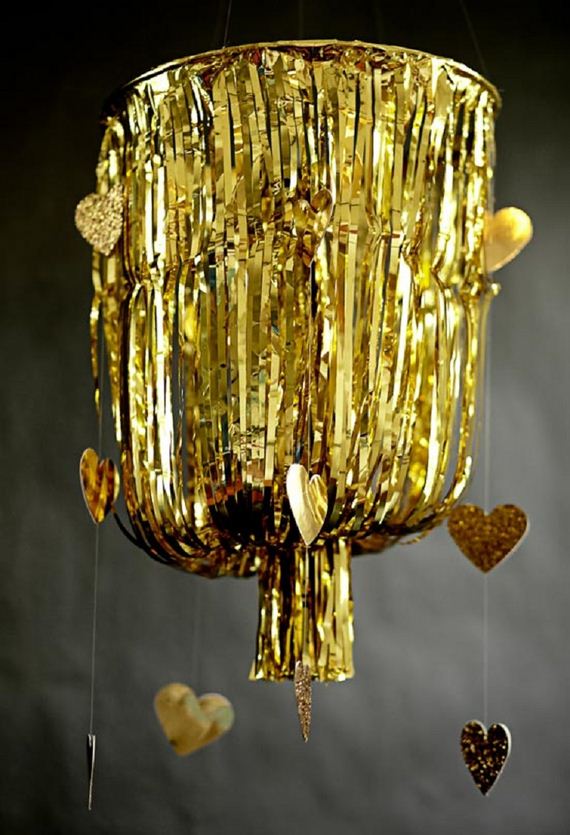 via 100layercake.com
Create this gorgeously fun chandelier using gold foil paper and it is about as cute as it gets. It is very easy to replicate yourself, and don't be afraid to experiment with color, too.
5. Hanging Macrame Chair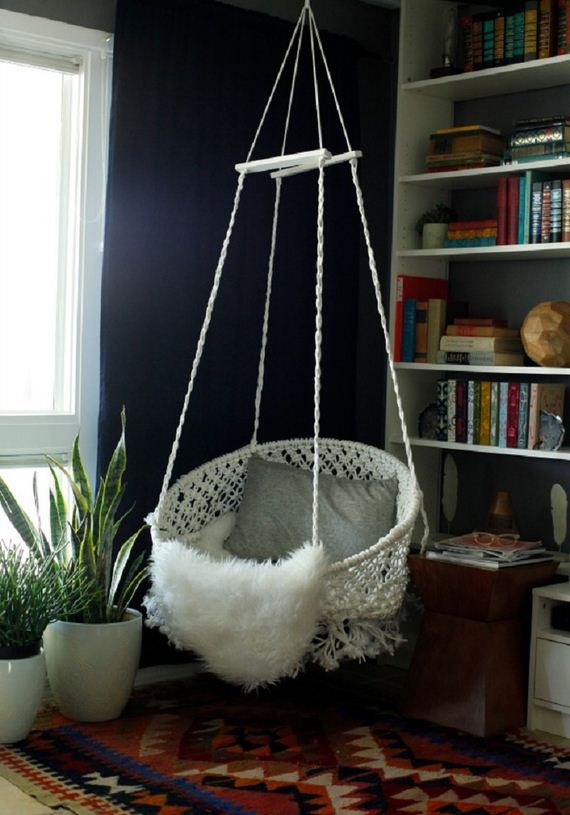 It will take a lot of time and effort to make this hanging macrame chair but it is worth it! Hanging macrame chair is a perfect and elegant decor, stylish and fashionable, matching with different room designs in every home since it is made in white color.
6. Wine Crates Display Cases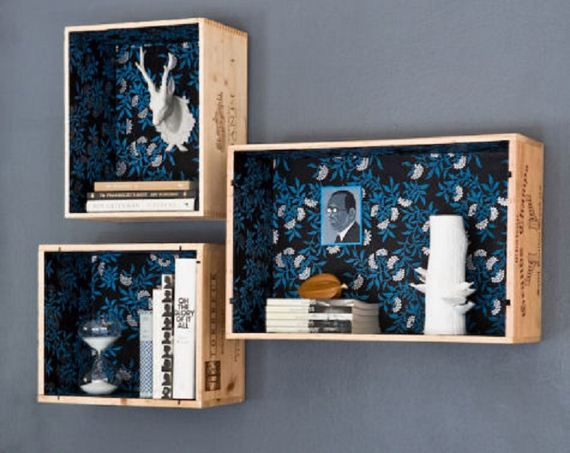 via designsponge.com
This project will add character and personality to your house. You can provide free crates in your local wine shop and embellish them with rich and elegant print. You can cover crates on either sides, inside and outside, or you can simple leave rough-hewn look outside and add print inside. It is your choice!
7. Wall Art Jewellery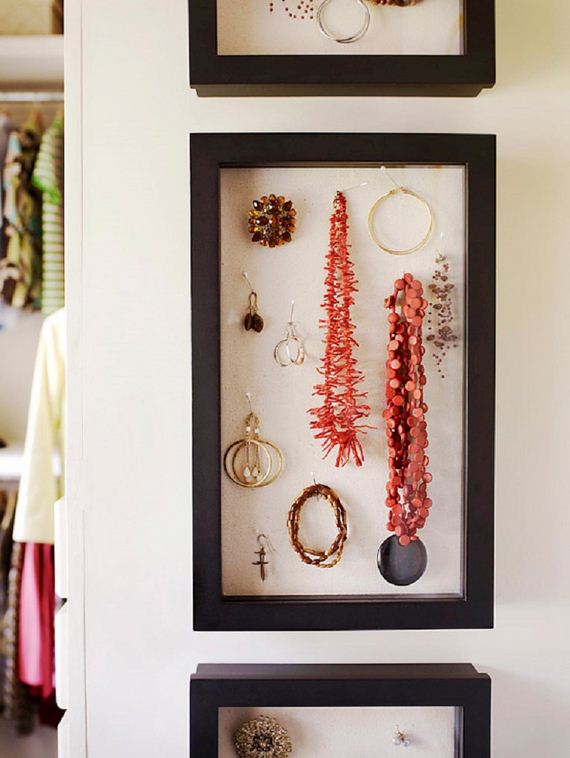 via bhg.com
Use your jewellery to dress up your walls. Turn the tangle of jewellery in your jewellery box into artwork. Not only will your walls sparkle, but you'll be more likely to wear pieces because you see them on a regular basis.
8. Decorate Curtains With Jewellery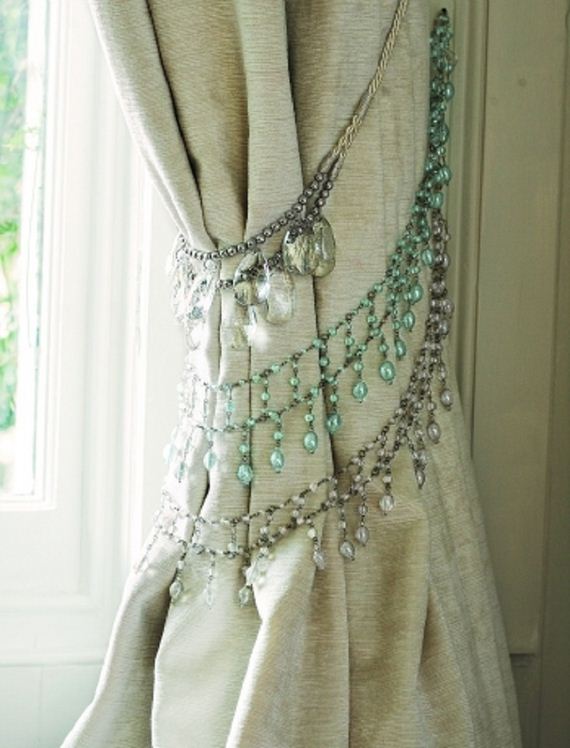 via uktv.co.uk
Another perfect use of your jewellery is to decorate your curtains. Some crystal necklaces as curtain tiebacks will be a wonderful decor. Be creative and add finished touch to your living room.
9. Stack Books Side Table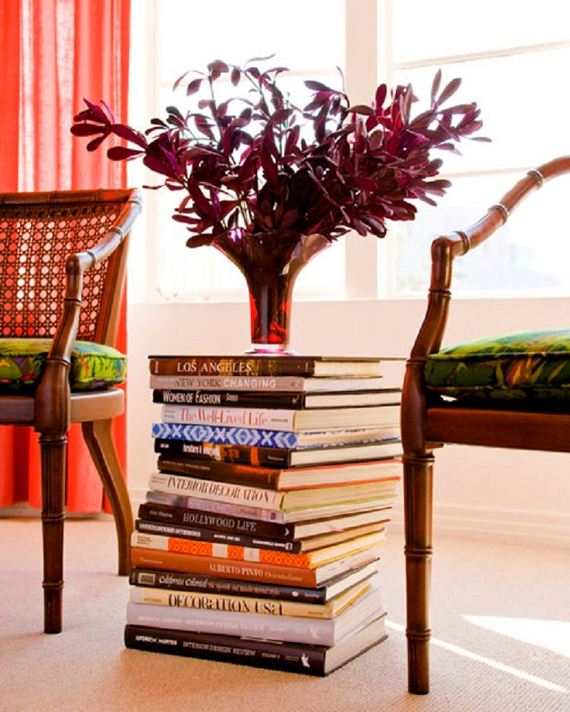 via designsponge.com
If you have many books and no shelves to organize them you can simply decorate your living room by placing the books by your sofa or chairs. You can also use stack books as a side table to put your cup of coffee, tea, or you can decorate them additionally with flowers vase.
10. Display Magazines on Hangers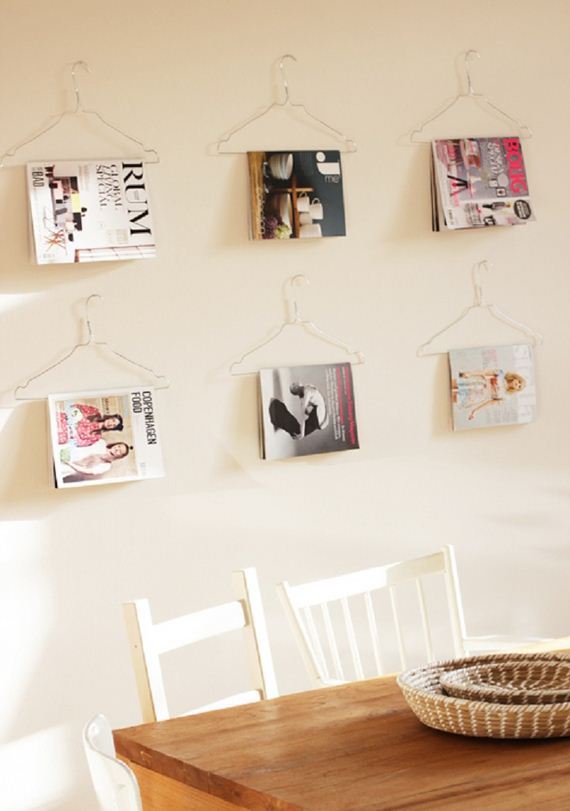 via ohhh.mhhh.de
For the easiest and fastest decor of your home you can simply display your favorite magazines on hangers. You will only have to choose thin hangers and shift magazines in the middle. On this way you can make easy spotting decor on your wall.
---
---