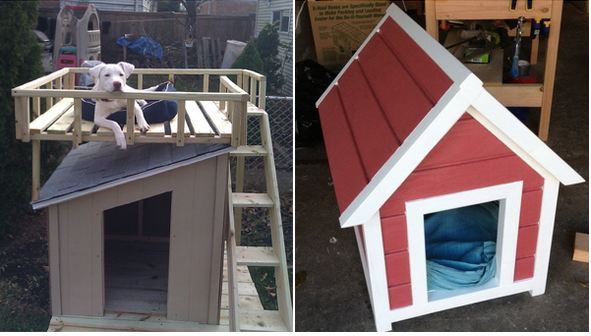 Cool DIY Dog House
Cool DIY Dog House
---
Dog houses are quite simple projects and can be usually done by someone with just basic building skills.
1. A-Frame Doghouse for under $75
This is a simple dog house plan that is not only easy to make but the finished dog house will look wonderful in your yard. Free plans at Instructables
2. Crooked Doghouse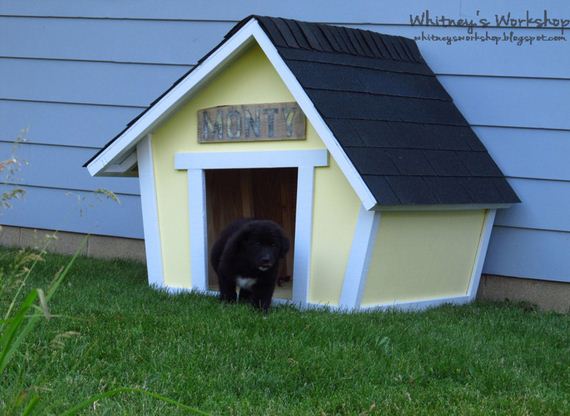 Add some character to the dog house you want to construct with this free plan for a crooked dog house. Free plans at Whitney's Workshop
3. Simple Elegance
Simple classic design that demonstrates to you what a big difference a great paint job might make! Build a dog house with these free easy step-by-step photos and plans at Remove and Replace
4. Log Cabin Doghouse
Give your pooch his own retreat with a rustic-style doghouse. Free plans at Diy Network
5. Build a Mini Ranch House
Here is a stylish ranch-style doghouse you can make for about $200. Free plans at Sunset
6. Simple Dog House Plans
Simple doghouse which you can build in just one weekend.
Free plans at My Outdoor Plans
7. Dog House with Roof Top Deck
An interesting twist on a typical dog house. Free plans at The Home Depot
8. Geometric Doghouse
Some dogs simply can't sleep in typical old dog houses: some need a modern, stylish design to match their character. Free plans at Homemade Modern
9. House Under The Stairs
If your dog is more indoor than outdoor, then maybe this under-the-stairs dog house is the perfect project for you. Free plans at Imgur
10. Sparky1 Free Dog House Plan
An insulated dog house made out of inexpensive and recycled building materials. Check out free plans at All About Dog Houses that includes drawings, a material list, and building instructions.
---
---