Cool Living Room Renovation Ideas
Cool Living Room Renovation Ideas
---
Living Room Makeover With Bold Black And Pops Of Color. Using too many colors requires art. the room had multiple colors but were not complimenting enough. With the main wall in bold black and little touches of emerald and raspberry throughout, the living room gives it a playful look that everyone looks forward to coming home to. jennaburger.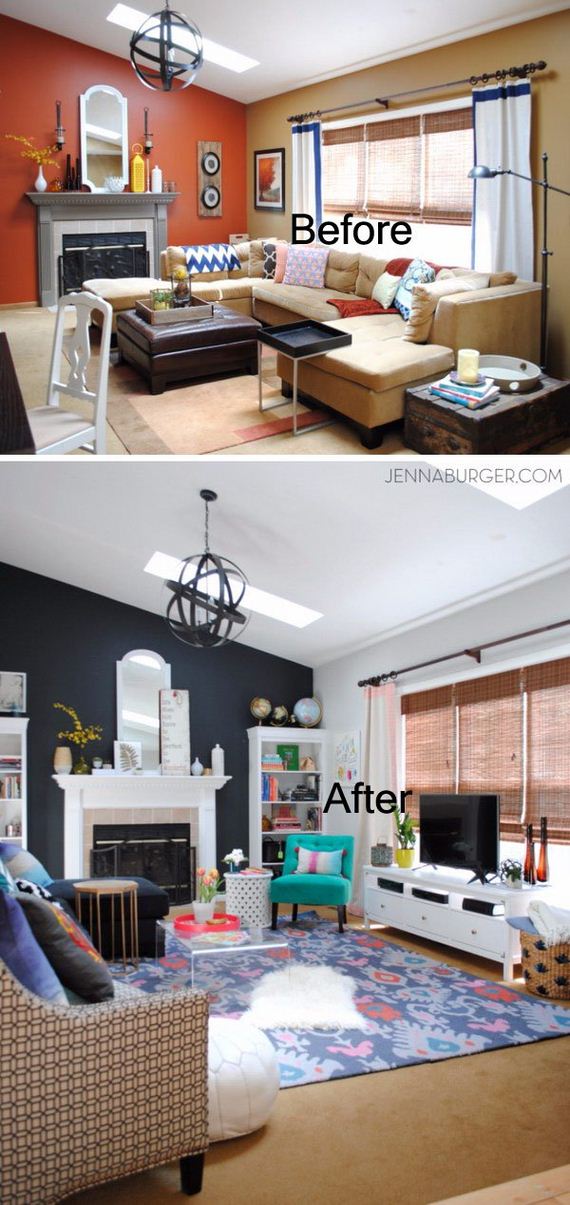 Living Room Renovation with Weathered Wood And Ledge Gallery Wall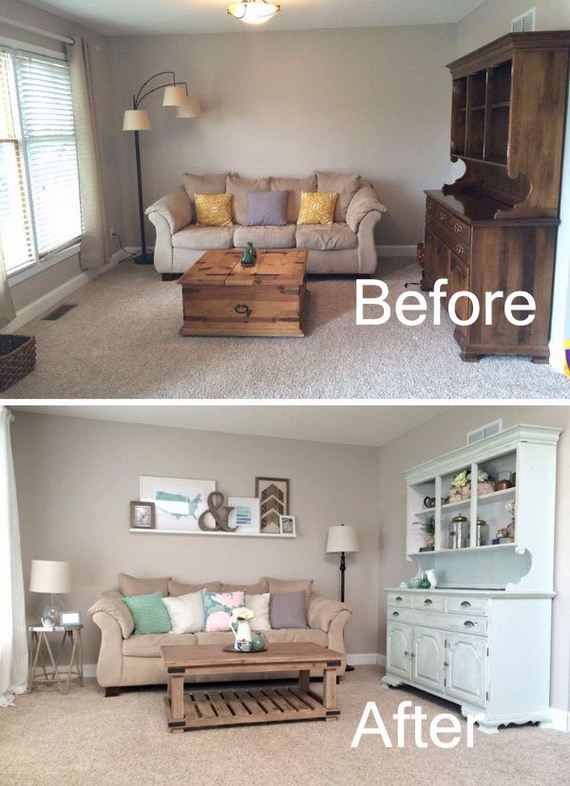 A room with boring outlook has been transformed into a fusion of vintage and chic. The addition of light blue with brown and white has given the room a spacious look. The room has an air of modernity but one is forced to experience some kind of nostalgia when they will enter the room. sobremesastories.
Gorgeous Charcoal Gray Living Room Transformation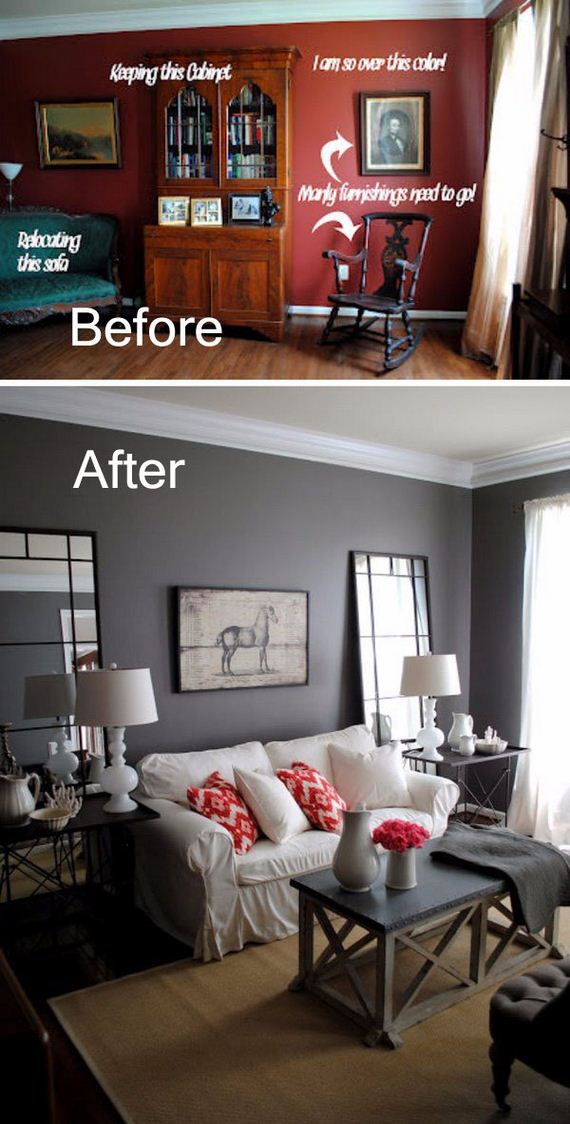 An old styled room converted into the white and gray color combination is bold and beautiful. The room has been converted into a piece of art that is both lavish and spacious. The designer has used the space in a way that makes the room look much bigger. thegraphicsfairy.
Dramatic Living Room Makeover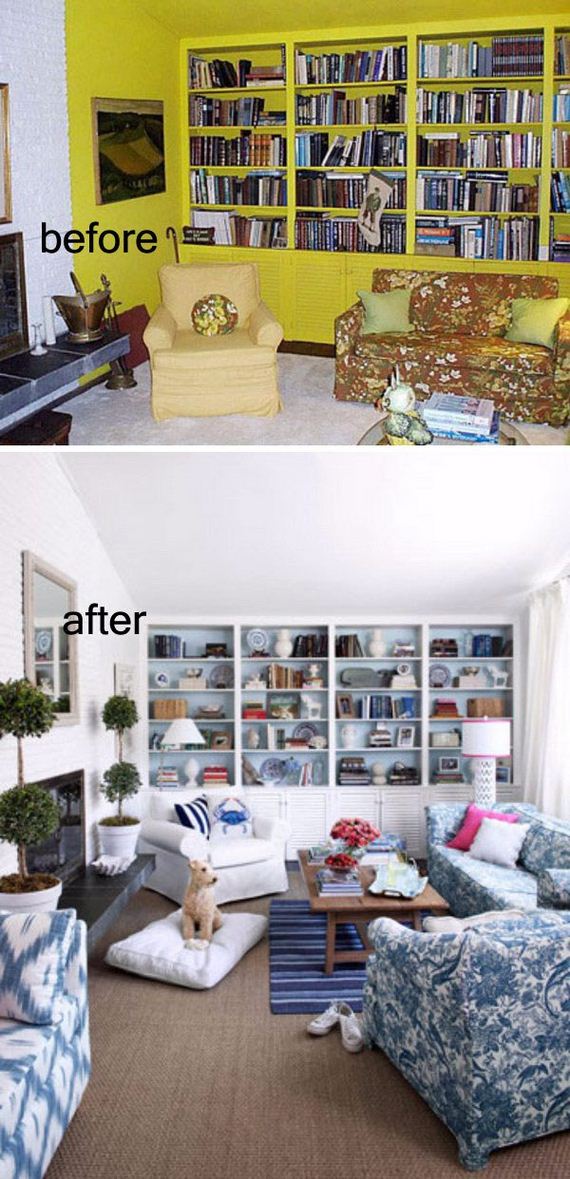 A really bad use of yellow color has mercifully been converted into the calmness of white and blue. The designer has shown how book shelf can be used to place multiple accessories that look way better than stacks of books. countryliving.
80's Living Room Makeover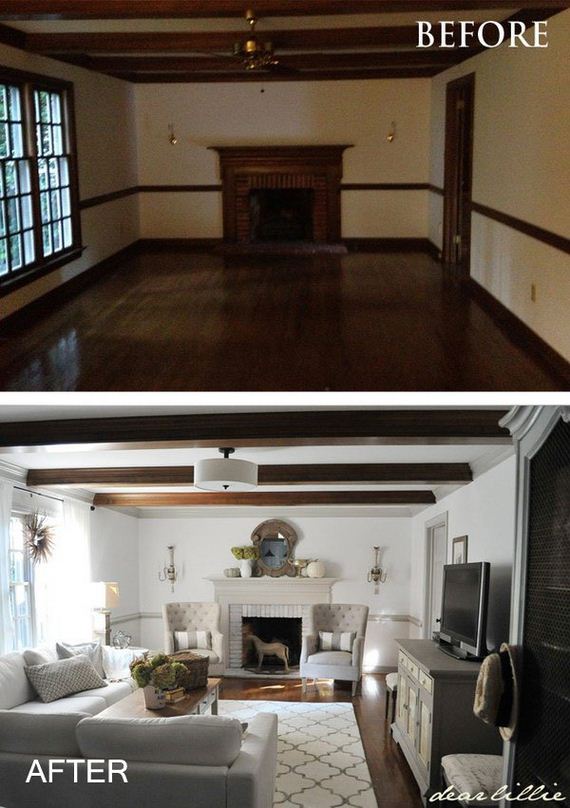 A room which looked like it came right out of an 80's movie now looks as fabulous as anything. Decorated with Ash white furniture and bright walls and curtains, it is unrecognizable from its former look. The clever use of space with the inclusion of a cabinet for television is smart and convenient.
Bright and Fresh Living Room Remodel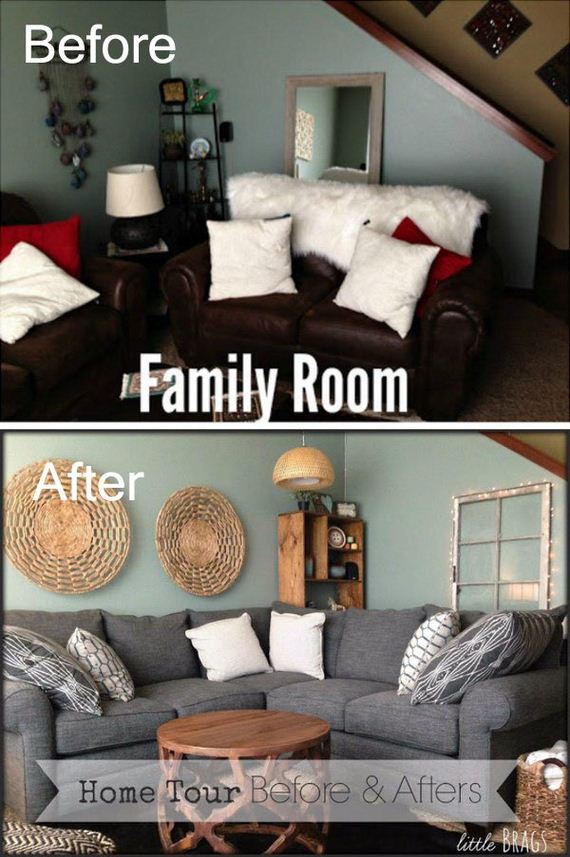 The transformation is too pretty for words. The room no longer has a congested look and there is enough space to walk around without bumping into the furniture. The husky wall hangings and wooden ledge is an amazing addition to the room. littlebrags.
Drastic Living Room Makeover

A room which looked more or less like an attic now look fabulous with the addition of multiple colors and elements that compliment its construct. The large space can be used by kids to play or to host a party at any time. homemadeginger.
Living Room Makeover with Board and Batten Wainscoting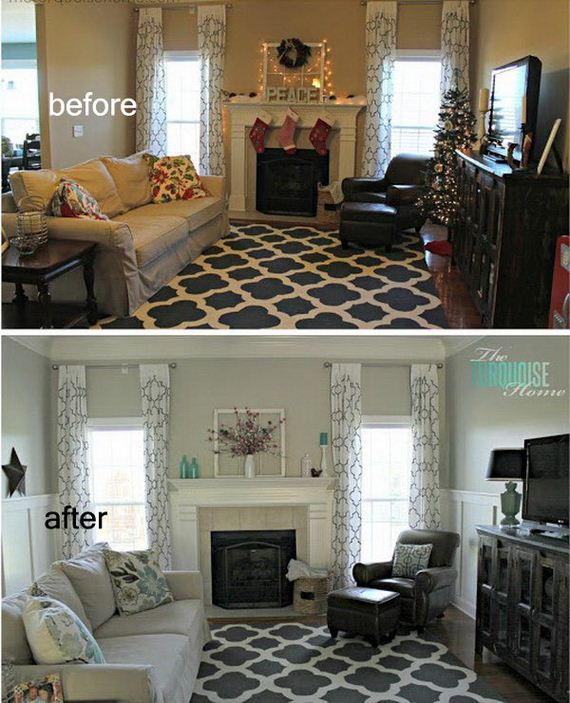 A good choice of colors but the furniture was not complimenting enough. The simple board and batten wainscoting project adds tons of character to your living room. theturquoisehome.
Living Room Makeover with Ikea Textiles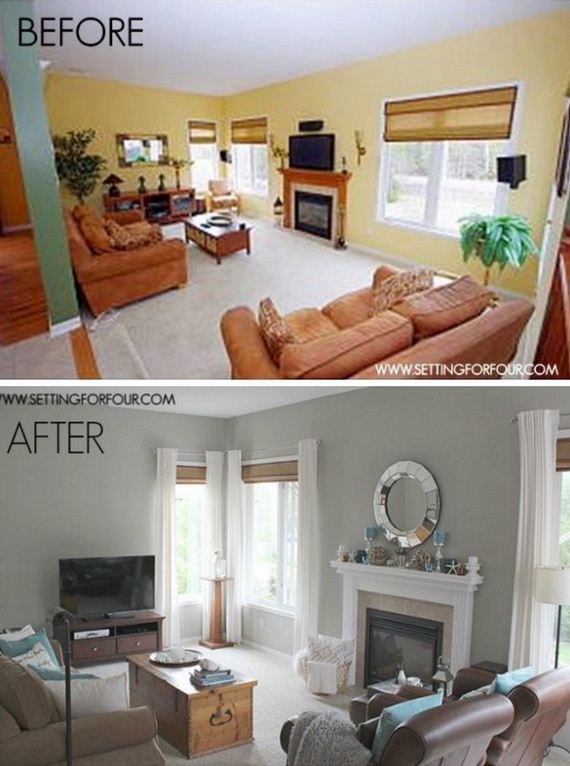 Removing colors sometimes gives a great look just like in this room. The original woody look of the room converted into metallic and industrial gives it a whole new appearance. It looks compact yet comfy. settingforfour.
Before And After: Vinings Living Room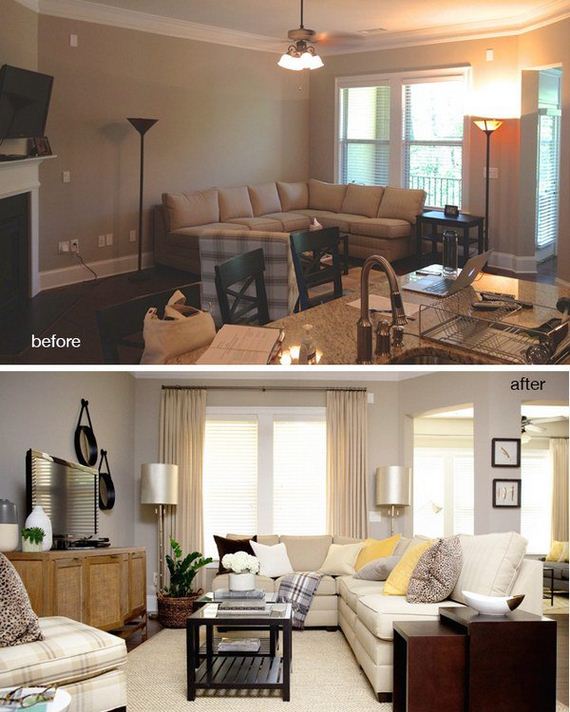 A simple room with a lot of unused space going to waste is now lavishly decorated with whites and browns. The addition of wooden cabinet gives it a homey look because it is situated along with the kitchen it needed the extra elements of tables and chairs to be added. blulabelbungalow.
Gorgeous Living Room Transformation

Beautifully constructed, this living room is everybody's dream come true. With a hint of green and white the grey outlook gives the whole living room a very sophisticated and well occupied look. Instead of using the classic wooden outlook, this modern look takes living room goals to a whole new level. ohhappyday.
Grand Living Room Makeover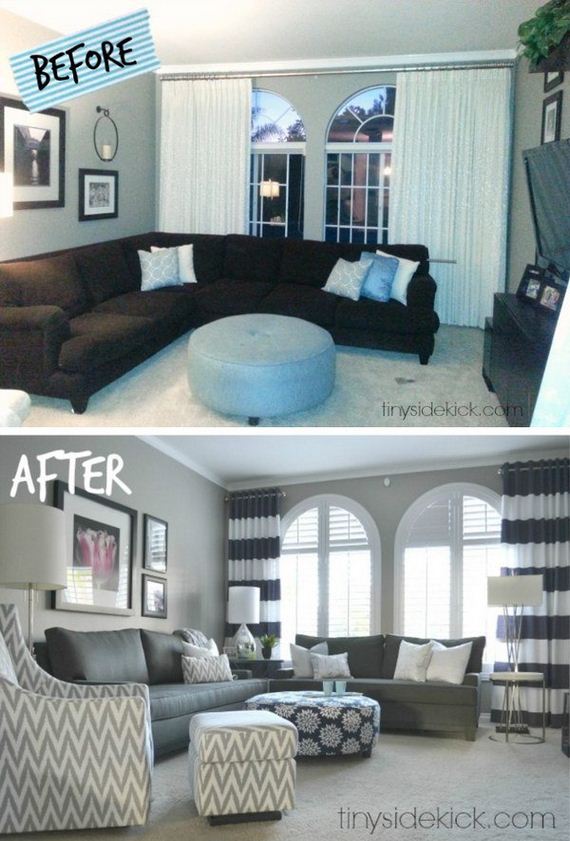 The transformation is amazing. The whole room looks vast and modern. The addition of ceiling length curtains has given the room a very open look. The stripes add to the spaciousness and the geometric patterns of the couches give a very clean modern look to the room. heytherehome.
The Addition of Aqua Colors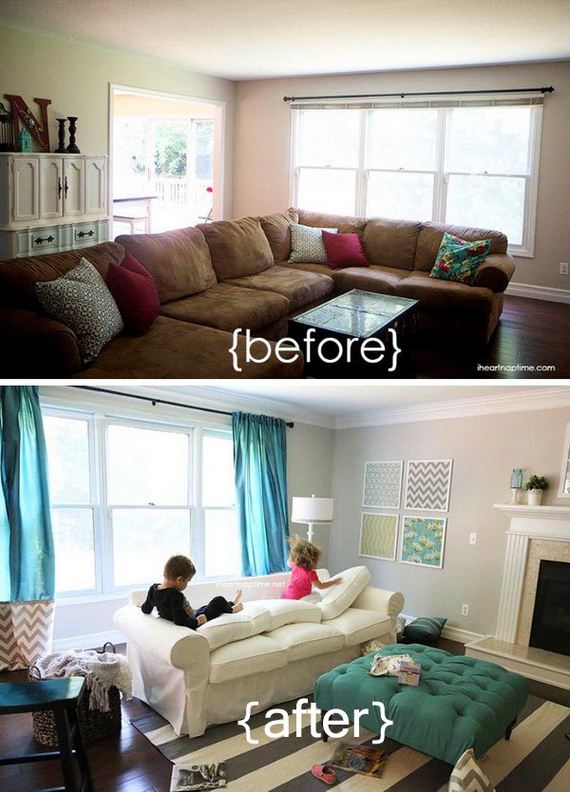 A dull living room takes all the essence from the life of a home. This living room got completely changed after the addition of aqua curtains and a beautiful soft rug. Both these things have added the element of luxury in this compact space. iheartnaptime.
Living Room Make Over By Adding Chocolate Walls and Armstrong Plank Ceilings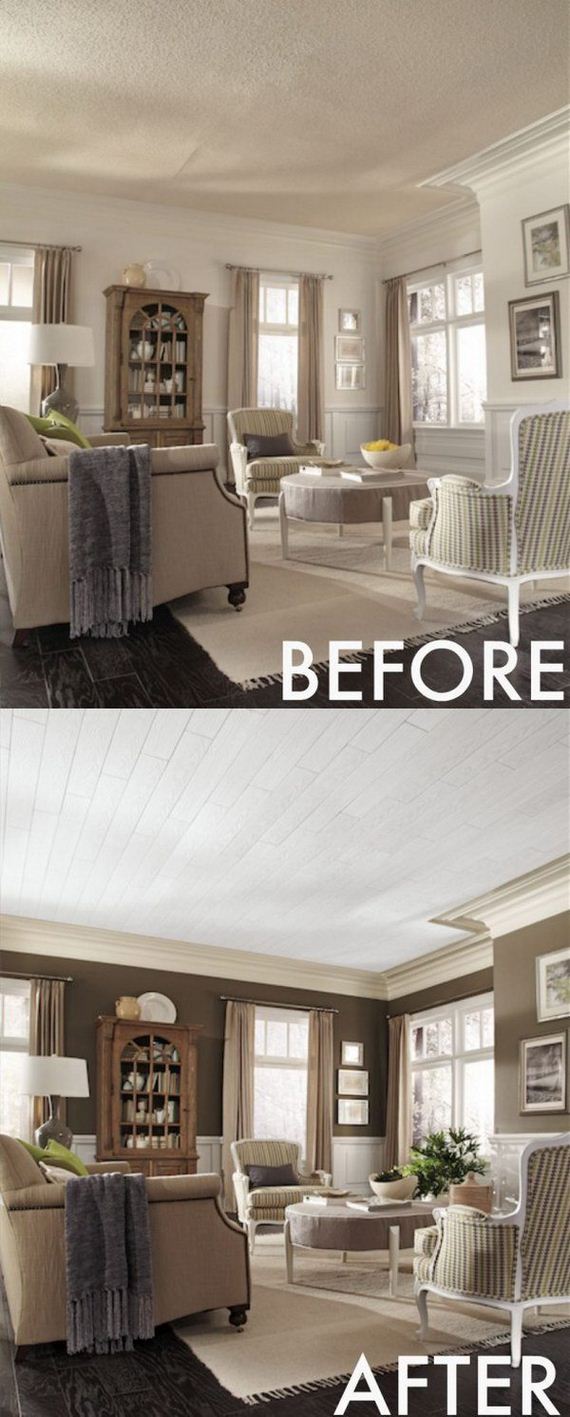 An already beautifully set living room with soft creams and browns but is just a little dull and outdated. So add chocolate walls and Armstrong plank ceilings to give it some life and strength.The color combination has given the living room an aura of grandeur and an extraordinary artistic touch. homestoriesatoz.
Living Room Make Over By Adding Chocolate Walls and Armstrong Plank Ceilings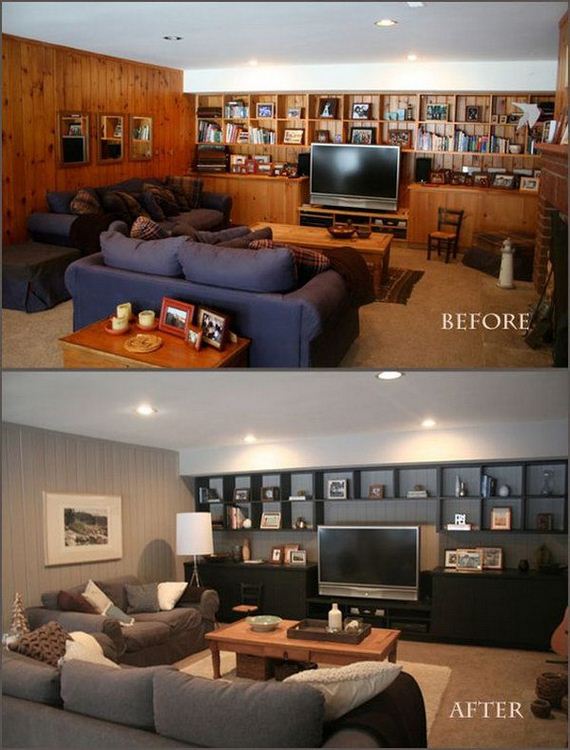 This is the kind of living room that can be used as a home office as well. So just follow the same design of the room but modify all the furniture and woodwork in a way that it looks really modern and chic. Instead of using honey wood, use blacks and browns to give a continuous monotonous look to the whole room. inbloomeventdesign.
Modern Living Room Makeover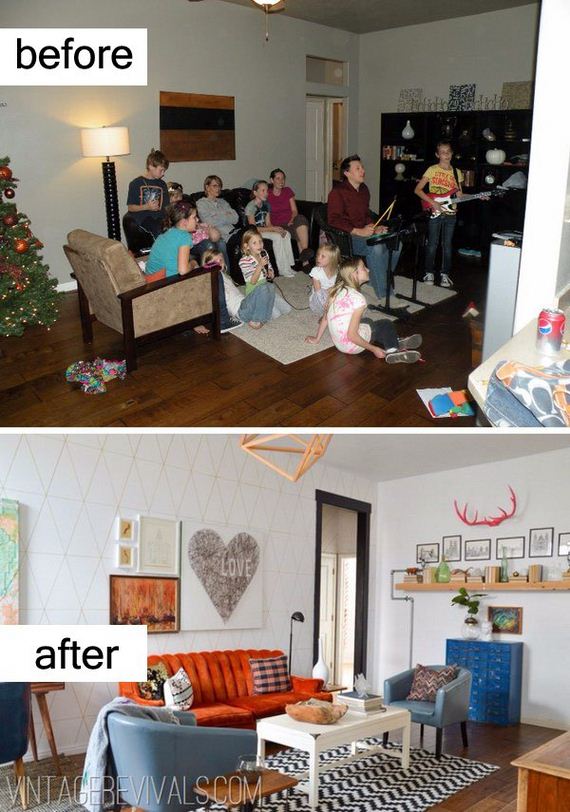 A perfect space to spend all your festivals together as a family. This room has been refurnished and repainted to look beautiful, modern and vibrant. Now you know that orange and blue go so well together but it is necessary to keep the base colors neutral and light. vintagerevivals.
A Fresh, Vibrant Living Room Filled With Color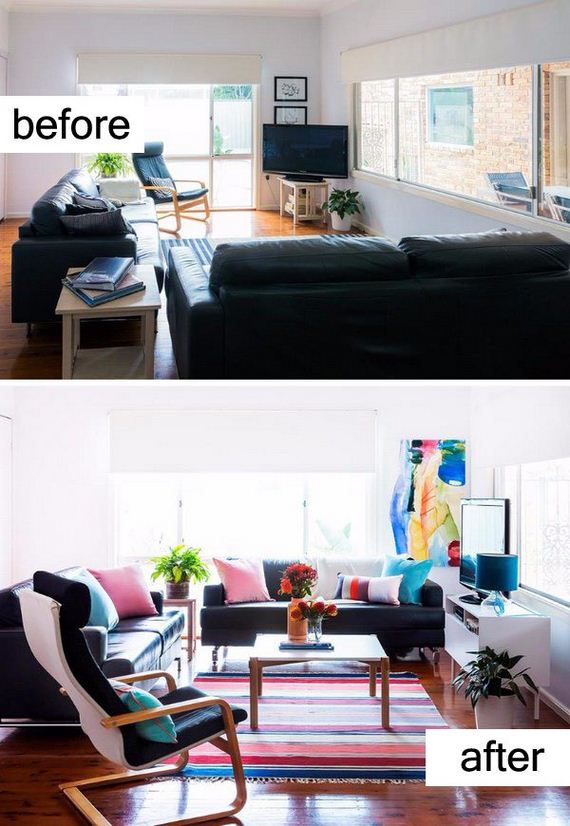 No doubt white and black looks classic and decent but when you have a design such as this you surely need to go way beyond your comfort level and try new colors. So that is exactly what the author did. The addition of multiple colors has brightened up the room and now you can experience rainbow feelings right inside your own home. Due to the changed setting of couches the whole space looks well balanced. homestolove.
A Quick and Simple Living Room Makeover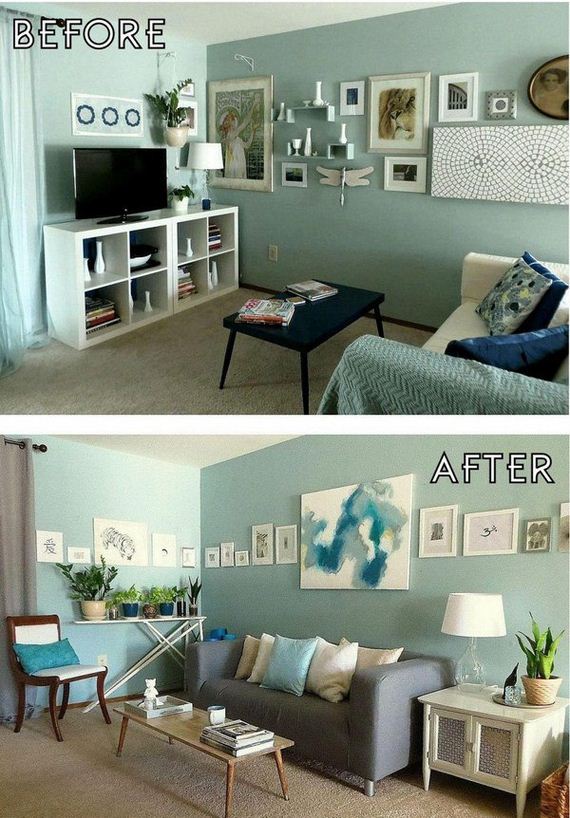 Just like grey, using the right shade of blue changes the whole look of your living room. Remember that when a color comes in various shades it should be used that way otherwise it gets bland and dull. So the designer have incorporated grey with blue with a touch of tiny indoor plants to maintain the serene and cool environment of the room. thedecorguru.
Living Room Makeover
Donot restrict yourself to use classic furniture. Just like in this case the crafter have used large sized cushions which give the look of enormity to the whole room. Instead of keeping the floor bare, cover it with a soft colored rug so that the space looks full and cozy. designingdomesticity.
From Brown To Blue Living Room Makeover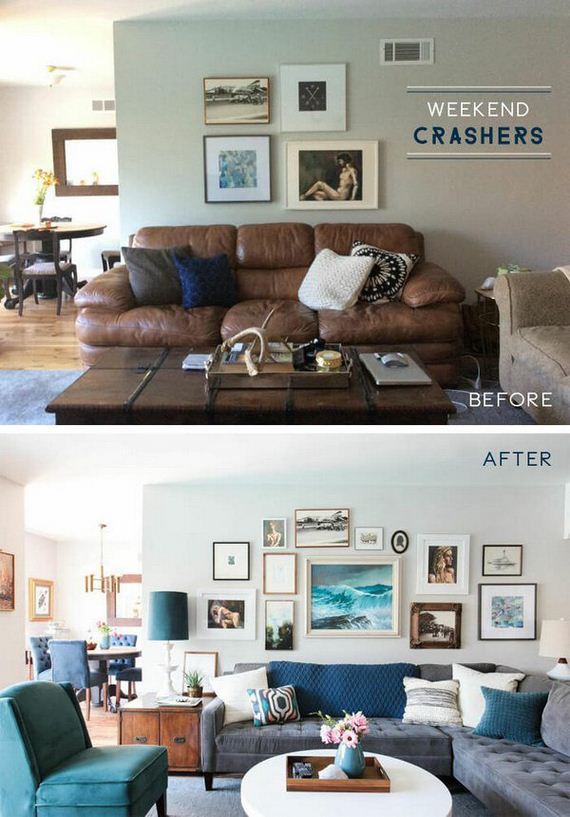 Adding multiple abstract paintings on the main wall and getting modern furniture is the newest trend in the world of living rooms. Instead of the contemporary brown leather couch, use modern furniture which comliments with walls and the overall room looks decent and well maintained. Get the details via here.
Chic and Serene Living Room Makeover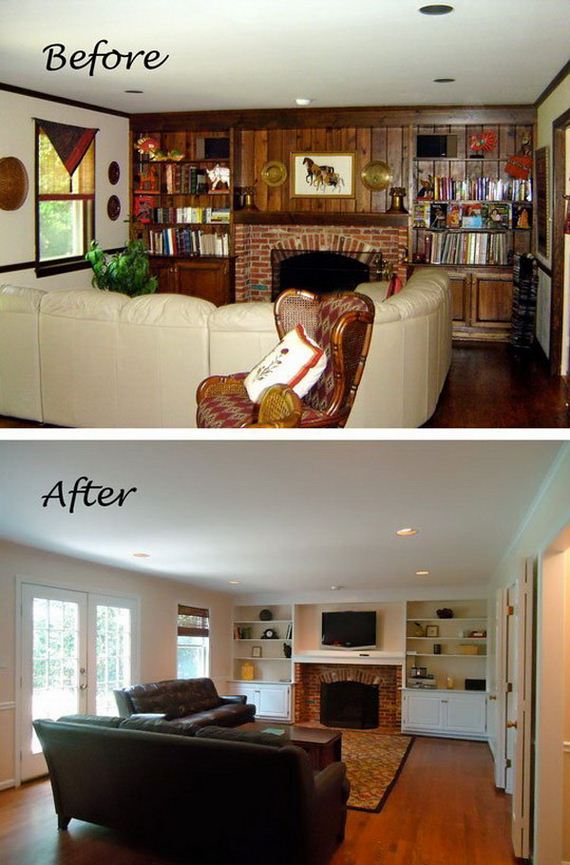 Having unnecessary colors and decorations is wrong when decorating your living room. If you have a good space, add modern and compact couches and light colored cabinets which brighten the whole space instantaneously. Going with cream colors is always the best option to make a small space look bigger. apartmenttherapy.
---
---