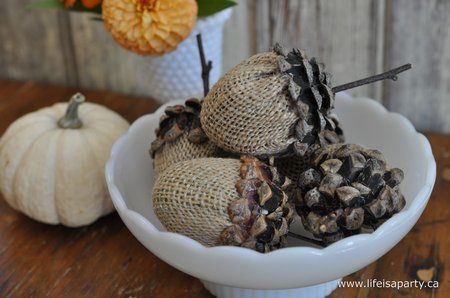 Cool Ways to Decorate Your Home For Fall
Cool Ways to Decorate Your Home For Fall
---
Fall is officially here! To kick off the new season, how about a new decor scheme? We've selected some really excellent projects that will help you transform your home's decor into an elegant, autumn themed seasonal variant.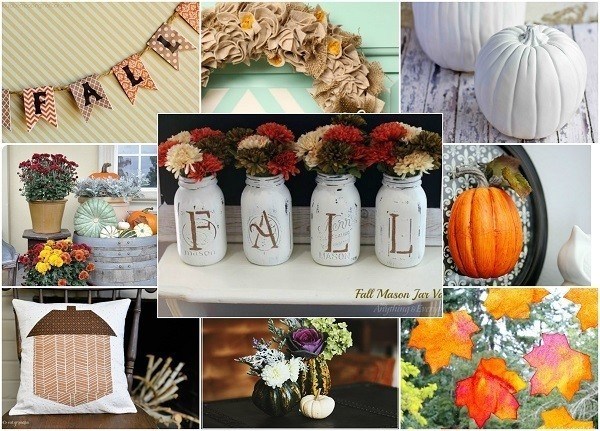 A few of these projects can even be done with the kids, so you can get the whole family in on the fun!
From centerpieces to floral arrangements, mantle decorations, and front porch or door decor, you're sure to find projects that will spark your creativity. Fall's here, so let's celebrate with some DIY to make our homes look as festive as we feel!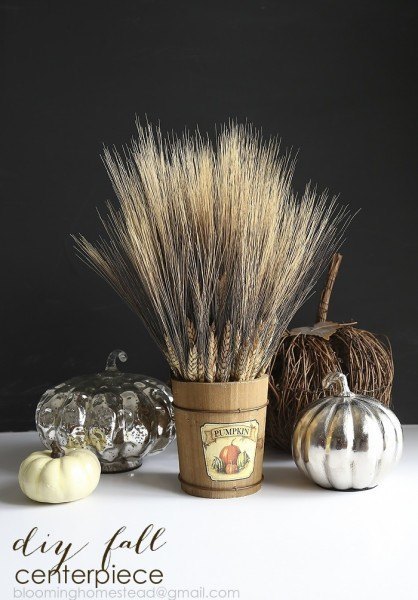 Wheat Centerpiece – This rustic centerpiece is the perfect addition to any fall table, but would also look fantastic on a side table or on a mantle as part of a festive autumn display. Pair with a few more metallic pieces, like the Mercury Glass and metallic pumpkins above, for a real show-stopper.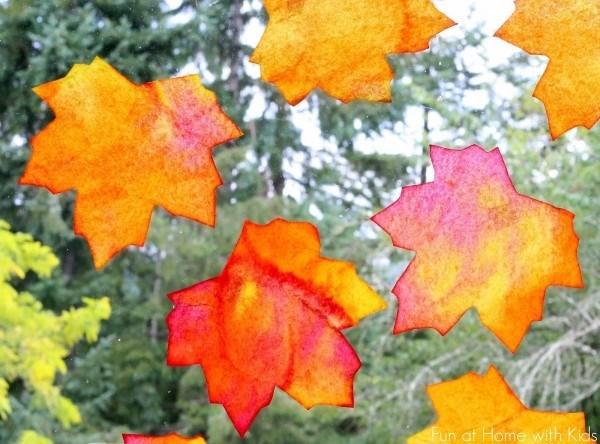 Leaf Suncatchers – This is a fun project that you can do with the kids! Have them help out by dying the leaves, then let them hang them on the windows and sliding glass doors to create their own shower of brightly colored autumn leaves!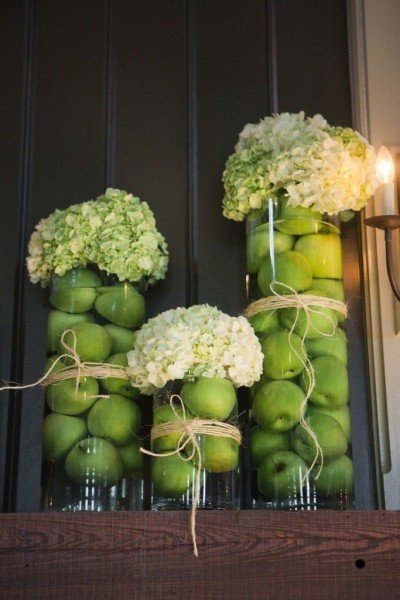 Vases With Green Apples and Hydrangeas – Fill tall vases with green apples and water, then place a small bouquet of hydrangeas at the very top. Tie some jute string around the center and you have a lovely floral display!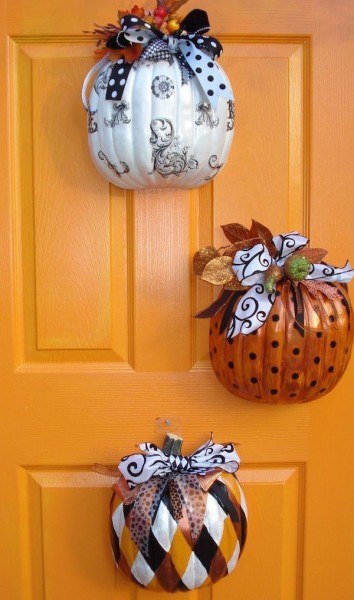 Pumpkin Front Door Decor – This lovely decorations were made from plastic pumpkins sliced neatly in half, painted, and accessorized with ribbons and glitter. The pumpkin halves were then hung on the door, neatly resting against the panels.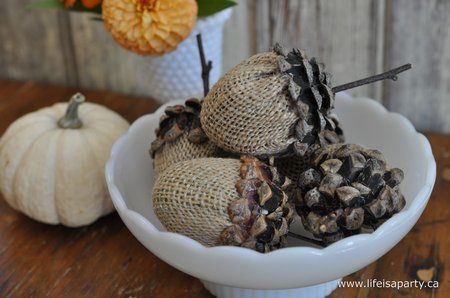 DIY Burlap Acorns – These cute oversized acorns are actually made from those cheap, plastic Easter eggs! Wrap the egg in burlap, making sure you can't see the egg beneath it, then attach the cap and a small stick to serve as the stem. Stack them in a bowl or dish for a neat fall centerpiece.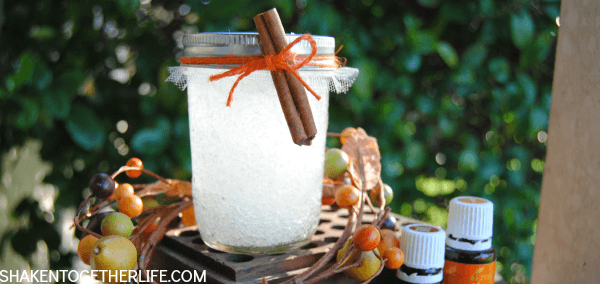 Cinnamon Orange Air Freshener – Decor isn't just about the way things look! Add a fresh scent to your home that will really get you in the mood for fall!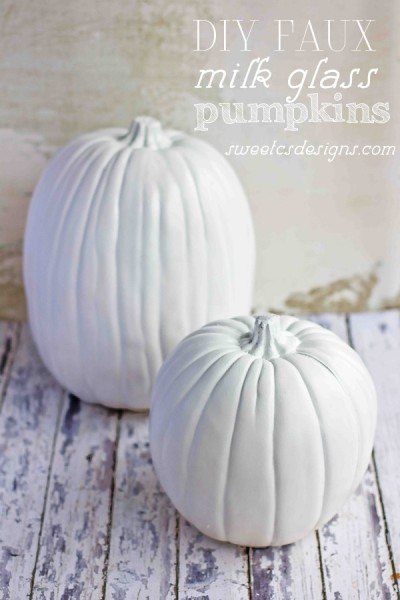 Faux Milk Glass Pumpkins – Milk Glass is a new trend that's been popping up all over the place, so it's the perfect look for a trendy fall display indoors or out. While it's not real Milk Glass, it's sure to grab your guests' attention!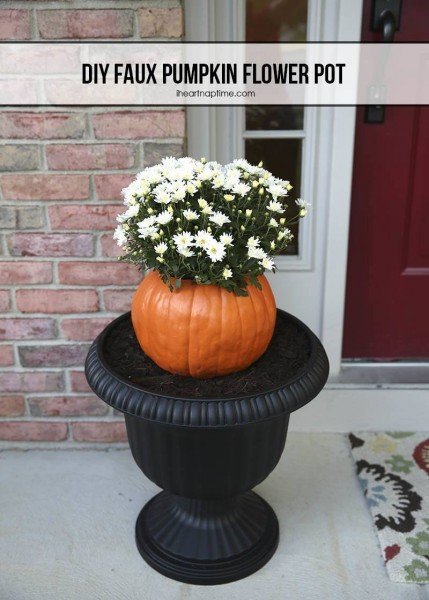 DIY Faux Pumpkin Flower Pot – Real pumpkins, unfortunately, rot over the course of the season. Instead, grab a faux pumpkin and use it as a festive way to decorate your front porch. Add mums to the planter, then display!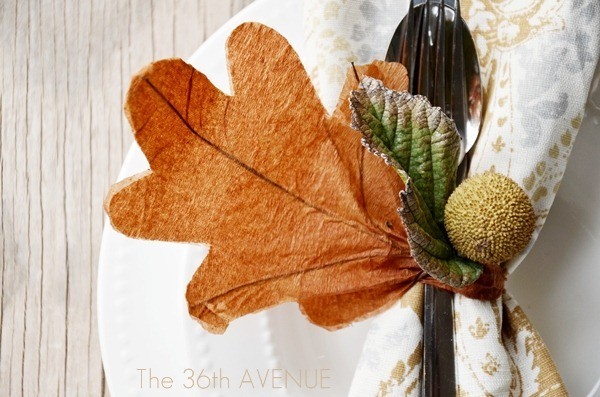 DIY Fall Napkin Ring – Whether it's for Thanksgiving or a just-for-fun family dinner party, this adorable napkin ring is sure to get everyone in a festive mood!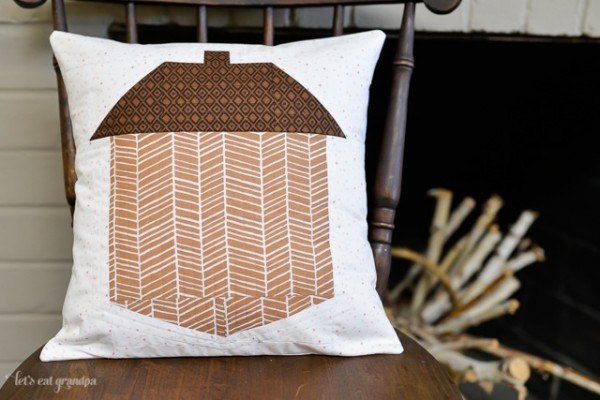 Acorn Block Pillow – This adorable throw pillow is just perfect for fall, and is an incredibly easy sewing project you'll just love tackling.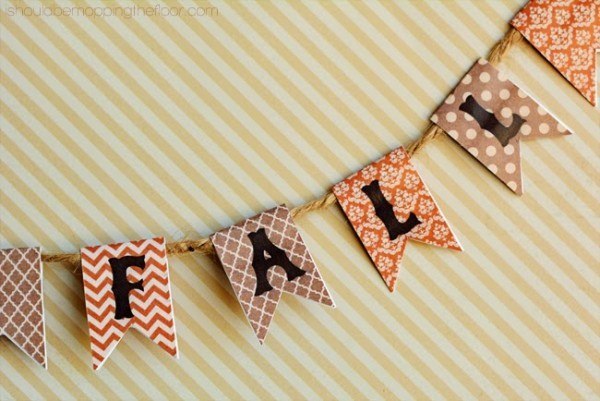 Fall Mini Banner –  There's nothing quite like a banner to add festivity to the home. Display on your fireplace, along a stair well, or in an archway. This miniature banner fits just about anywhere you desire.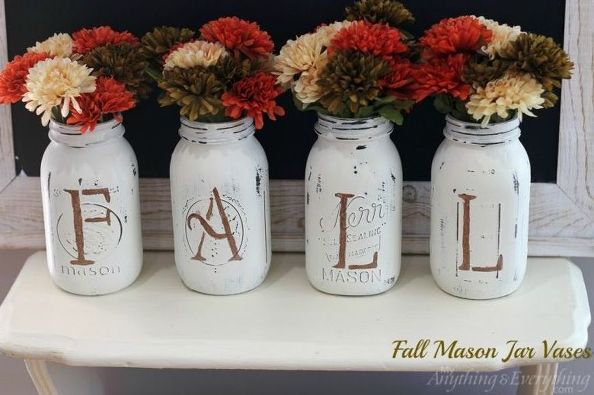 Mason Jar Vases – What would seasonal decor be without at least one mason jar craft? These pieces proudly state that fall has arrived, and look fantastic when filled with various colors of mums.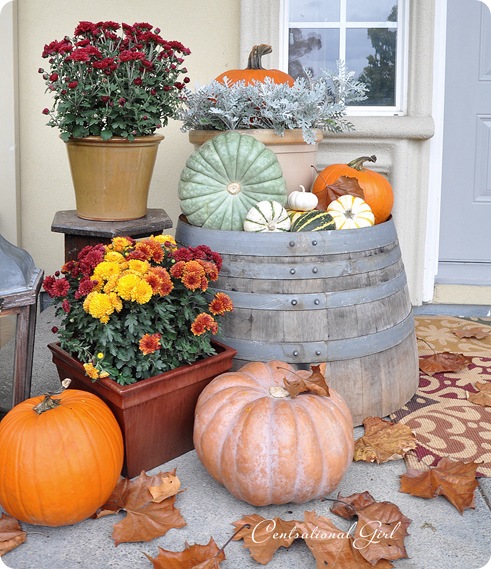 Harvest Porch Decor – Ready to make a big statement this fall? Add barrels, pumpkins, gourds, and mums to your porch, scatter a few dry leaves, and you have a festive porch that will look great all season long.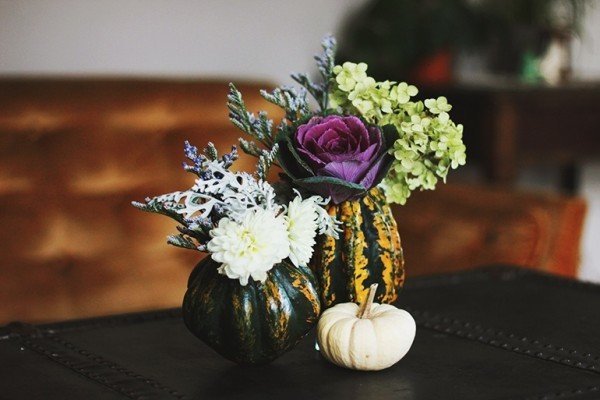 DIY Gourd Vases – While mums are the traditional fall flower, you can dress up these seasonal gourds with more delicate, elegant flowers like roses and hydrangeas.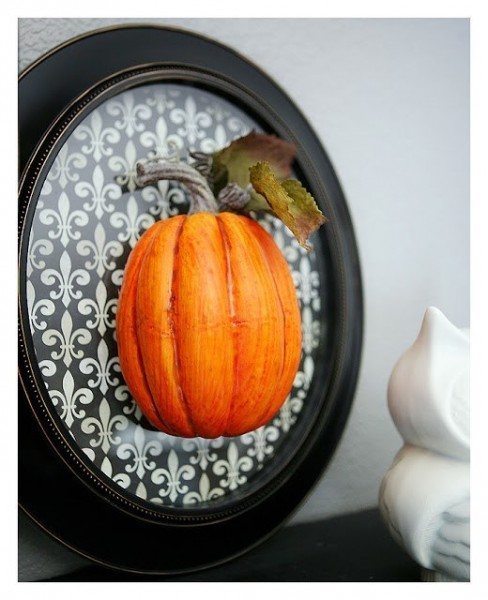 Fall Harvest Wall Decor – Create a 3-D wall decoration for your home using a frame, faux pumpkin, and some lovely scrapbooking paper.  Replace the pumpkin with an apple or gourd for a series of frames or a different look.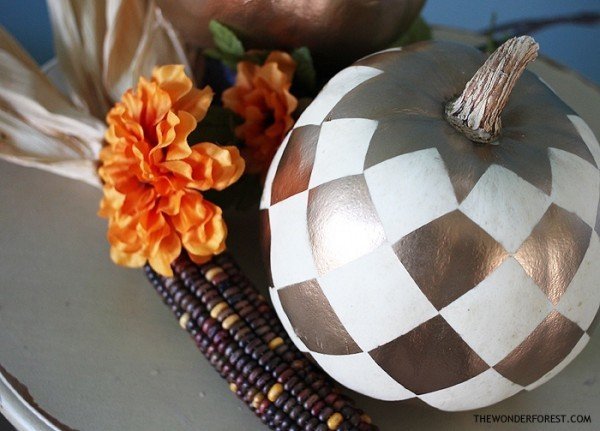 Gold Checkerboard Pumpkins – These lovely metallic pumpkins add a non-traditional look to any autumn display. Paired with a non-painted pumpkin, they add delightful contrast to any indoor or outdoor display.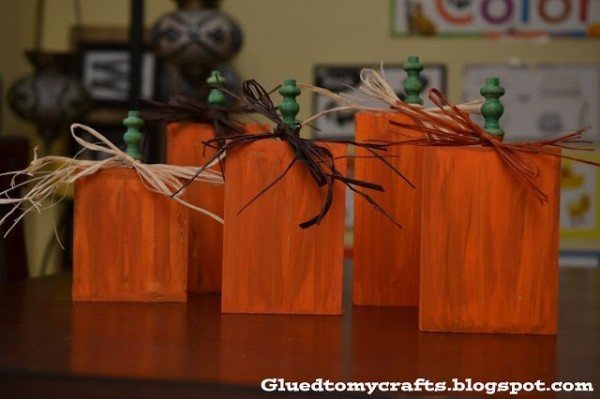 Wooden Pumpkin Patch – These delightful little square pumpkin decorations are made from blocks of wood and discarded staircase spindles. These are great to display on a mantle!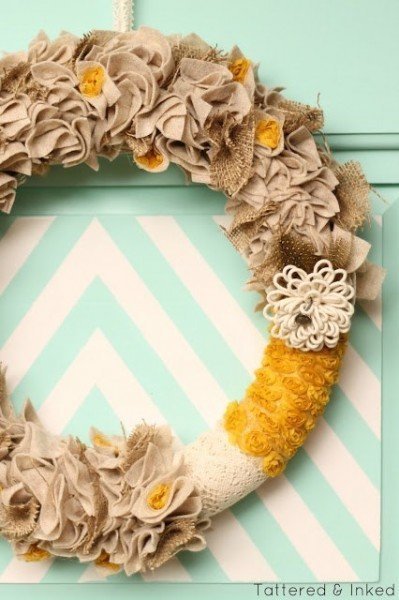 Fall Burlap Wreath – What's fall without decorating your front door with a festive wreath? This elegant burlap wreath combines subtle earthy colors with a bright pop of yellow that's perfect for fall.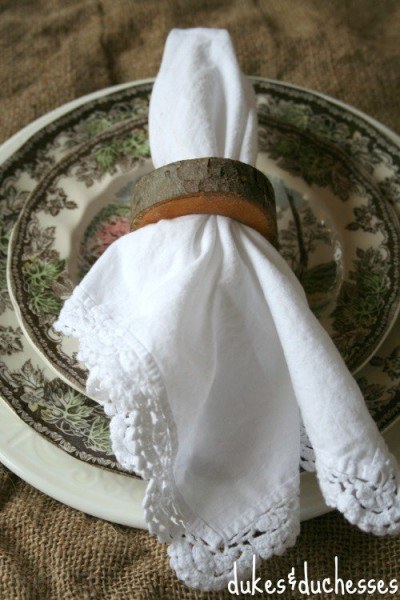 Wood Slice Napkin Rings – Here's another lovely napkin ring with a more rustic twist. Paired with a delicate napkin, it's stunning!
---
---