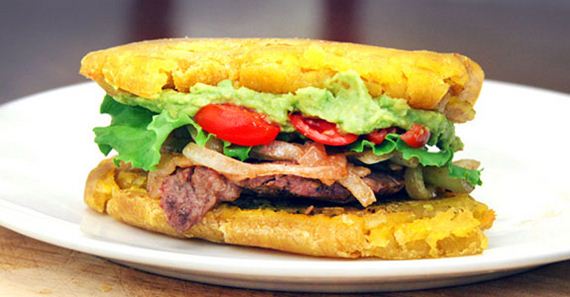 Delecious Paleo Sandwiches You'll Love
Delecious Paleo Sandwiches You'll Love
---
Give these real-food sandwiches a try with these Delecious Paleo Sandwiches.
Particularly if you use the thick and round type with the white flesh (they hold together better when cooked), sweet potato slices can make great sandwich "rolls," like in these delicious portobello sliders with almond pesto and lemony cashew mayo. So good.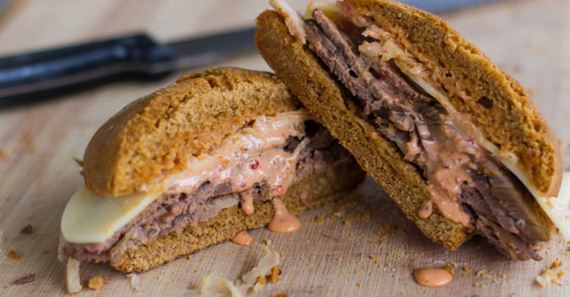 2. Reuben Sandwiches With Grain Free Irish Soda Bread
These sandwiches are cheese-optional and absolutely delicious. The best part, in my opinion, is the grain-free soda bread buns. There's something about that tingly soda flavor that can't be beat, and that goes perfectly with the strong flavors of corned beef and sauerkraut.
This flax-based bread is silly-easy to make and can be filled with any sandwich fillings you like. Because it's infused with rosemary flavor, it works well with fragrant, herbal sandwiches, meats, and Italian-style sandwich fillings. Freezes well, too!
4. Pulled Pesto Chicken Burger With Fire-Roasted Tomato Jam
Portobello mushrooms make fantastic buns for sandwiches and burgers because they hold together well, they're flavorful but not overwhelming, and they're a very healthy choice. Use paleo mayo in this recipe and you'll be well on your way to a fantastic, balsamic-infused chicken sandwich.
These rolls are made mainly from eggs and cashews, with structural support from arrowroot powder and coconut flour. You can use them any time you feel like you need a "real" sandwich bread, with any fillings you desire. You could also add dried herbs!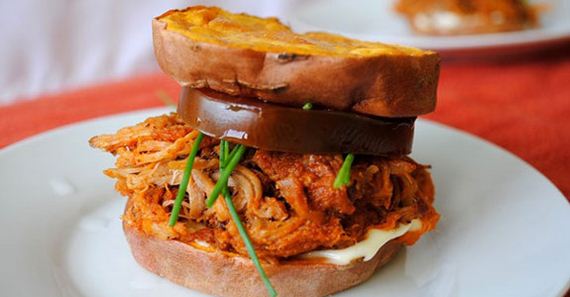 6. Pulled Pork Sandwichs on Sweet Potato Buns
Here's a variation on the sweet potato bun, and this time you can use whatever sweet potato or yam you can get your hands on. Making your own pulled pork is a cinch, and if you've never done it before, take good note of this recipe because you'll be making it again and again!
There's nothing like a good BLT sandwich. This one's sitting in a bagel bun made from cauliflower, almond flour, and coconut flour, and you're getting an extra serving of vegetables on top of your tomatoes and greens. Plus bacon. Triple win.
8. Nut Free Paleo Sandwich Bread
This is some of the best-looking paleo bread I've seen, and it's sure to fill up your sandwich bread craving with meat-based sandwiches, veggie ones, or even nut butter and jam! Use coconut yogurt as suggested for paleo, and feel free to add herbs if you wish.
This awesome recipe has a handful of different filling options, plus the best-looking seed bread ever. What are you feeling? Try a Nutty Monkey, Gourmet Sautee, Spring Showers, or one of the other pre-designed sandwich combinations in this recipe, or think up your own.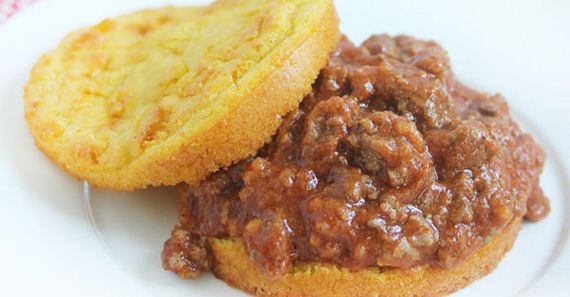 Sloppy joes were a family favorite in my house as a kid on nights when we needed something to come together quickly without a lot of effort. Unfortunately, they were from a can! So let's do this from scratch, and paleo style, with a paleo bun to boot.
This sandwich is made from plantain bread (recipe included, and amazing), good quality ham, delicious (paleo-friendly, check yours) mustard, butter pickles, and optional cheese (feel free to leave it off as suggested). This is one fabulous craving buster, right here.
This delicious and nutrient-dense sandwich bread is made with either almond butter or cashew butter, and both would be fantastic. A bit of arrowroot powder and a few eggs help to stabilize, but this isn't the crumbly grain-free bread you've tried before—this stuff really holds up.
13. Roasted Vegetable Sandwich With Avocado-Basil Aioli
If you're interested in eating a rainbow (have I gotten your attention?) this is the sandwich for you! Check out all the colors in this baby. That's from the avocado, tomato, roasted red peppers, red onion, and zucchini. All on a portobello mushroom bun!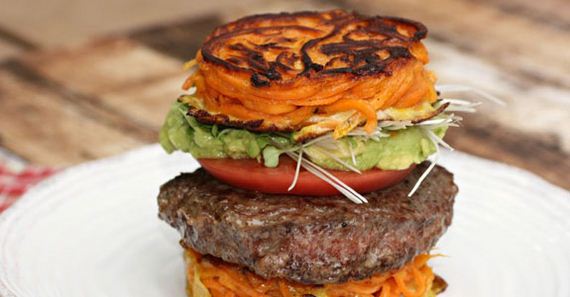 14. Burger With Guacamole on Sweet Potato Noodle Bun
Burgers aren't the main focus today, but I had to share this recipe because it's the bun that steals the show, and if you're not feeling a burger, you could steal the bun back for your own sandwich! These are made from spiralized sweet potatoes and an egg, fried to a crisp.
15. Pulled Pork Stuffed Sweet Potatoes
You can put your pulled pork between sweet potato buns, but if you want to remove a few steps to make things simpler, go ahead! This amazing pulled pork is perfect stuffed between the two halves of an opened-up baked sweet potato. You won't miss the bun, I promise.
16. Pear, Candied Walnut, and Prosciutto Chicken Salad
The sweet and savory flavors in this sandwich make it totally addictive, so consider yourself warned. You can use whatever paleo buns you like, but there are two different recipes suggested on the page.
17. Cauliflower Bread Veggie Sandwich With Avocado Spread
This sandwich is super simple and fully customizable. I think I'm going to make it for lunch today! You can pile this one with sprouts, lettuce or other greens, bell pepper, sliced or julienned vegetables, even meat if you'd like—but spread that avocado spread on thick, because it's oh so good.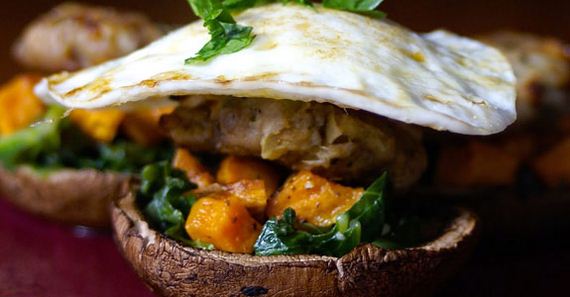 18. Apple-Sage Sausage Sliders on Portobello Buns
This sandwich has warm, autumn flavors with both savory and sweet notes from sausage, apples, sweet potato, and sage. A fried egg makes the perfect topping, and collard greens balance out the colors, flavors, and nutritional profile of this simple, delicious dish.
19. Meatball Sub With Dry Garlic Rib Sauce
This is another totally easy, no-brain-required, breadless sub recipe. The meatballs are what make it completely amazing, because they're the best meatballs you've ever had. I'm not kidding! And you'll probably want to check out the sugar-free BBQ sauce, while you're at it.
These burgers/sandwiches are made with one of the tastiest buns I can think of: the smashed plantain. It sounds simple, because it is, but these fried and smashed plantains add a salty, savory, starchy bite to your sandwich, and they're so good you'll want to use them for all your sandwiches.
21. Purple Sweet Potato Stegosaurus Plates
These sandwiches can be made with any color sweet potato, but the purple ones look so cool, and have more of a dinosaur-plate effect. They make an excellent breakfast sandwich, but you could certainly use them as bread for whatever sandwich you have in mind.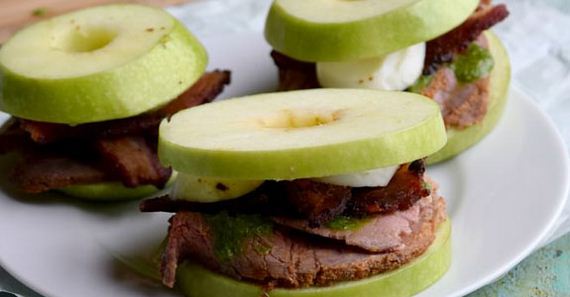 22. Roast Beef Apple Sandwiches
These roast beef sandwiches with homemade sunflower seed-basil pesto, hard-boiled eggs, bacon, and green apple buns have so much going on in the flavor department. The tartness from the apples rounds everything out into the perfect party in your mouth.
23. No Bread Bacon and Egg Sandwich
This might be one of the prettiest sandwiches we've looked at so far, despite its simplicity. The egg turns into the bread, and you can pack it with whatever shredded vegetables you like for a lovely color effect as well as a fully customizable flavor profile.
24. Zucchini Waffle Sandwiches
Who says waffles can't be healthy? This one, with coconut milk, zucchini, and spices, makes an excellent sandwich bread for just about any fillings you can think of. If you're feeling creative, you can change up the spices in the waffles to complement whatever you're planning to put between them.
I love these sandwiches where the filling becomes the bun. I guess that makes it no longer the filling, but you get the idea. Flavor on the inside, flavor on the outside, perfect all around. These scallops get cut in half and stuffed with bacon. What's not to love?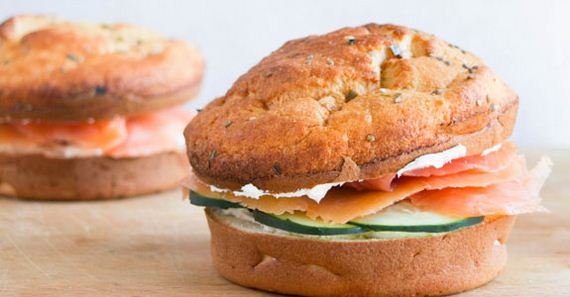 These buns are the ideal paleo "everything" bagels with whatever add-ins you like: try poppy seeds, sesame seeds, dried herbs—experiment! You can also change the flavor of these by replacing the applesauce with any other fruit puree or nut butter, so go on—go crazy.
27. Mini Paleo Buffalo Chicken Sandwiches
If you're missing your buffalo chicken flavors since going paleo, here's the recipe for you. These cute little mini sandwiches are made on nut butter buns and piled with chicken, bacon, Frank's hot sauce, peppers, and onions. And you can use the leftover egg yolks for homemade aioli!
28. Portobello Bacon Avocado Sandwich
This sandwich has such flavorful ingredients on its own, you don't even need special seasonings or sauces to make it fantastic. Just bacon, avocado, lettuce leaves (or other greens), and portobello mushrooms. Takes just half an hour and you're in bacon avocado heaven.
The basic idea behind this sandwich (Thanksgiving leftovers) isn't new at all, but it has a fun, contemporary paleo twist to it with sweet potato flatbread. Yummy! Using the sweet potatoes in the bread gives you one additional Thanksgiving flavor in this tasty sandwich.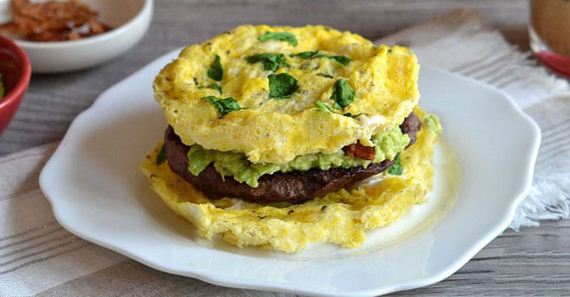 30. Breadless Sausage and Egg Sandwich
Usually when we make paleo bread or buns, we're using a lot of eggs to hold the bread together. So why not just use the eggs as bread, especially when this is a breakfast sandwich? Completely brilliant and easy, and you were going to be making that egg anyway.
31. Paleo Breakfast Sauce Egg Sandwiches
Breakfast sandwiches are popular for good reason. You can pack several different food groups into them, they generally aren't high in sugar if you make your own, and they're highly convenient, depending on what you can put together in advance. This one with red pepper flakes and maple syrup sounds amazing.
When I first found this recipe, I spent a few minutes glancing back and forth between the picture of the uncooked bagels and the final product. It looks like bread! How could this be? These totally grain-free bagels are a full serving of protein-rich pork.
33. Coconut Flour Sandwich Bread
This super simple paleo bread has nothing but coconut as its flour, which can't be said for many paleo bread recipes with a dozen ingredients. Coconut oil, eggs, sea salt, apple cider vinegar, and a bit of baking soda bring this bread together. Perfect for freezing!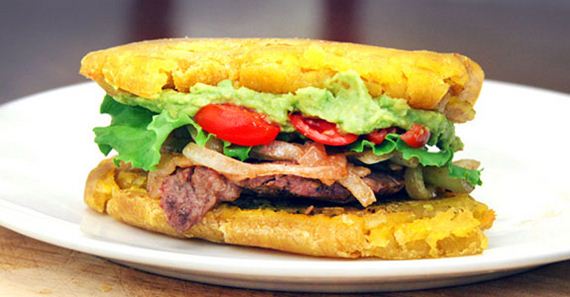 34. Jibarito With Garlic Avocado Spread
I had to include a second Puerto Rican plantain sandwich, because this avocado-garlic spread is too good to keep all to myself (well, when I make it I'm going to keep it all to myself, but I'll share the recipe). Get some plantains in your hands, if you haven't already.
35. Turkey Apple Sandwiches With Pomegranate Vinaigrette
These sandwiches are for the tired paleo eater without a lot of time. They come together in a pinch with hardly any work involved, and are dipped in a beautiful and delicious pomegranate dressing with herbs and olive oil. All you need is apples, turkey, and salami or prosciutto!
36. Inside Out Turkey Sandwiches
This sandwich is inside out because it uses the inside as the outside. Well, there's something else inside. Wait… I'm confused. You'll just have to look for yourself at these turkey patties filled with vegetables, avocado, or whatever else you like in your sandwich.
37. Grain Free Make Ahead Breakfast Sandwiches
Make ahead? That's what I like to hear! I feel most productive in the morning, so my mornings are usually pretty busy as I try to get things done. A delicious bacon and egg sandwich with grain- and nut-free sandwich bread would really hit the spot between all the action.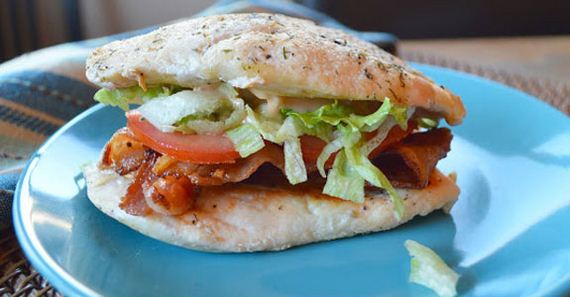 Here's a variation on the most recent recipe. This one also uses chicken as its bun, but is filled with red onion, tomato, bacon, lettuce, and chipotle mayonnaise (recipe included). This chicken is seasoned with garlic and dill and is absolutely juicy and yummy.
You're probably wondering what a chickwich is. See that "bread" wrapped around those tomatoes and pineapple? That's chicken! This is a bread-free sandwich recipe that's simple and could be changed up to use whatever you have around your refrigerator today.
40. Cucumber Watermelon Sammies
Let's finish off with a fun recipe that's hardly a recipe, but that I'm definitely going to go make myself for a snack. Watermelon and cucumbers are both cool and refreshing, but with different flavors. If you're feeling fancy, add a basil leaf to the middle of each one.
---
---