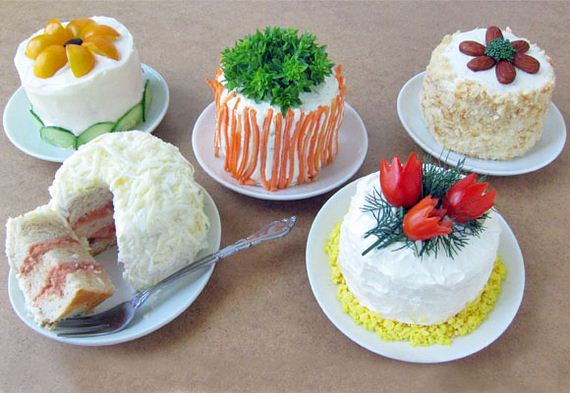 Delecious Swedish-Inspired Savory Sandwich Cakes
Delecious Swedish-Inspired Savory Sandwich Cakes
---
A collection of 22 Swedish-Inspired and savory sandwich cakes to wow your guests with – most of them are modeled from Scandinavian recipes!. Check them out below!
1. Egg Salad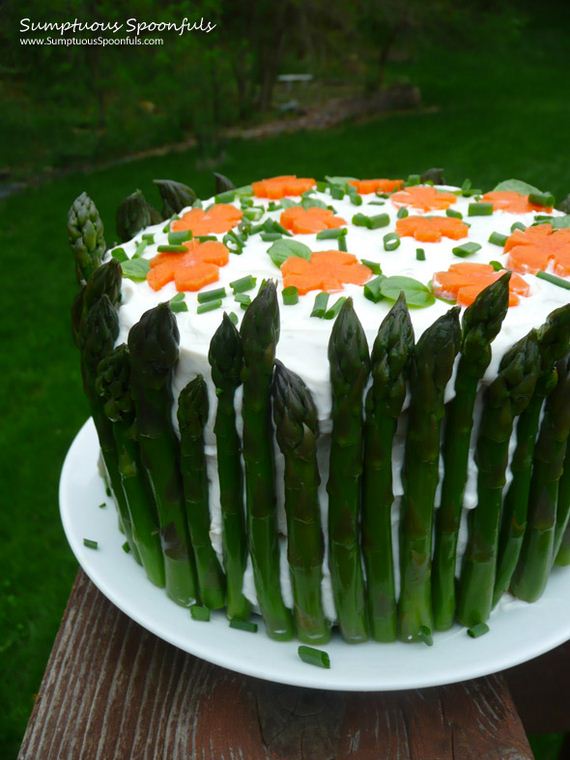 Sumptuous Spoonfuls filled her savory sandwich cake with dill-infused egg salad. And then garnished it with all kinds of yummy, pretty veggies!
2. Avocado & Bacon Club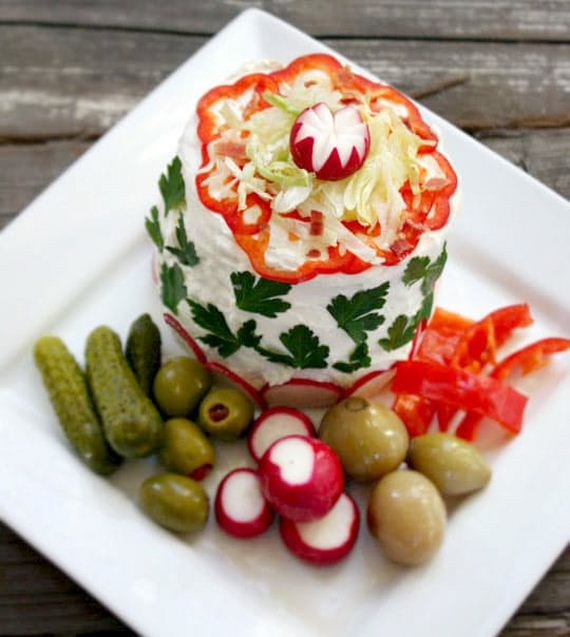 Who loves a bit of bacon and avocado? If that sounds good to you then you'll need to head on over to The Kitchn and take a peek at the details.
3. Green Peas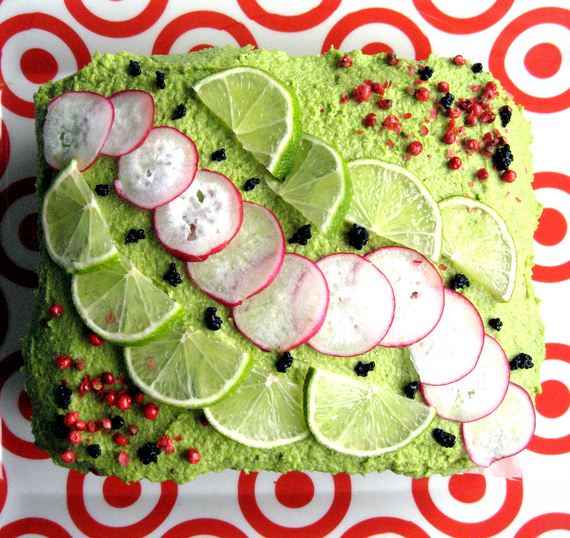 Goddess of Cake used green peas as one of their main ingredients. The icing here is mixed with those bright veggies and horseradish for a creamy kick!
4. Smoked Trout & Shrimp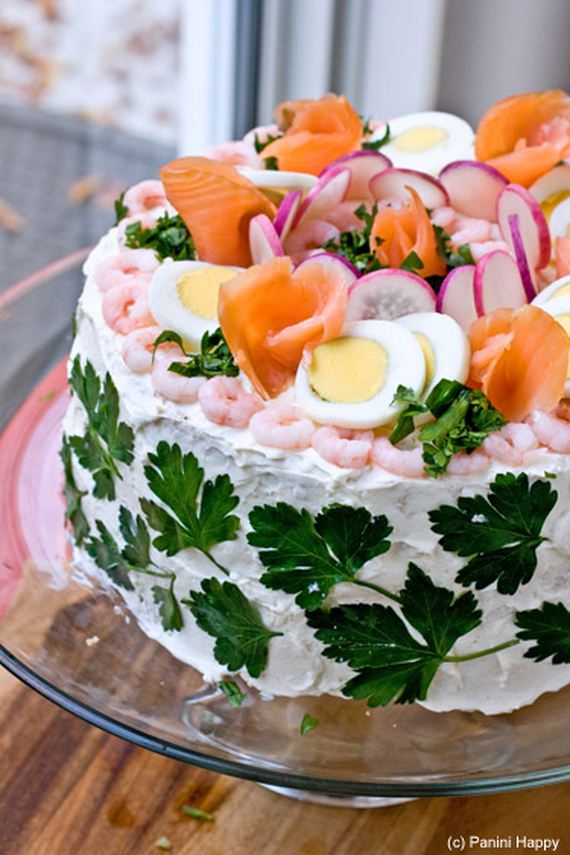 Panini Happy speaks to the seafood lovers. Hop on over and check out all the fun details surrounding her adventure and experimentation in the kitchen.
5. Stuffed Bundt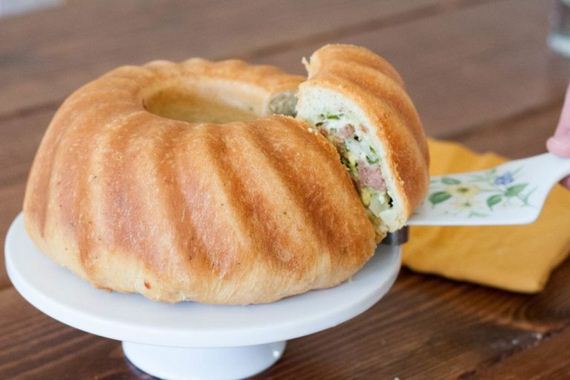 Visit Goodie Godmother is a savory stuffed bundt cake speaks to your tummy. Brunch-inspired, you'll be filling up this bread with sausage, cheese, eggs and more!
6. Ham & Cheese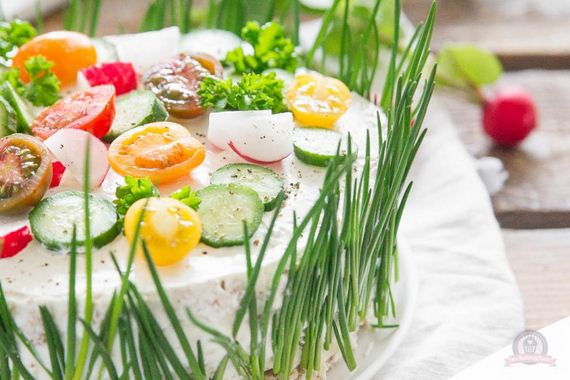 This sandwich cake is not only stunning but it's got quite the delicious melody of ingredients as well, with ham being center stage! It's a great piece to serve at brunch or even at a bridal shower. (via)
7. Traditional Fillings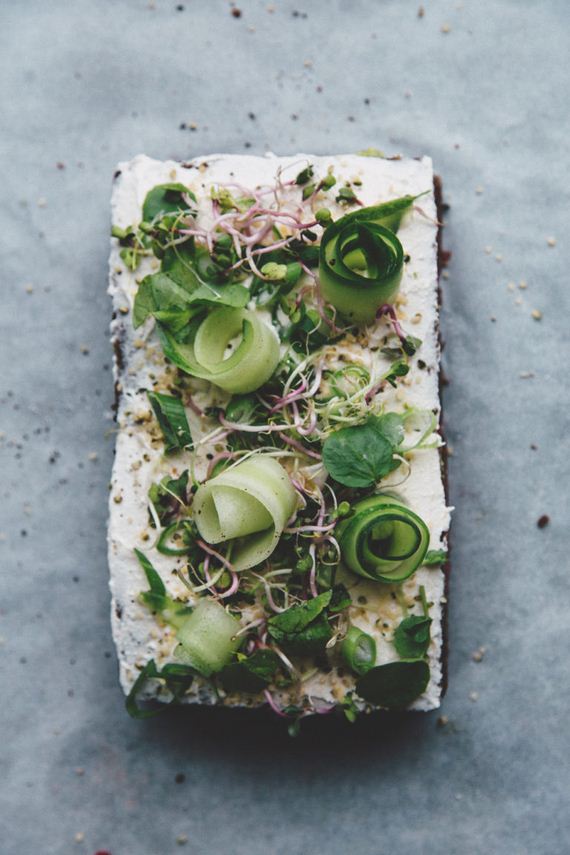 Nourish Atelier has a great recipe up their sleeve too. You'll learn about both traditional fillings (ham, prawns, eggs) and some veggie-based ingredients as well.
8. Tuna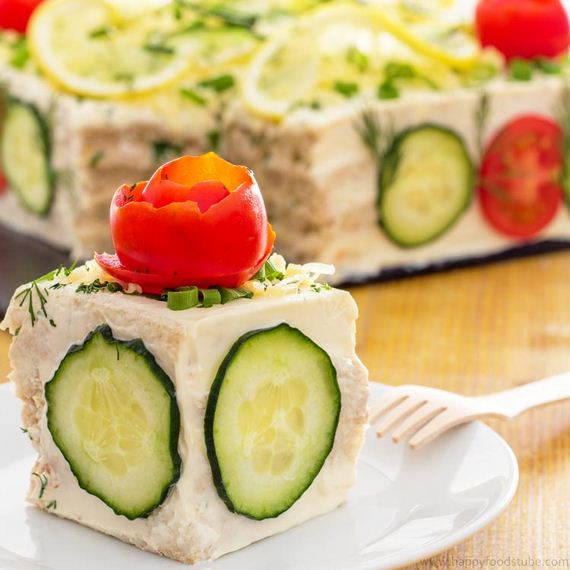 Who loves a great tuna sandwich? If that's you, head on over to Happy Foods and check out how to make this gorgeous, tuna-filled treat.
9. Avocado Chicken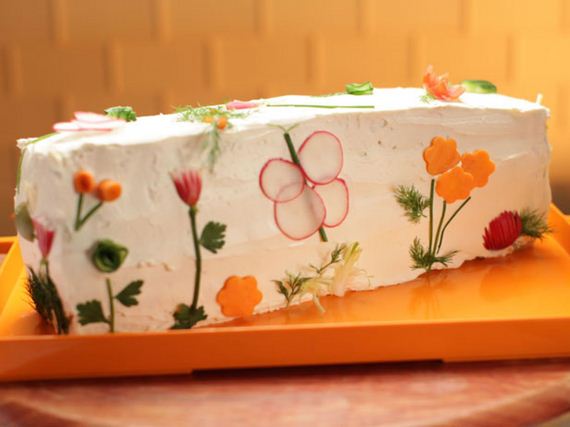 Food Network made their sandwich cake with a bit of avocado and rotisserie chicken. This one would definitely be a fan favorite so hop on over and grab the recipe now.
10. Prawns, Crayfish & Salmon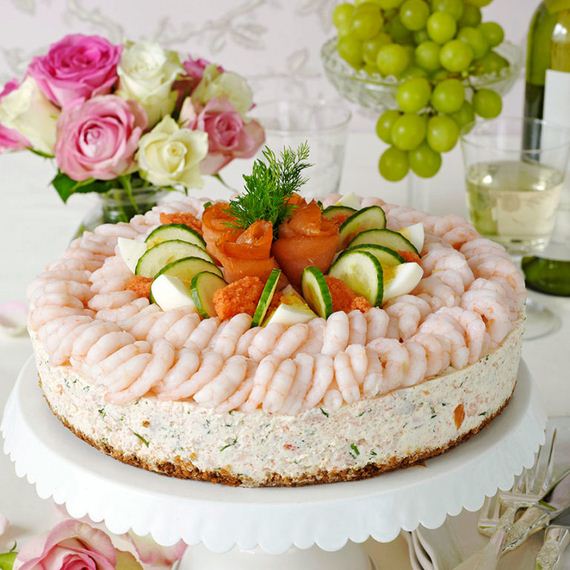 Here we have another traditional, seafood-inspired sandwich cake. Grab the recipe after the jump and take a look at how beautiful the finish product is! (via)
11. Salami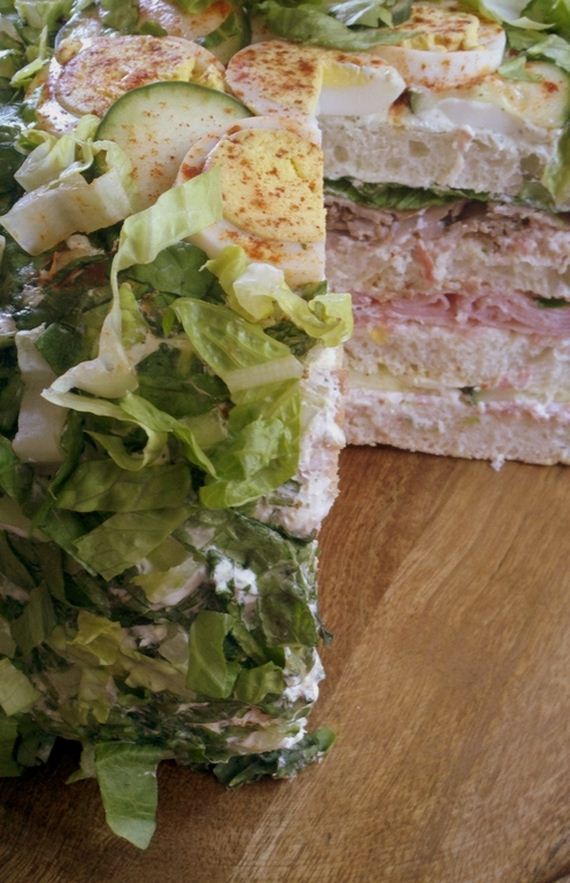 Ross Svebak Gives us another great design and recipe to take a peek at and try. And this one includes a bit of delicious salami in the mix!
12. Avocado, Cucumber & Sprouts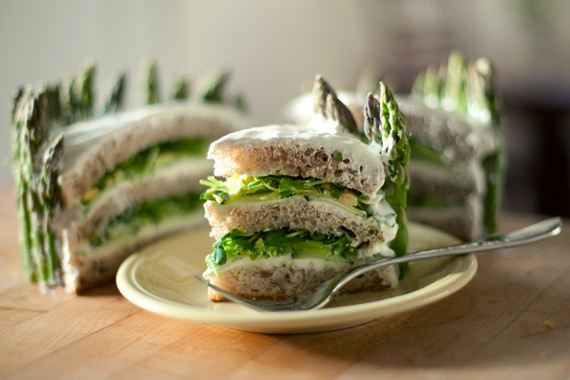 ModCloth has a veggie-based recipe to try out. If you want to stay away from the seafood and meats, then this is where you'll want to start!
13. Beans & Tahini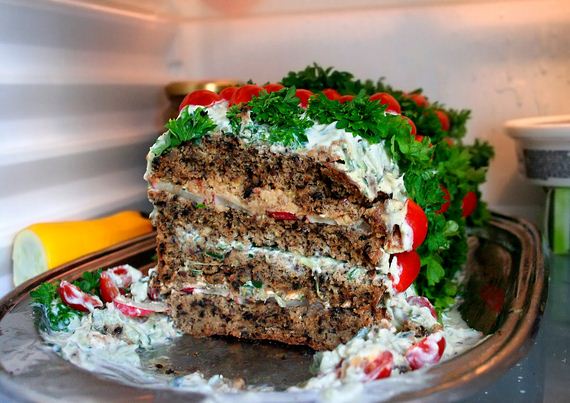 This one has a bit of protein involved but without the meat too! With a horse bean filling, this is quite a satisfying recipe as well. (via)
14. Vegan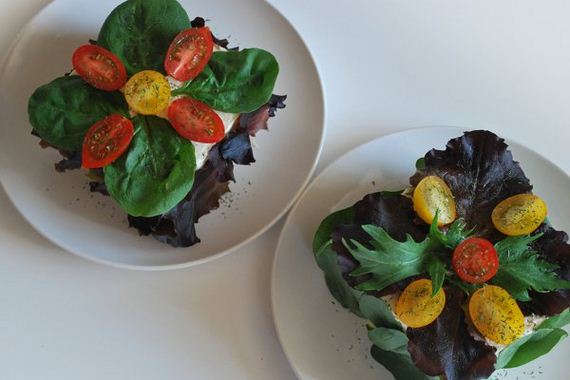 Over at One Green Planet, they took a vegetarian recipe to a new level and went vegan! Just make sure you grab the vegan versions of sour cream and mayo to make it right!
15. Tuna Pate & Shrimp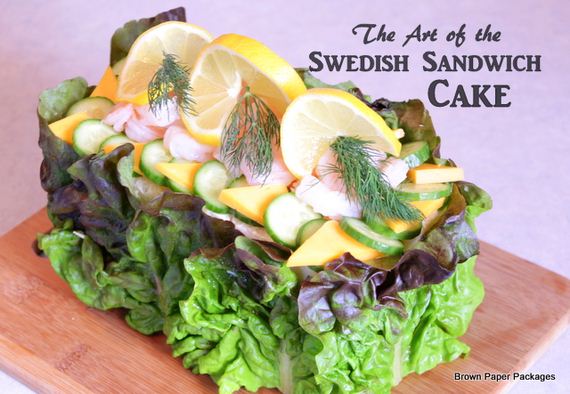 Brown Paper Packages used more traditional ingredients as well. But the uniqueness in this recipe lies in the design! Just check out that artwork!
16. Miniature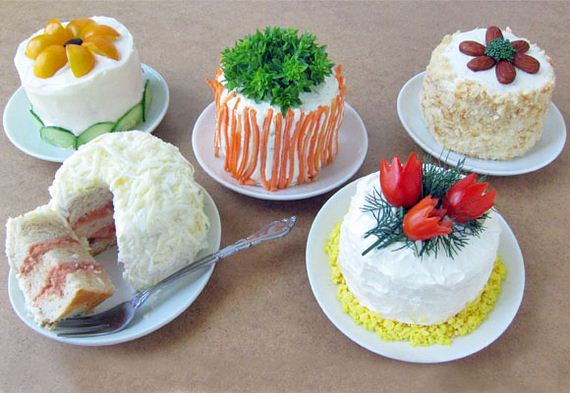 Why not whip up some mini sandwich cakes for your guests to indulge it? Check out Tablespoon for all the fun details.
17. Eggs, Salmon, Cucumber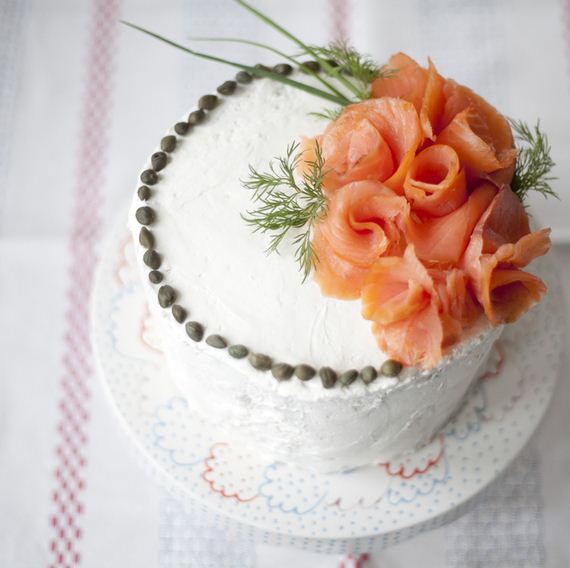 Pretty Prudent gives us a beautiful and classic Smorgastarta recipe. This sandwich cake is scrumptious but it's just right in detail for a celebration too!
18. Green Chutney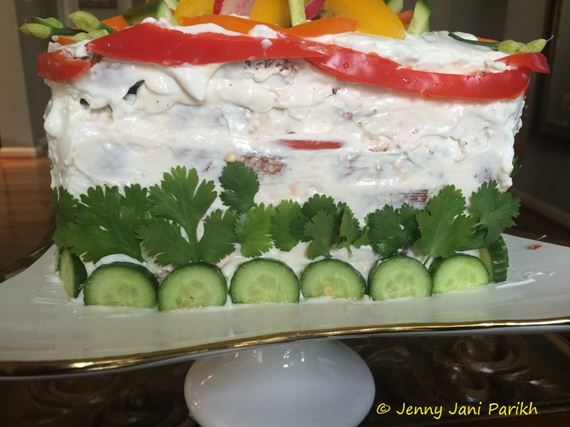 Blogorama has a savory sandwich cake recipe from Jenny Parikh that we're loving too. It's a bit more unique in its ingredients too and includes some green chutney!
19. Hummus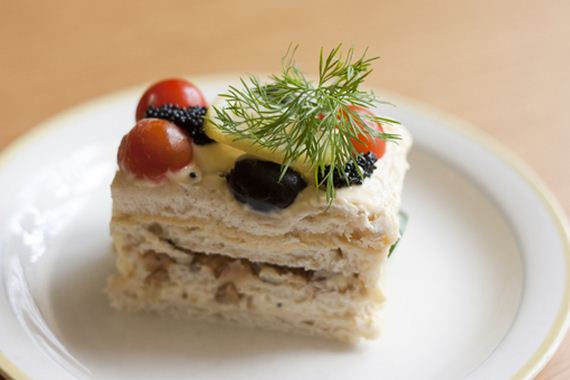 Northern Veg whipped up a beautiful hummus sandwich cake that was perfection for a graduation party. It's a wonderful bit of inspiration for whipping up food in celebration.
---
---