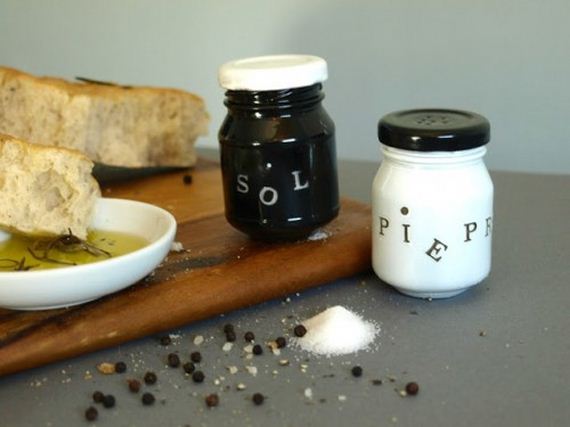 DIY Salt and Pepper Shaker Ideas
DIY Salt and Pepper Shaker Ideas
---
1. DIY Coke bottle shakers. Are you an avid Coca Cola fan with a collection of different bottles from different decades an countries? Choose two of your favourite unique looking bottles and transform them into salt and pepper shakers like iSave A to Z did with these ones! They'll look pop culture relevant and very cool set out on the table.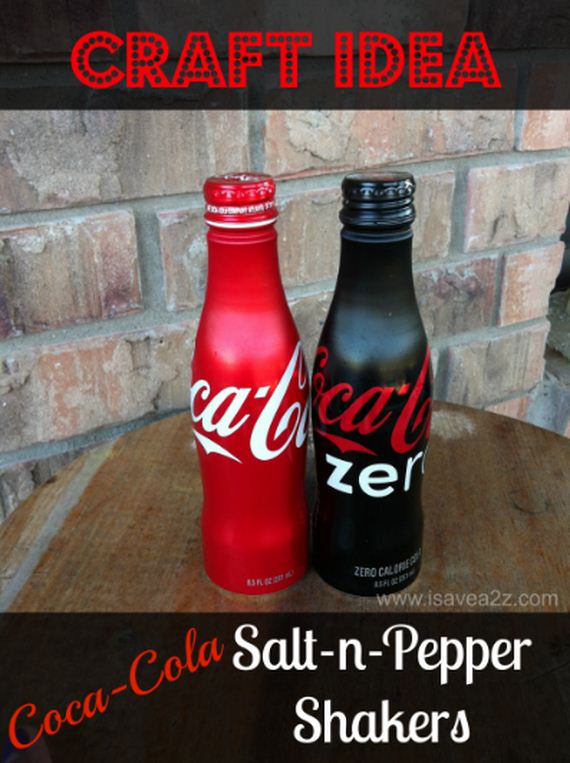 2. Gold leaf salt and pepper shakers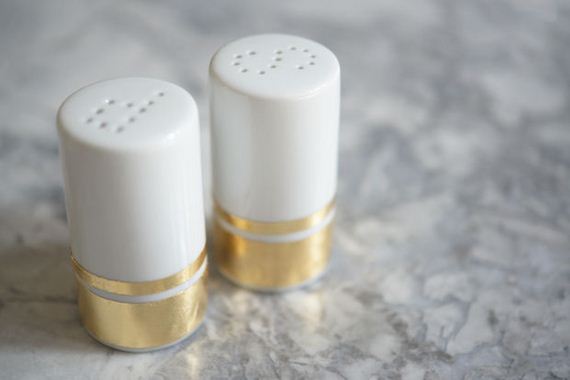 Cupcakes and Cashmere suggests using metallic gold leaf paint and some tape for clean lines in order to add some simple detail to a pair of plain shakers. You could recreate this look with any colour of all surface paint, but this particular design is both minimalist and glamorous at once.
3. Revamped vintage horse salt and pepper shakers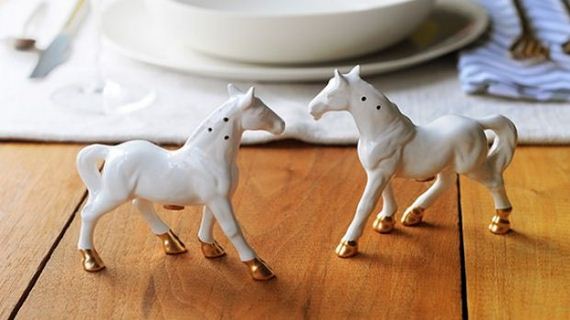 Do you love the gold leaf detail idea but plain shakers aren't quite exciting enough for your tastes? Take a trip to the nearest thrift shop and pick up the most exciting shakers you can find, then add the gold! We adore these wild horse shakers from Sydney Morning Herald.
4. Misted polka dot glass shakers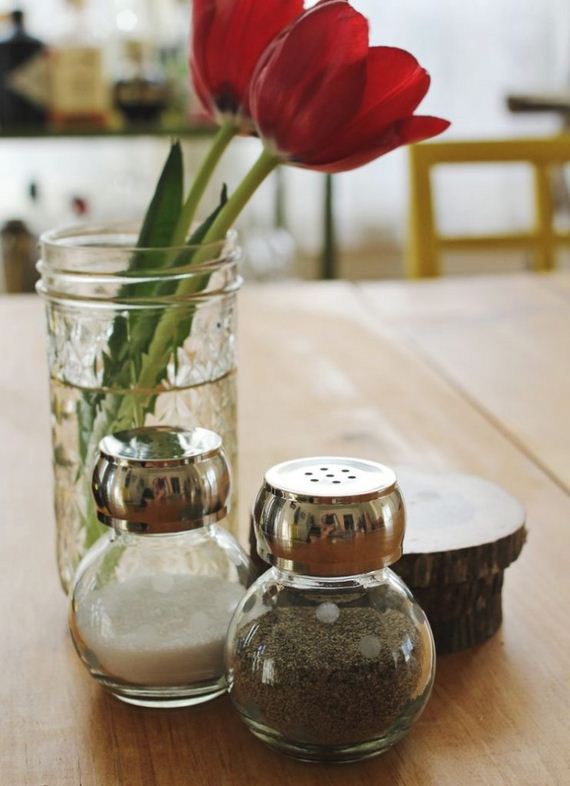 A Beautiful Mess guides you through the process of adding some simple polka dots to a pair of rounded glass shakers using glass etching techniques! You could use these same techniques to create a more intricate etched look as well, but sometimes simple patterns are the cutest!
5. Kinder Egg Minion shakers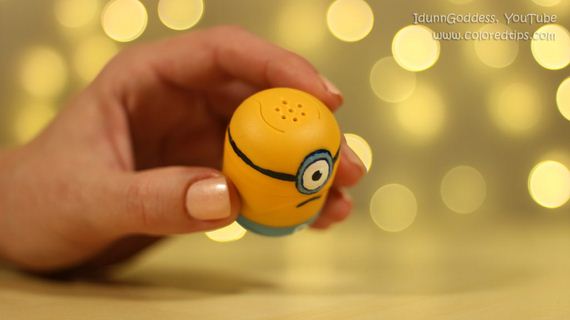 Do your kids like Kinder Egg chocolates so much that their playroom is scattered with the little yellow capsules that the toys come in? Grab two of them and put them to good use by transforming them into Minion themed salt and pepper shakers, just like iDunnGoddess did here! You kids will think they're hilarious.
6. Vintage sewing pattern photo shakers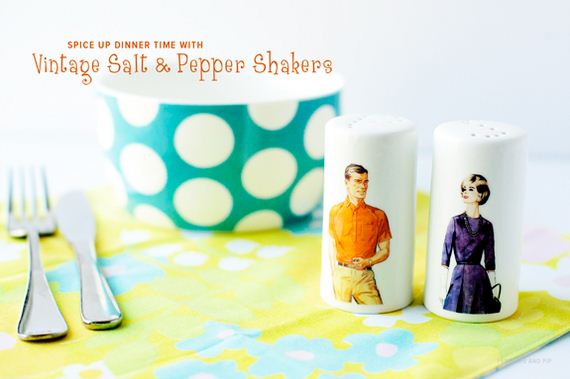 Say Yes guides you through the process of using Mod Podge photo transfer techniques to paste drawings from vintage sewing patterns onto simple salt and pepper shakers to give your dinner table an adorably kitschy touch.
7. Copper cylinder shakers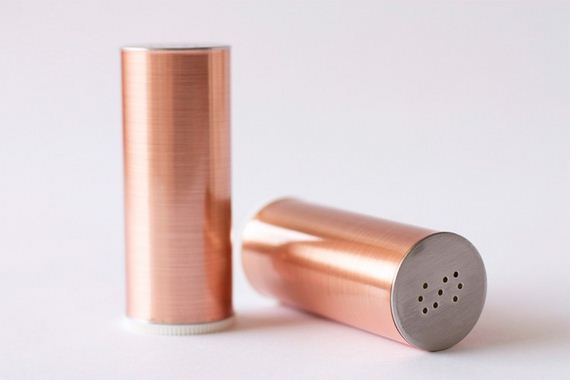 Were you hoping to make yourself a more industrial chic set of shakers to suit your very modern kitchen and dining area? This copper cylinder design by Brit + Co. might be more your style! All you need are some plain old salt and pepper shakers and some copper contact paper to spice them up with.
8. Corked chemistry flask shakers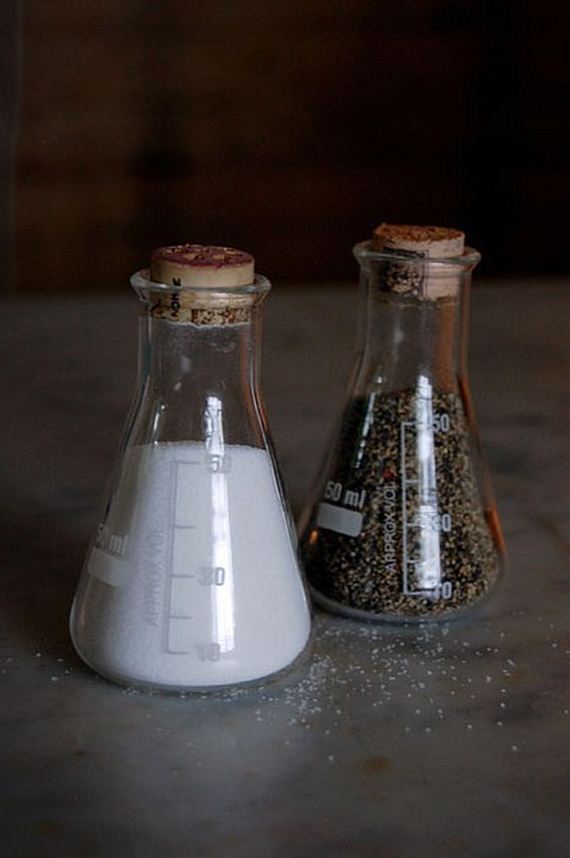 Are you completing a Bachelor of Science degree but you need some crafty projects to unwind with between study sessions? Make yourself a set of hilariously appropriate science themed salt and pepper shakers! The Art of Doing Stuff shows you how they're done.
9. Painted and metallic pup shakers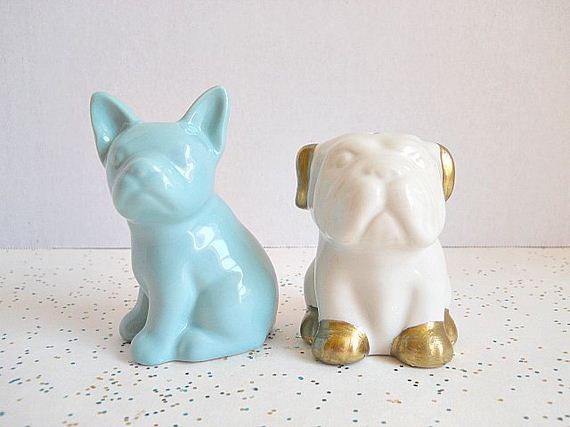 Running With a Glue Gun suggests customizing a matching set of old shakers that you found at a rummage sale differently from one another, just to switch things up. Besides looking mod and fun, it'll be much easier to tell the salt apart from the pepper than usual!
10. DIY wooden shakers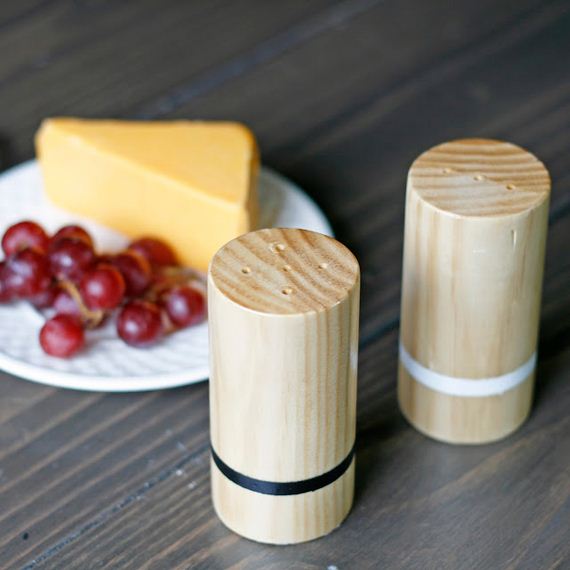 Pneumatic Addict teaches you how to create a set of wooden salt and pepper shakers from scratch, marking which shaker is which using black and white lines. The look is simple, but clean and effective, especially if your kitchen and dining room decor schemes also heavily involve wood.
11. Rustic mason jar shakers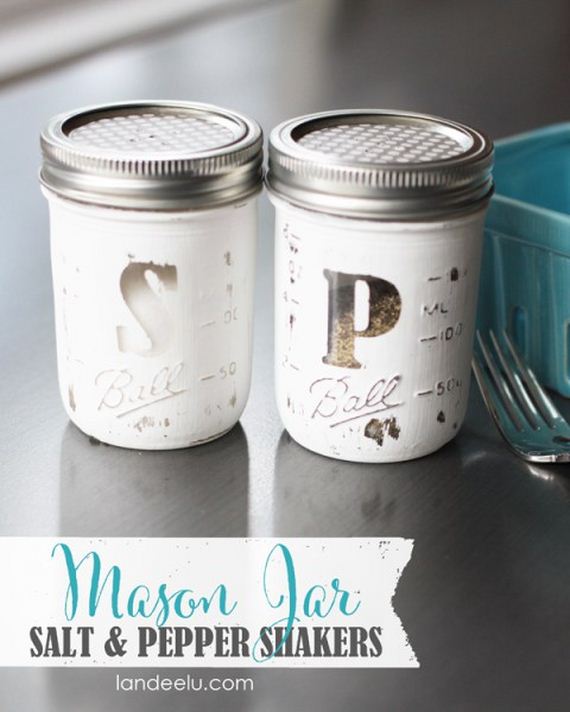 Makezine shows you how to make a set of purposely weathered looking mason jar shakers! We love the translucent letters that let you see right inside, as well as they way these contribute to a shabby chic scheme.
12. Black and white mini jar shakers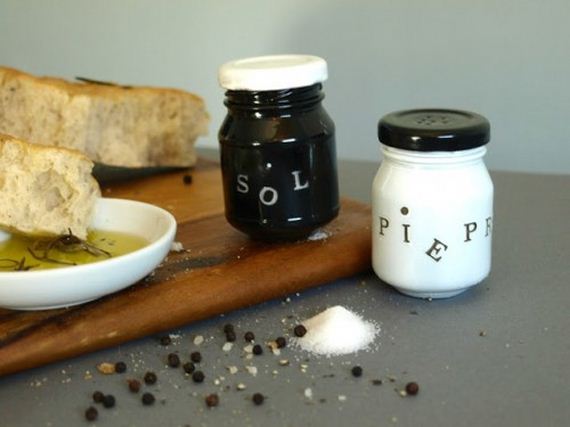 Do you live alone or find that your family doesn't go through salt and pepper very quickly? You might be able to make do with these mini shakers instead of very large ones! See how these adorable black and white ones were made on Shelterness.
13. Rounded, gold striped shakers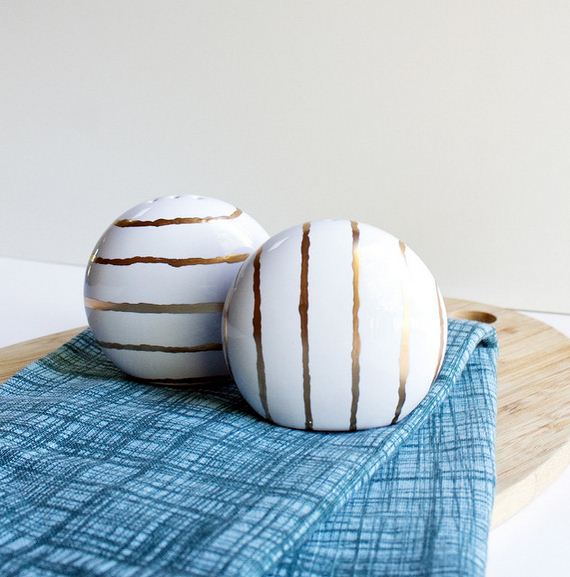 Vitamini Handmade suggests finding a set of shakers that have an interesting shape but no colour or pattern and jazzing them up yourself! Using gold leaf paint, like you see on these ones, makes things look fancy enough that you can keep your chosen pattern fairly simple and they'll still look glamorous.
14. Folk art enamel shakers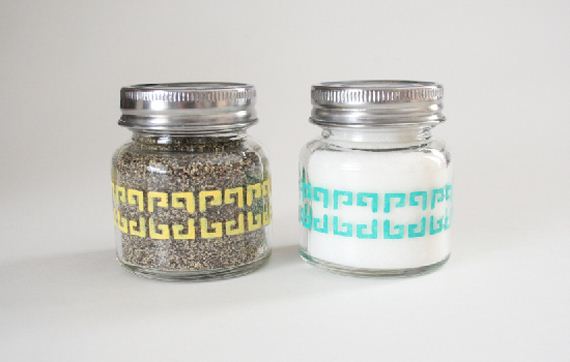 Dream a Little Bigger guides you through the process of applying an enamel pattern to some simple glass shakers that don't have much style. We love this recreation of a classic folk art pattern, but you could really choose any look you like!
15. Chalk paint shakers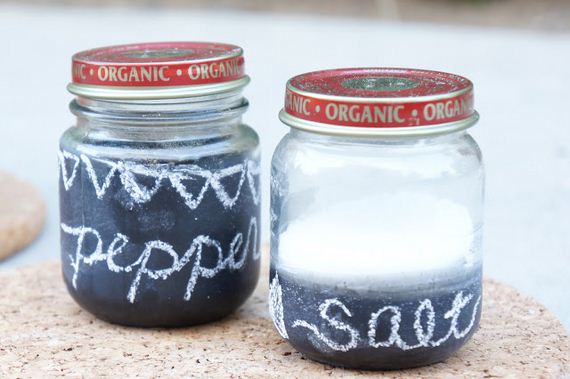 Chalkboard paint makes everything more fun. It also makes it very easy for you to label which shaker has salt and which shaker has pepper so that no one gets mixed up! Alternatively, you can paint one fully and one only partially so that everyone can see which is which no matter what. Get the look from Cali Katrina.
---
---