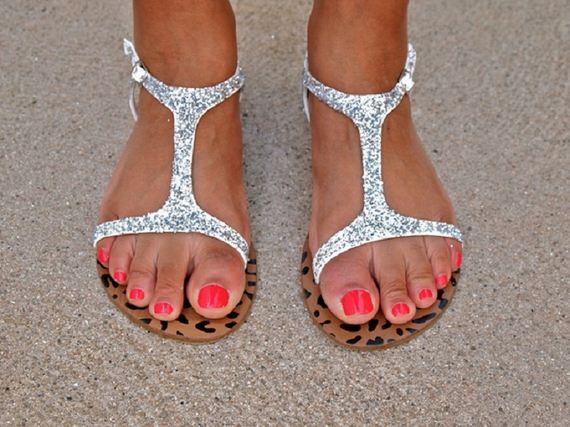 DIY Trendy Summer Sandals
DIY Trendy Summer Sandals
---
Here you will find how to make glitter sandals, so you can shine. Than bow sandals, rope sandals, flip flops, polka dot shoes, wrapped, ribbon sandals. Just recognize your style and start producing your new shoes!
1. Glitter Sandals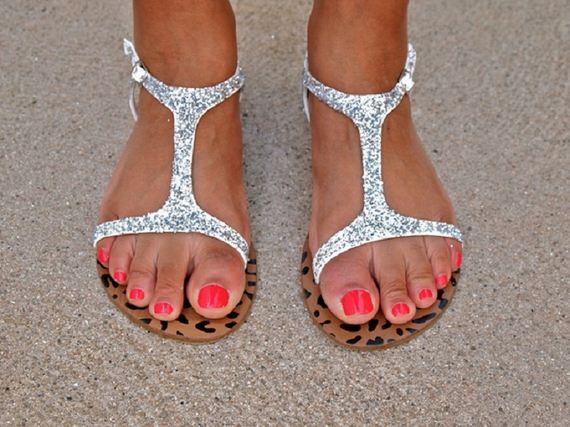 We are crazy about these super glam sparkly sandals, made with Tacky Glue, glitter and any pair of sandals that need a little glitter love! You will shine this summer!
2. Fabric Ribbon Sandals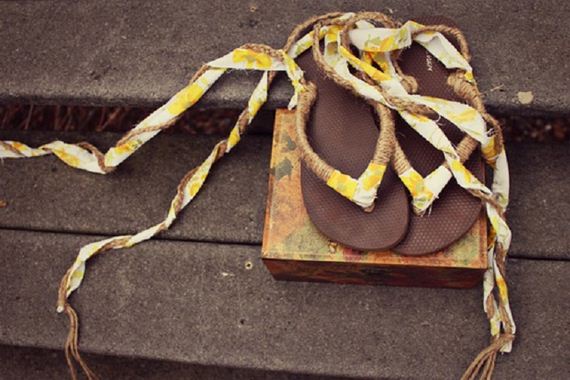 via babble.com
Using famed Old Navy flip flops (often as inexpensive as $2 per pair), create these pretty fabric ribbon sandals by tying on long strands of hemp twine and fabric strips.
3. Flip Flops

via bywilma.com
The weather is asking for new flip flops. So we thought we could make a cute pair out of cheap flip flops and some 't-shirt yarn'. We used store bought yarn , but you can also make the yarn yourself from old t-shirts.
4. Bow Sandals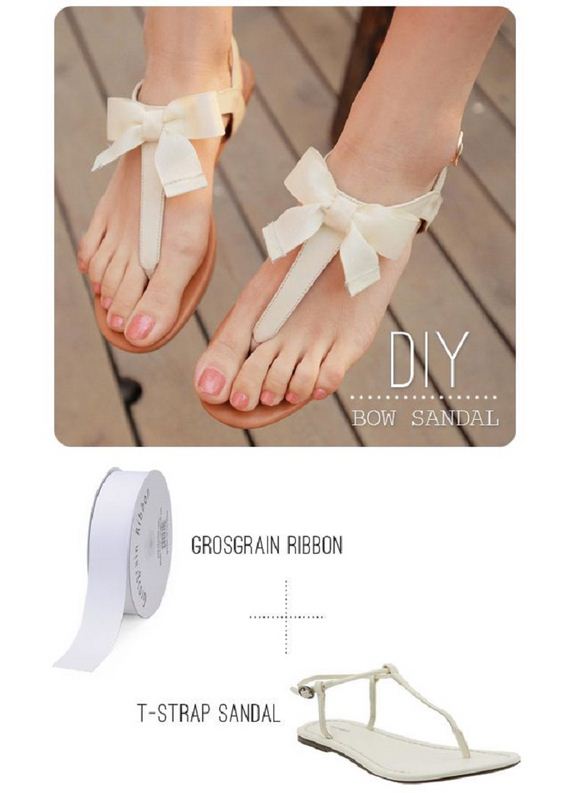 via swellmayde.com
Tie a bow with the grosgrain ribbon. In order to keep the cut edge from fraying, you can add fray check along the edge, or simply roll the edges two times and sew with a straight stitch. Then, add a little dab of glue, either e-6000 or a hot glue gun, and glue onto the sandal.
5. Wrapped Sandals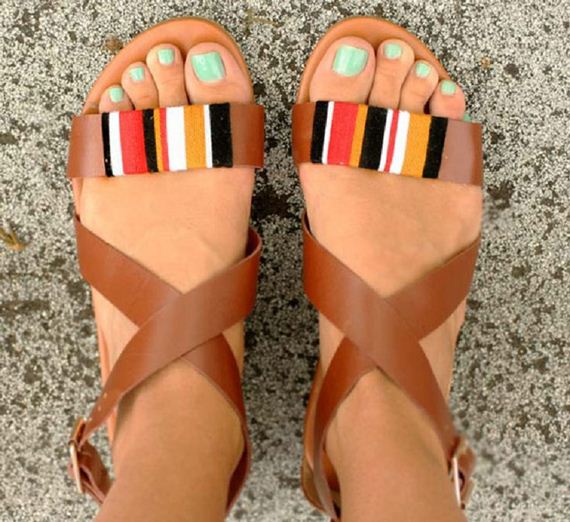 via babble.com
Classic leather sandals get a fresh new look with the addition of embroidery thread applied with a basic wrapping technique. So stylish and easy to make by yourself!
6. 
Polka Dot Shoes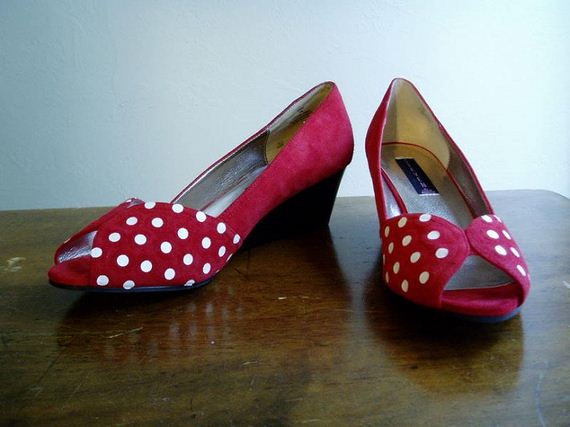 We mixed the acrylic paint and textile medium in approximately the two parts paint to one part medium recommended on the bottle, and then proceeded to paint. It ended up taking three coats until we were happy with the opacity.
7. Rope Sandals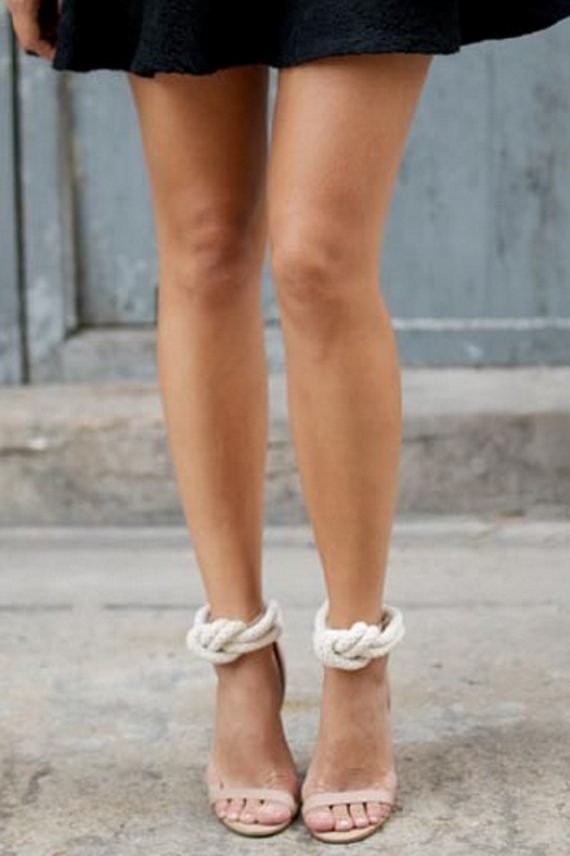 via vogue.com.au
Summer is the perfect time to bring out your nautical-inspired ensembles, and what could be better than a pair of knotted rope high heel embellishments – which can be worn across a multitude of shoe styles and are perfect for hitting the high seas. These are so simple to make, just follow the instructions.
8. Bejeweled Sandals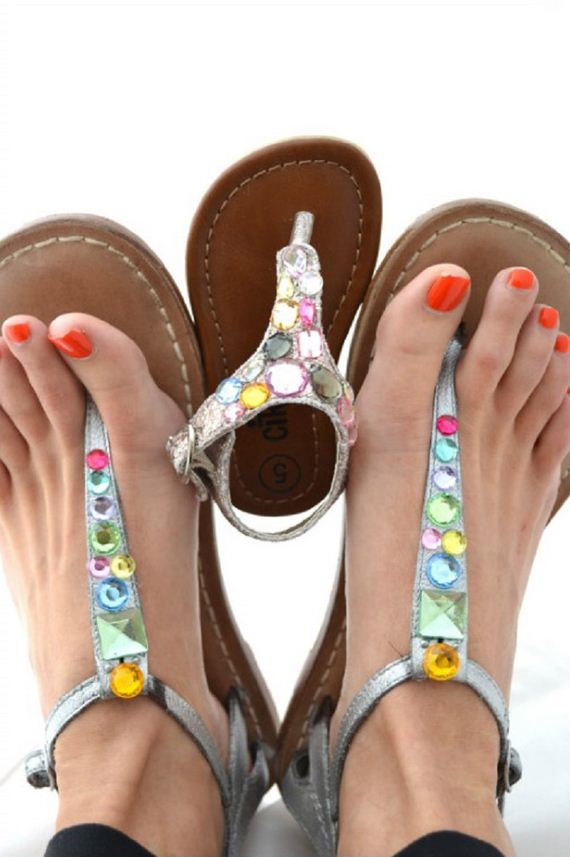 via babble.com
Have an old pair of leather sandals that need a fresh new look? Bust out a coat of metallic spray paint and large plastic gems attached with glue. So cute!
9. Flip Flops with Stones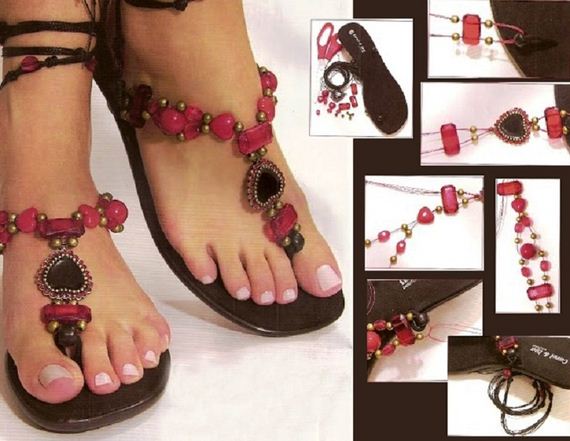 Flip flops are the best choice for foot wear during the warm summer months. They are easy to slip on, come in a variety of colors and can match almost any outfit. Instead of searching for hours for the best pair for you and to put up with their high price, you can spend only a few dollars and have sandals that are stylish and unique because you've made it on your own.
10. Braided Strap Sandals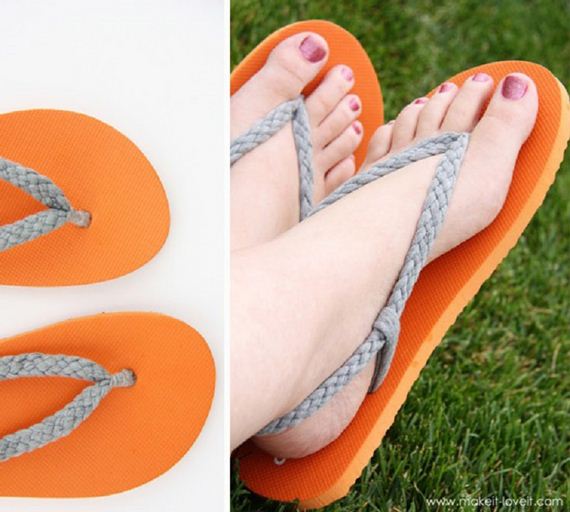 via babble.com
Refashion the most basic of flip flops with braided straps made from inexpensive knit fabric, similar to a t-shirt material. Or you can just use an old t-shirt!
---
---