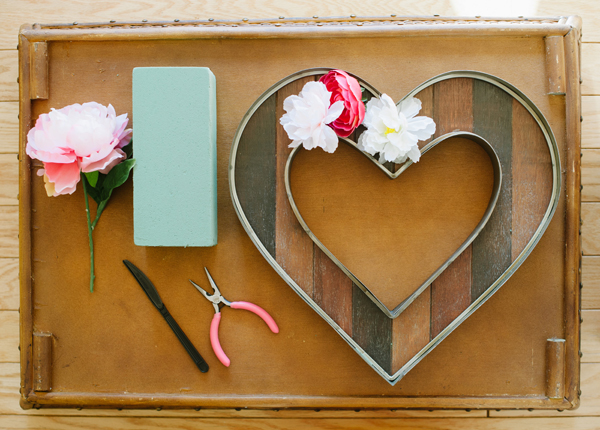 Easy DIY Silk Patterns
Easy DIY Silk Patterns
---
Amazing DIY projects that revolve around working with all silk and nothing but silk. Whether you so or just like crafting, we'd be willing to bet that there's something on this list for you!
1. Folded silk butterflies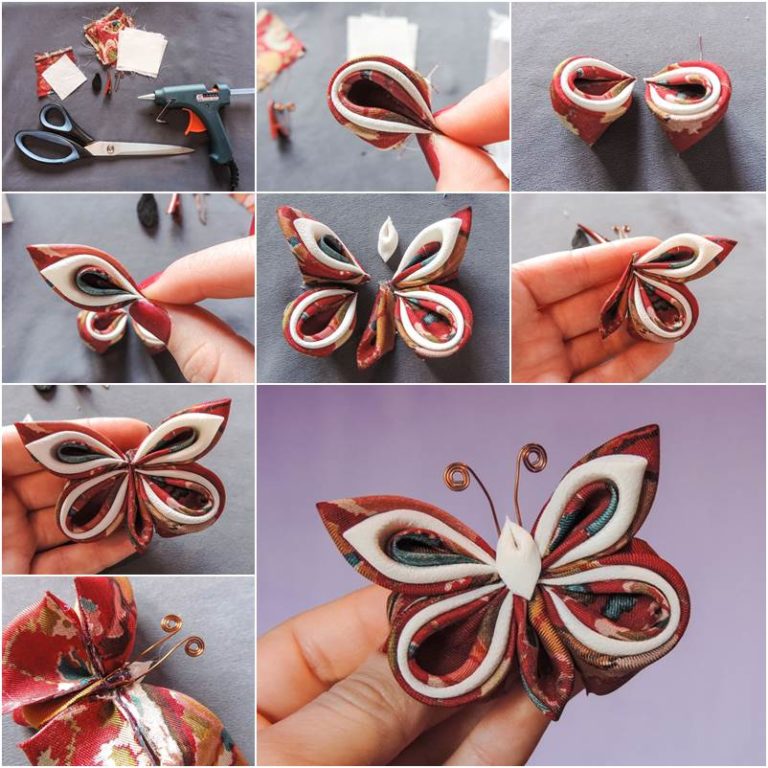 Have you always been interested in DIY projects that let you bend, mould, gold, and generally created until you've made something tangible and 3D? Then you're a crafter after our own heart! Fabric folding crafts are a huge art form, especially when they're made from layers of silk, and this gorgeous butterfly by Architecture Design is the perfect example of why.
2. Rhinestoned silk flower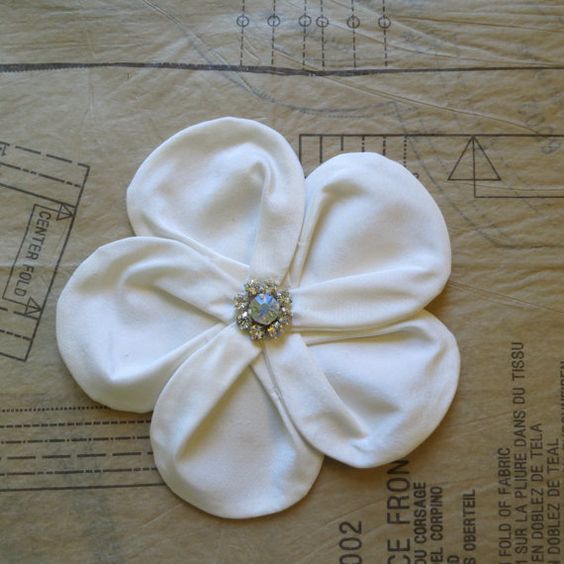 Perhaps you like the idea of fabric folding but you're looking for something a little simpler than the layered wings above? Going simpler doesn't mean you can't add a little sparkle or detail! We love this silk flower made from cut and folded petals with a little rhinestone fixed in the middle. Check out the details for making your own on Floreti.
3. Silk pillow covers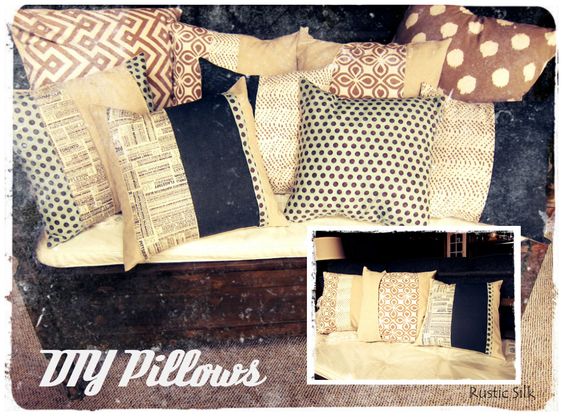 Are you the kind of decorator who things that the more throw pillows you have on your bed, couch, or basically any other surface in your home, the better? Then we are completely on the same page. Incorporate your love for silk into your pillow pile by creating adorable little silk pillow covers with geometric strips and colour blocking sections down the centre, just like these ones from Rustic Silk.
4. Silk pillow ruffle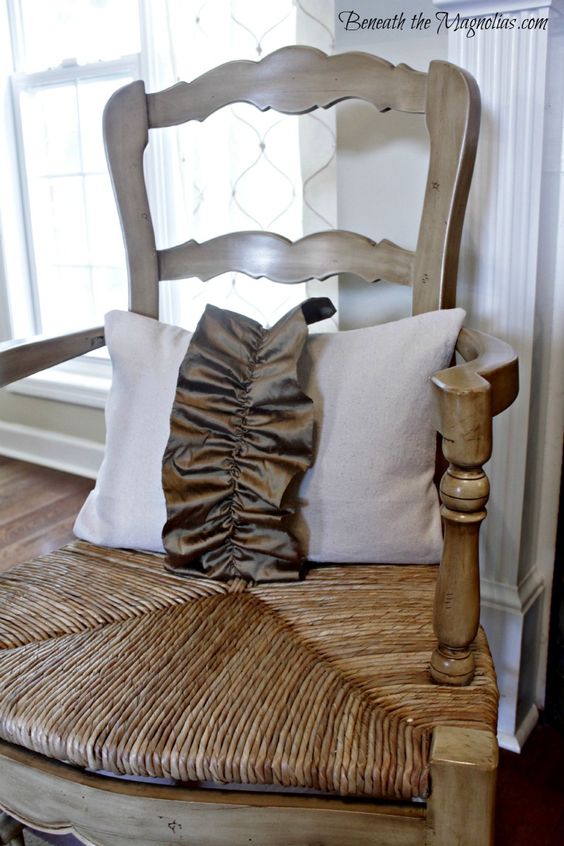 Perhaps you like the idea of silk on pillows but you'd rather keep it to the embellished details rather than the entire case itself? Then check out how Beneath the Magnolias made this adorably large ruffled down the centre of a finished pillow and case by using a thread down the centre of the strip to bunch and pucker it in all the right places to make a stylishly ruffly edge.
5. Silk ribbon embroidery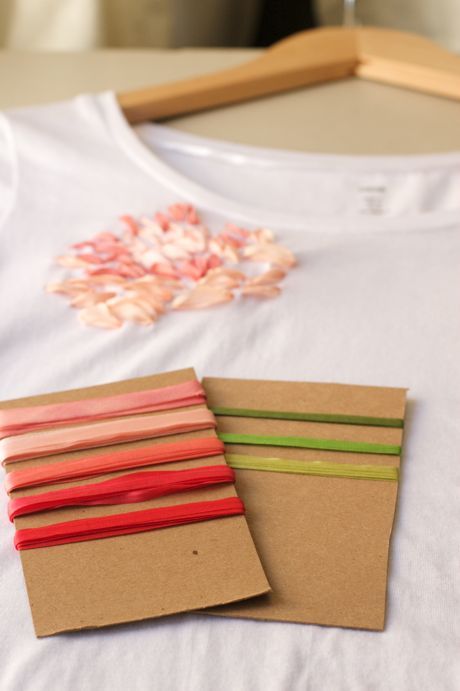 Embroidery of any kind is very pretty, particularly when it's done by hand, but sometimes it's nice to change up a classic technique a little bit! Embroidering a picture or design can look especially awesome and standout when it's done with a thick material than floss, like thick ribbons. Check out how to make a flower petal effect on a t-shirt just like Oh Happy Day.
6. DIY leather and silk sandals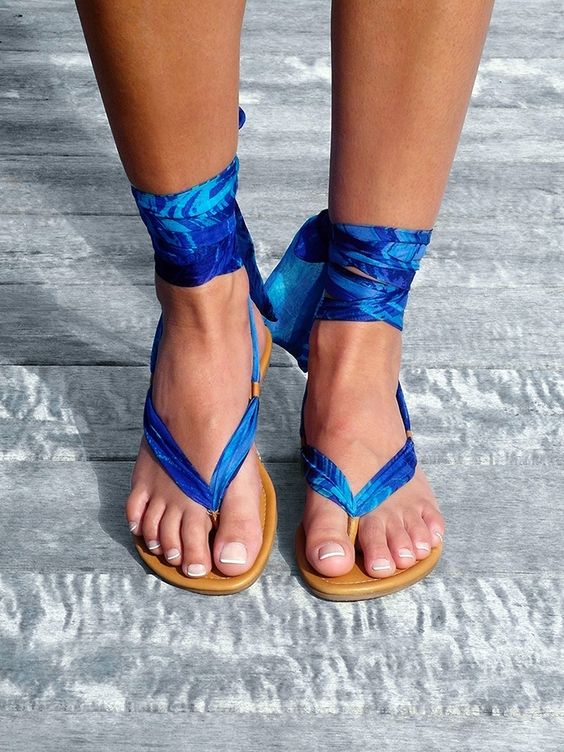 Do you have a pair of sandals that are still in good shape on the bottom and sole, but that could use some help when it comes to the straps that actually keep them on your feet? Then perhaps it's time that you replace those straps all together. Instead, consider looping silk ribbon or small strips of silk fabric through the toe holes in the soles and wrapping them up your ankles like a ballerina to keep them on. Custom Made shows you how they're done.
7. DIY silk scarf dress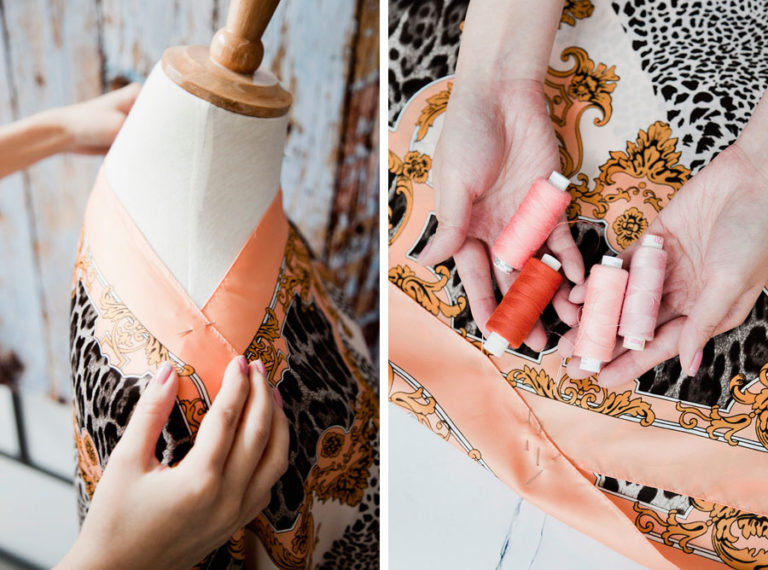 If you're anything like then, then it's possible that you have a weirdly large abundance of silk scarves in your home that you've been collecting throughout the years. Rather than letting them sit or simply cycling through the pile to wear them as plain scarves with your outfits, why not get a little more creative? Park & Cube guides you through process of transforming them into a beautifully casual silk dress.
8. Silk thread bangles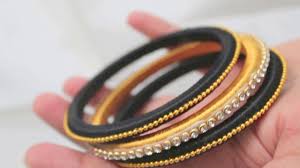 Perhaps your love for silk is so extensive that it bleeds into even the smallest silk content, like silk threads? There are plenty of things you can make with that too that still display the beauty of silk! We're particularly fond of these simple thread wrapped bangles that have some shine and some bling all in one place. See how they're made on My Crafts.
9. Children's silk and ribbon skirt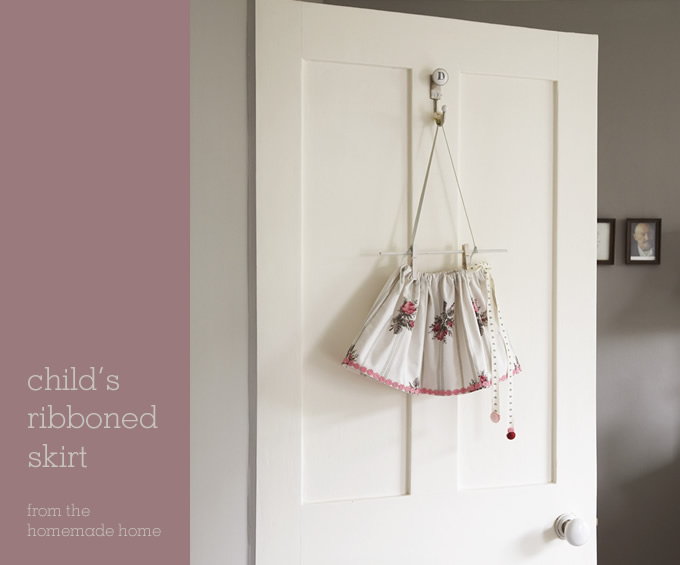 Do you have a length of patterned or printed silk that's very floral or girly and that you're not sure you'll ever wear as a garment yourself? Follow Sania Pell's lead and turn it into a simple kids' skirt instead! We particularly love the added ribbon detail around the waste to tie the skirt on and off.
10. Silk wedding bouquet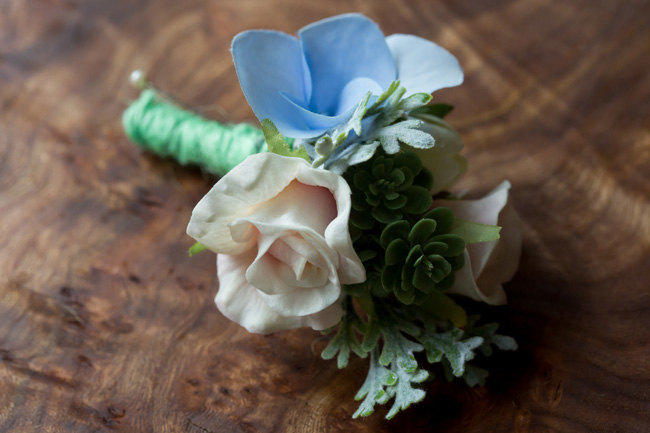 We've already talked about creating silk flowers, which is also a great way to make a gorgeous DIY wedding bouquet. Regardless of what kind of wedding flower you decide to make, however, you can still incorporate a pretty silk element by wrapping the handle of your bouquet in silk ribbon or strips of pretty silk material. Check the idea out on English Wedding.
11. Silk and silver layered tube bead bracelet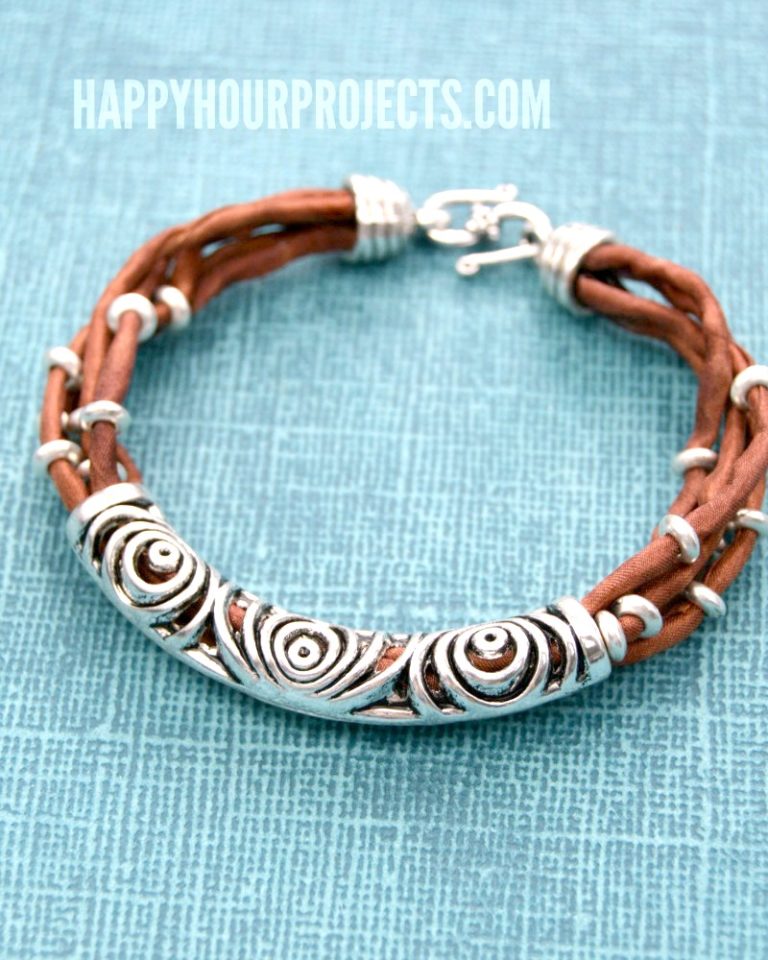 Do you love the idea of involving fabric in jewelry making? We love it too, but sometimes we find fabric jewelry too flouncy or unstructured for our tastes. This idea from Happy Hour Projects, however, uses rolled strips of silk strung through silver rings and beads to create a cute multi-band effect in a bracelet and we're huge fans of the design!
12. Silk tassel garland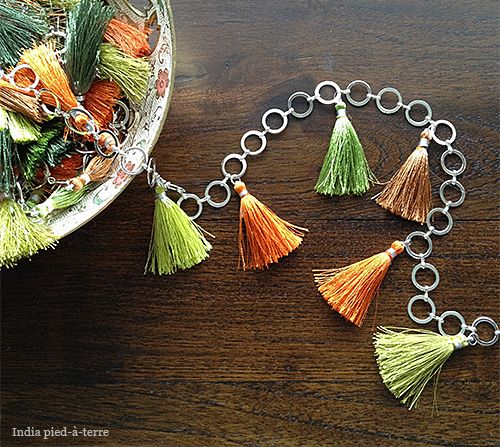 Tassels are always a fun detail in crafting no matter what you're making or what they're made of, but you can probably tell by now that we have a particular penchant for the kind made of silk fringe. Looping the tassels onto a chain of little silver rings is an awesome way to create more permanent looking garland decor that looks good at a party but also might be left up beyond that night because it looks so good and is much sturdier. Get the details on The Nomadic Decorator.
13. Vintage silk kimono clutch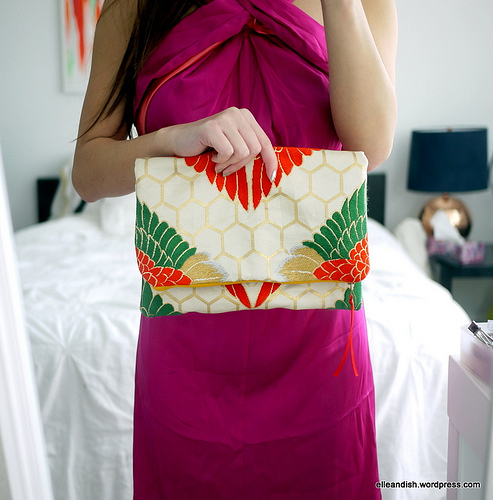 Do you have a bit of a thing for grabbing every old silk kimono you can possibly find in thrift stores and buying it immediately? We do this too and we've certainly found some lovely pieces that we actually wear, but there are just as many sitting in the closet going unused. Instead of letting them collect dust, try cutting up those unused kimonos and upcycling them into gorgeously patterned silk clutches, just like Elle and Ish did here!
14. Silk floral wreath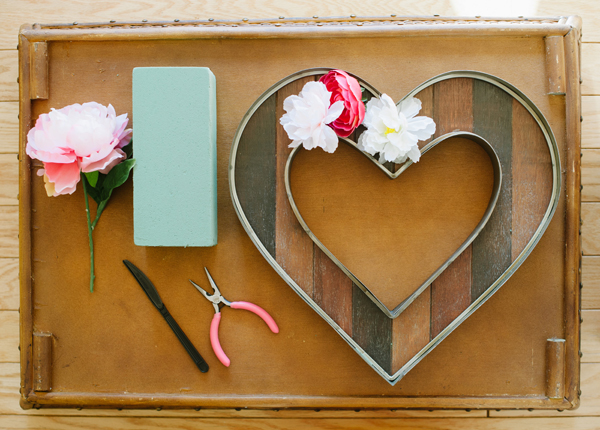 Do you love making seasonal wreaths and hanging them on your front door to greet guests and make them feel cheerful? Well, if you ask us, few things are as cheery as pretty silk flowers in great bunches! We love the way this heart-shaped, sunken wreath frame built by The Bride's Cafe lets you nest a whole bunch of pretty handmade silk flowers inside for something pretty and spring-like, no matter the time of year.
15. Silk tie dyed Easter eggs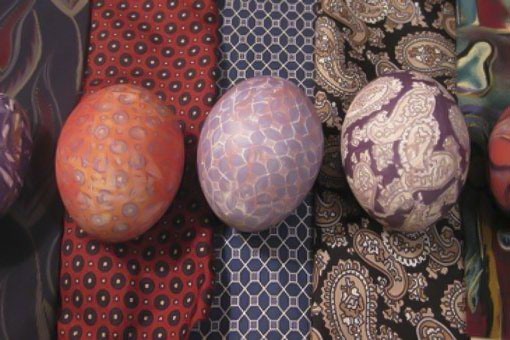 Do you love dying Easter eggs every year but you're always looking for new ways to make the process and the end result more interesting? Well, imagine how intrigued we were when we learned that you can actually imprint and eggshell with the pretty pattern featured on your old silk ties! Check out how Upcycled Wonders created these adorable paisley and polka dot printed eggs for a bit of unique Easter decor!
---
---