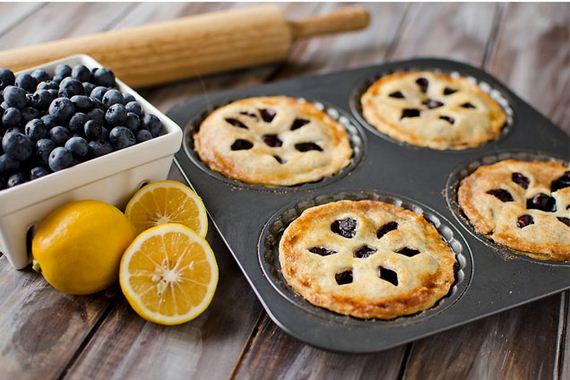 Easy Mini Pie Recipes
Easy Mini Pie Recipes
---
1. Mini Key Lime Pies. These mini key lime pies look incredibly mouth-watering, and they're easy to make too. There are only five ingredients for the filling and three for the crust. Make your way over to Liv For Cake to find out how to make your own mini key lime pies, and to see tips for a successful crust.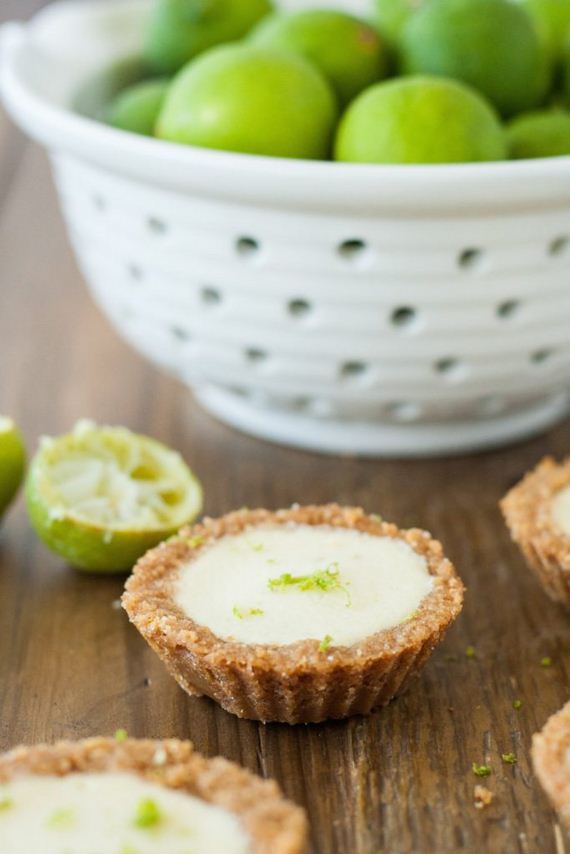 2. Blueberry Meyer Lemon Mini Pies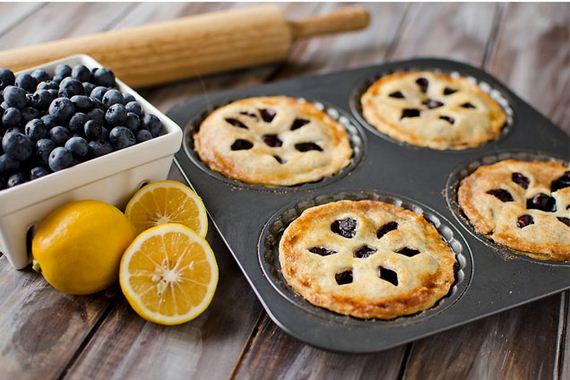 These blueberry and Meyer lemon mini pies have crust on the top, allowing you to get creative with the design. Try the diamond shapes that they've done here, or perhaps a more traditional lattice pattern. Head over to The Creative Bite to check out the full recipe.
3. Miniature Pumpkin Pies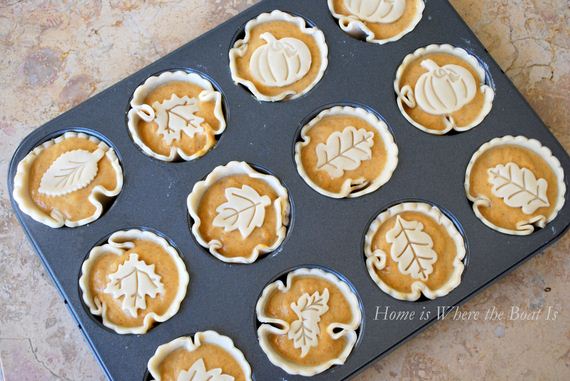 These adorable little pies have a delicious classic pumpkin pie filling, with beautiful leaf and pumpkin shapes decorating the tops. These are made in muffin tins for the perfect single serving size. Head over to Home Is Where The Boat Is to find out how to make these.
4. Mini Cherry Pies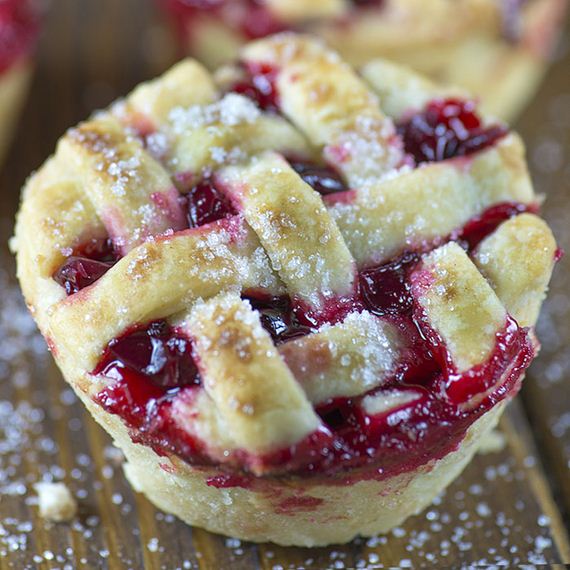 This gooey, delicious-looking mini cherry pie has a wonderfully sweet flavor with that hint of tartness characteristic of classic cherry desserts. The woven top gives it some serious decorative flair, too. Make your way over to OMG Chocolate Desserts to check out the recipe.
5. Mini Pecan Pies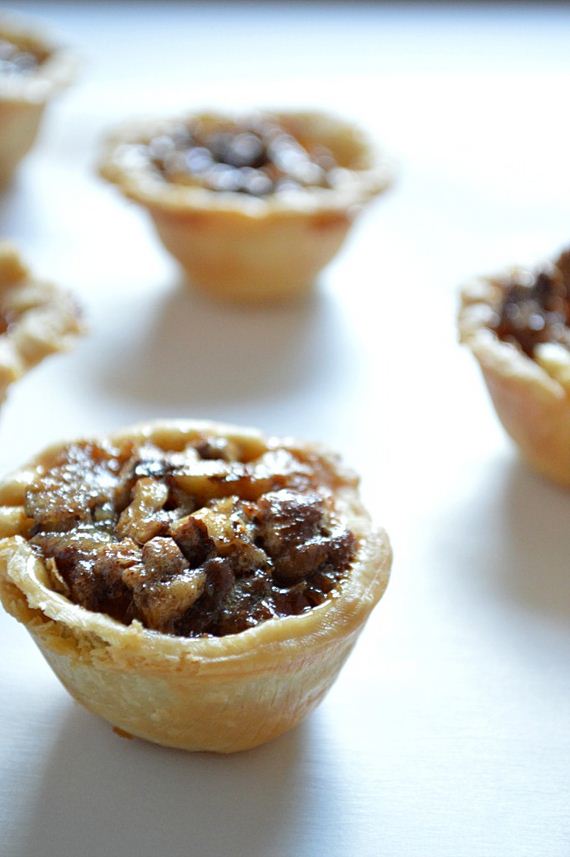 Pecan pie is a classic holiday dessert in many homes, so these mini versions are a great way to serve a classic without the extra plates and mess of regular-sized pies. And they're pretty easy to make, too! Head on over to House of Yumm to find out how to make them.
6. Salted Caramel Apple Hand Pies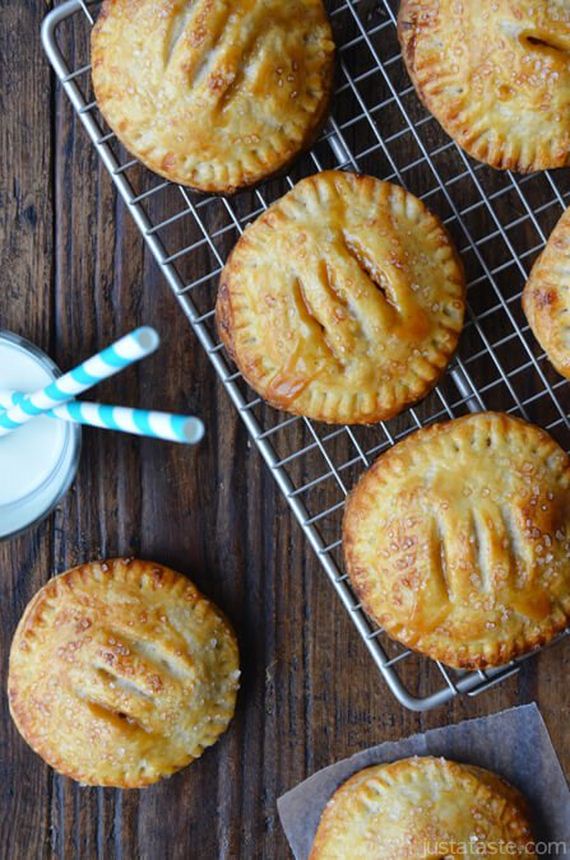 These little hand pies are filled with an amazing salted caramel apple filling, and they're just the right size and texture to pick up and eat with your hands (hence the name!). Make your way over to Just A Taste to check out the recipe and to learn some helpful tips.
7. Chocolate Cream Mini Pies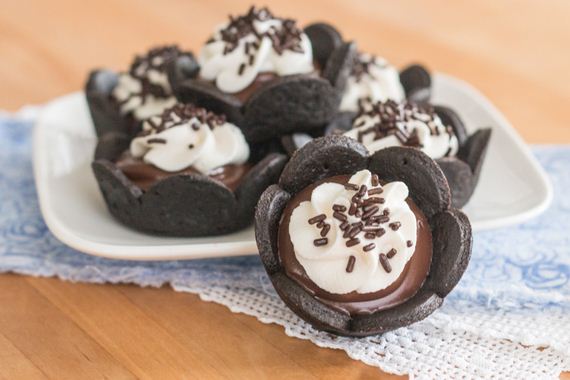 For those of you chocolate lovers out there, these decadent-looking chocolate cream mini pies might be the perfect choice for you. They are filled with chocolate pudding and topped with sweet whipped cream. Head over to Flour Arrangements to see the recipe.
8. Two-Bite Lemon Meringue Pies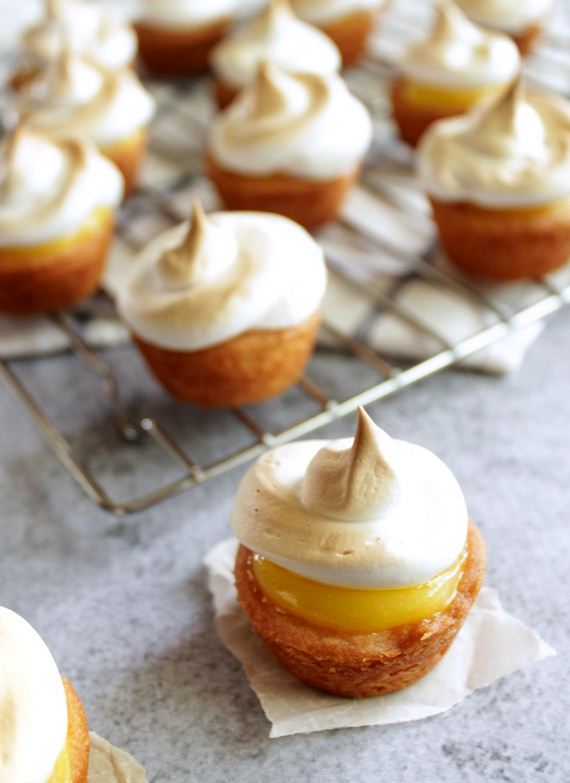 These tiny lemon meringue pies are filled with a tart lemon filling, and topped with a lightly browned dollop of meringue… they're so good, you might just have to eat two. Or five! Head on over to Port and Fin to see the recipe and check out some helpful notes.
9. Mini Heart Shaped Pies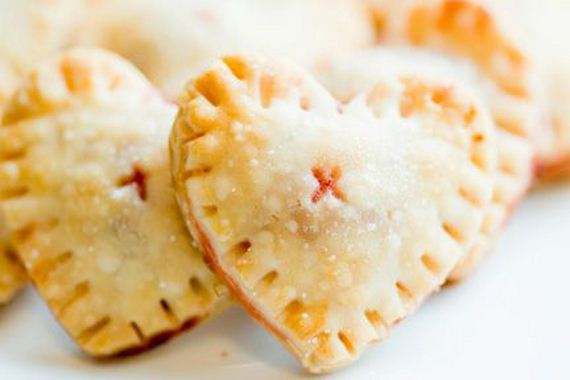 Your guests are sure to love (no pun intended) these adorable little heart-shaped pies. All you'll need to make them are some jam, store-bought dough, sugar and milk. Try a couple of different jam flavors for variety. Check out the super simple recipe over at 24/7 Moms.
10. Pineapple Upside Down Mini Cakes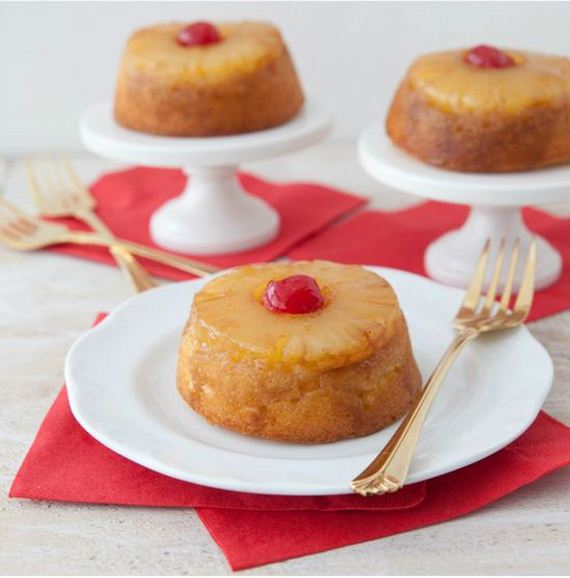 If you're a fan of the tried-and-true pineapple upside down cake, then you'll adore this miniature version. Simply recreate the classic recipe using muffin tins instead of a sheet pan, and voila – perfect single-serve portions. Check out the recipe right here.
11. Blueberry Hand Pies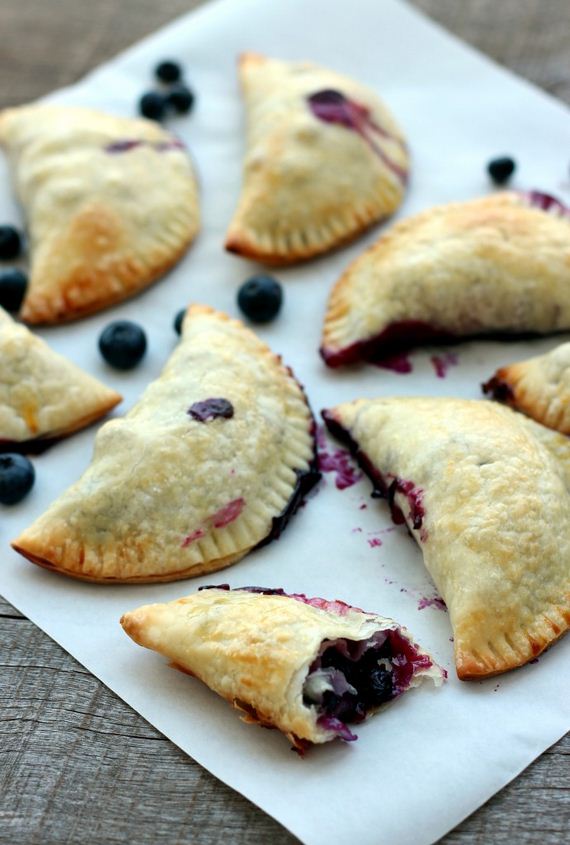 These mouth-watering hand pies are filled with a rich blueberry mixture and are in the form of semi-circles so that guests can easily pick them up with their hands, eliminating the need for plates and forks. Head over to Dish By Dish to check out the recipe and more photos.
12. Apple Apricot Mini Tarts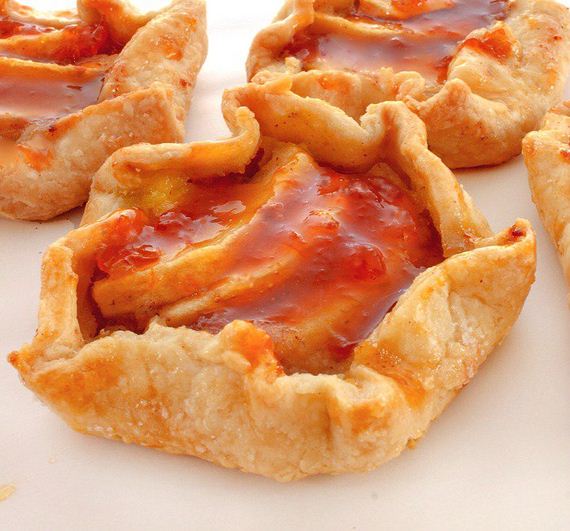 Add some apricot into a traditional apple tart, and you have this fun variation on the classic. Simply make a small buttery pie crust and then fill it with this delicious fruity combination. Make your way over to Bunny's Warm Oven to check out the full recipe.
13. Individual Frozen Creamy Chocolate Mini Pies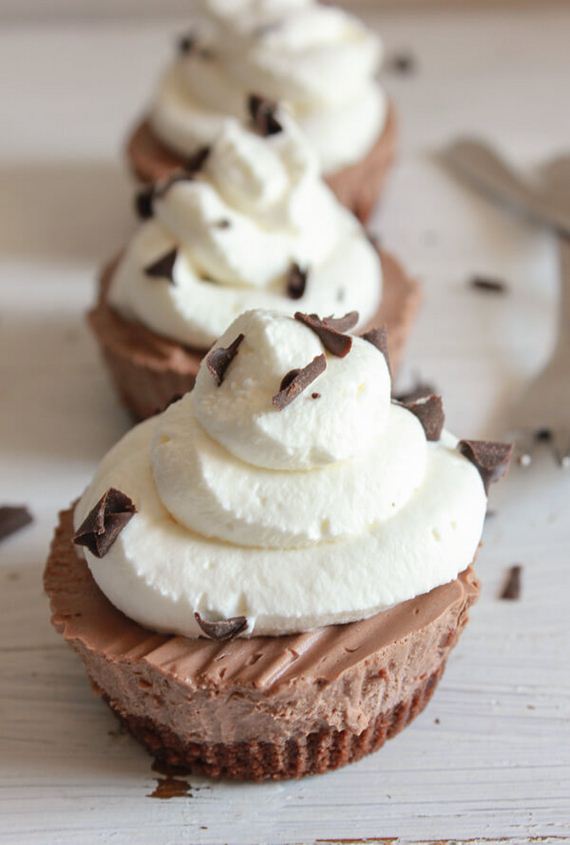 Here's another one for the chocolate lovers in the group – a yummy frozen treat made with chocolate-y mascarpone cheese and topped with whipped cream and dark chocolate shavings. Head on over to An Italian In My Kitchen to find out all the delicious details.
14. World's Cutest Mini Pumpkin Pies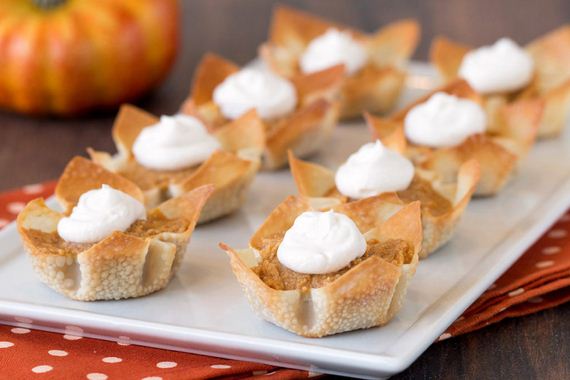 These adorable single-serving pumpkin pies were deemed the world's cutest (by their author), but they are pretty darn cute. These are made with a unique crust – wonton wrappers! Make your way over to the Hungry Girl blog to find out how to make these yourself.
15. Vanilla-Cardamom Pear Hand Pies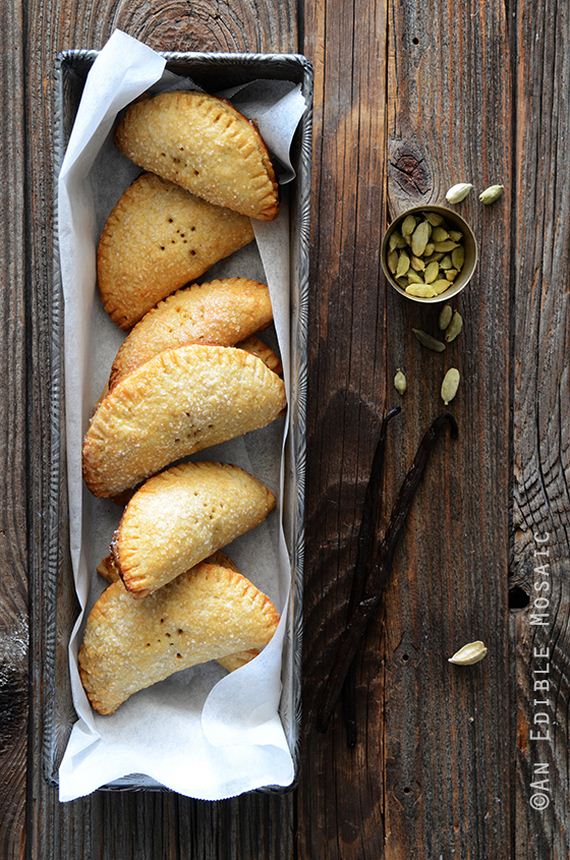 Here's a different type of hand pie – this time with a pear filling that has a hint of vanilla and cardamom. Again, they are simple to eat so they won't create a terrible mess in the kitchen after a long evening of dish-washing. Head over to An Edible Mosaic to see the recipe.
16. Nutella and Chocolate Mini Pie Recipe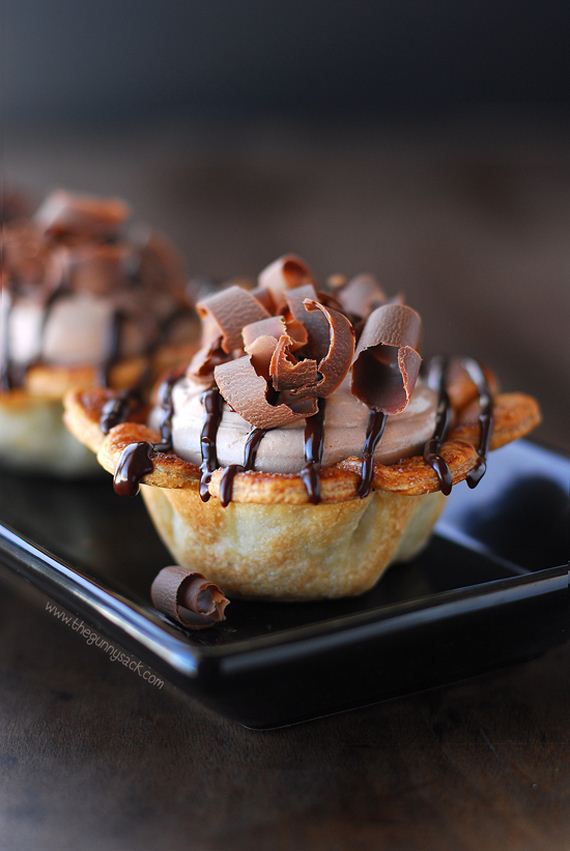 If you love the unique flavor of Nutella, then you're sure to enjoy this decadent Nutella and chocolate mini pie recipe. The filling has a mix of cream cheese, vanilla and Nutella, with a topping of pure chocolate. Head over to The Gunny Sack to read the recipe.
17. Mini Banana Cream Pies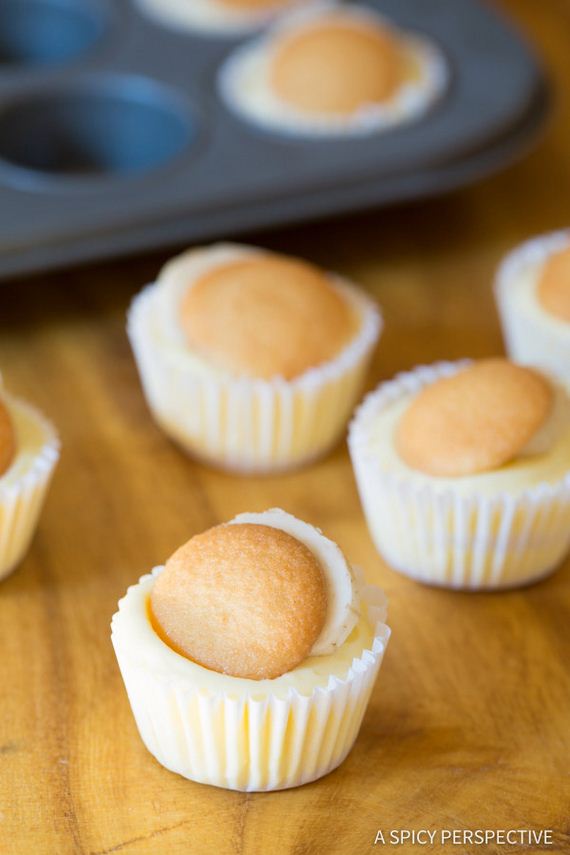 There's something that's just so darn cute about these tiny banana cream pies! The bottom mixture hides a slice of banana inside, so when you bite into it you get that delicious cooked banana flavor. And they're topped with a banana slice too! Check out the full recipe here.
18. Raspberry Dark Chocolate Hand Pies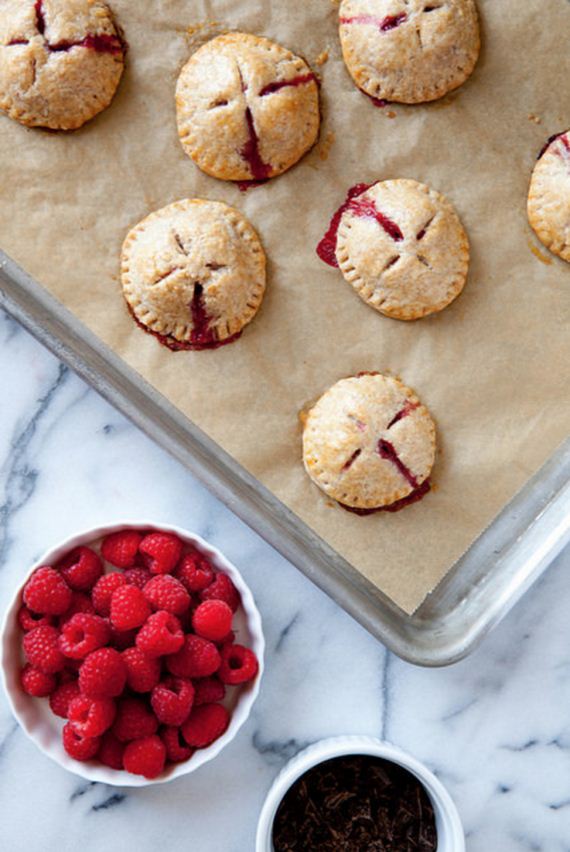 These little hand pies pack a big punch, filled with antioxidants from both red raspberries and dark chocolate… so you don't have to feel guilty about eating one (or two or three!). Make your way over to Annie's Eats to find out how to make these delectable treats yourself.
19. Peach Hand Pies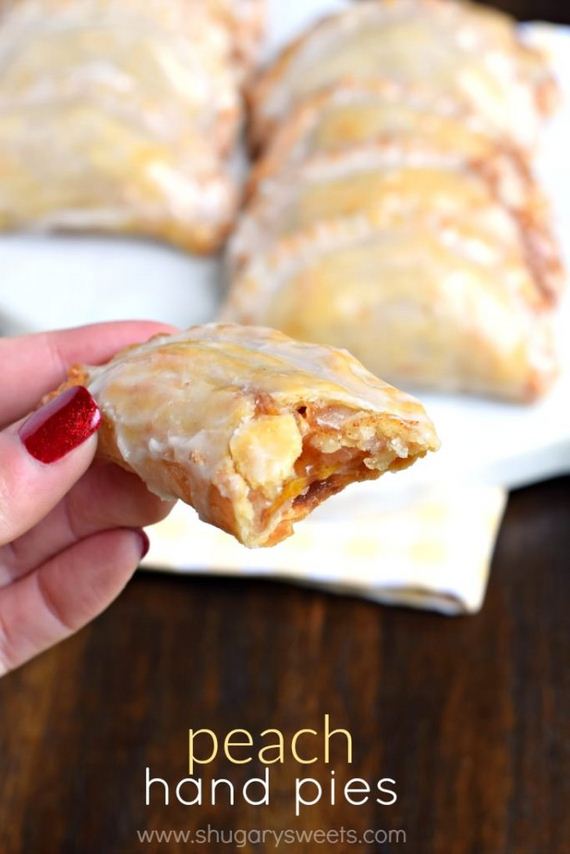 Unlike many other hand pies, these peach ones have a sugary glaze on the outside, giving them sweetness throughout. And they're super simple to make, thanks to their easy-to-find ingredients. Head on over to Shugary Sweets to check out the full recipe.
20. Mini Boston Cream Pies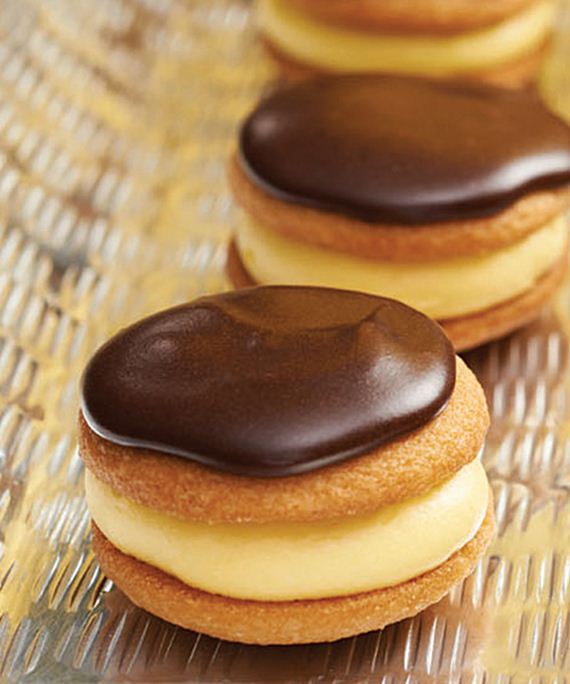 Usually Boston Cream Pies are large and harder to make… but these miniature versions have been simplified and they are the perfect size to pop into your mouth after a big meal. Head on over to the Winco Foods blog to check out the easy instructions.
21. Mini Coconut Cream Pies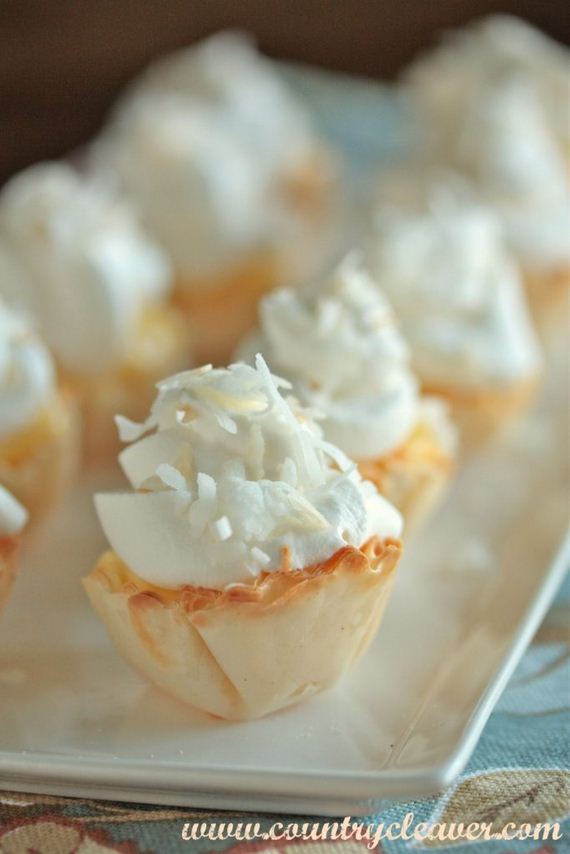 These beautiful little pies are filled with a coconut mixture and topped with a rum-flavored whipped cream. And the crusts are actually made out of delicate layers of phyllo dough. Make your way over to Country Cleaver to check out the full recipe and more photos.
22. No Bake Lemon Cream Cheese Pies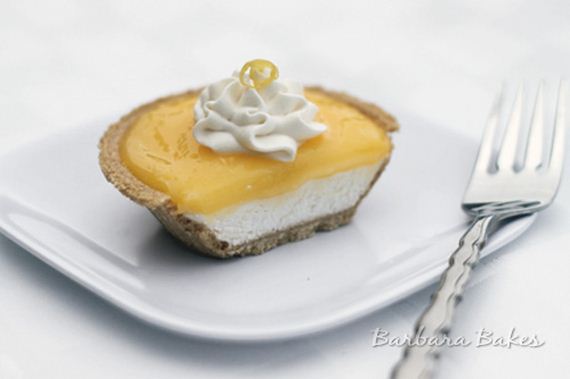 These little pies are wonderful because you don't have to bake them… simply grab some pre-made mini graham cracker pie crusts and fill them with a delicious lemon curd and cream cheese concoction. Head on over to Barbara Bakes to read all the details.
23. Mini Turtle Pumpkin Cheesecakes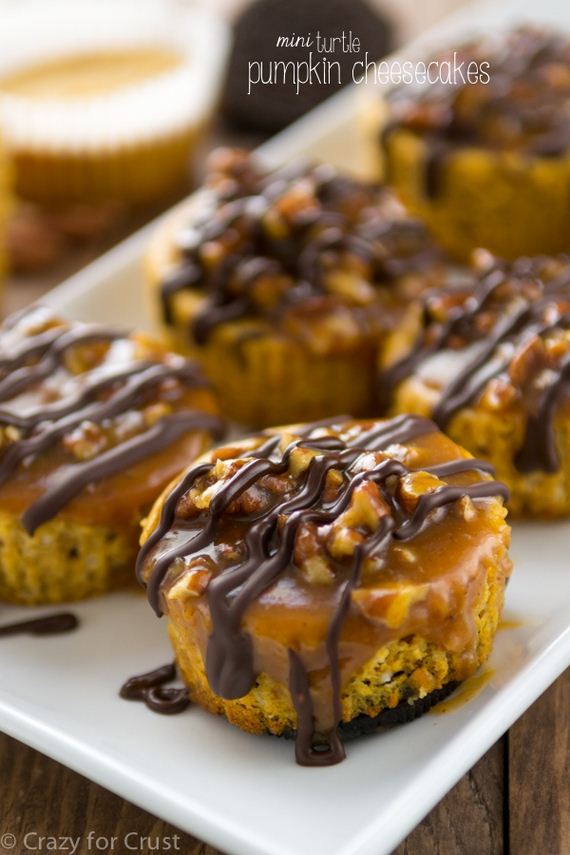 Indulge your love of caramel and chocolate with these yummy turtle cheesecakes. (I know they're not technically pies, but they look so good that I had to include them!). A bit of pumpkin flavor is added for a fall twist. Get the recipe over at Crazy For Crust.
24. Mini Sweet Potato Meringue Pies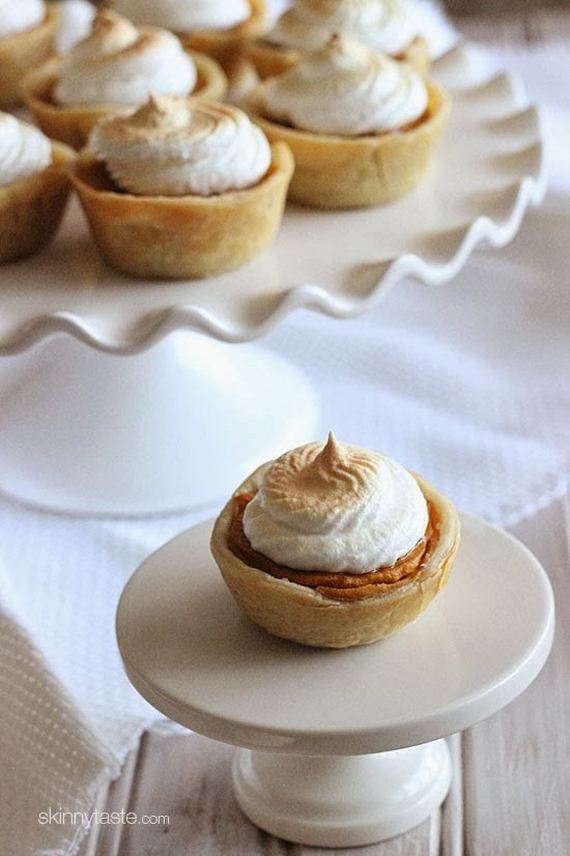 Sweet potatoes make great pies, too! This relatively healthy dessert is filled with a mixture of sweet potatoes, bananas and spices to create a delicious little treat that won't blow your diet. Check out the recipe along with some tips and tricks over at Skinny Taste. 
25. Mini Cranberry Pies With Spiced Meringue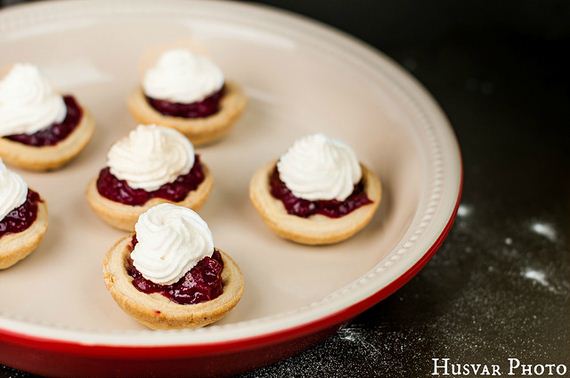 This last mini pie recipe is a great one… a delicious cranberry pie with a unique spiced meringue made using Chinese 5 Spice. And the crusts are made from scratch using a very simple mix of ingredients. Head over to In The Know Mom to check out this fabulous recipe.
---
---