Festive DIY Pine Cone Decorating Ideas
Festive DIY Pine Cone Decorating Ideas
---
Check out these creative pine cone decorating ideas, which are perfect additions to any festive home. They are meant to add fun to your holiday decoration and make your house more charming!
DIY Snowy Pinecone Candle Jar Luminaries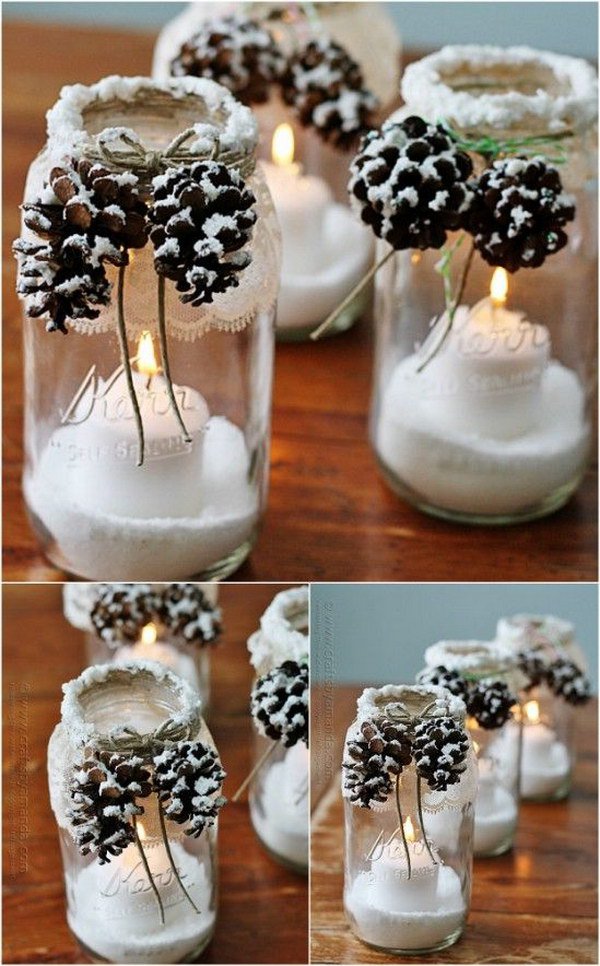 Love the simplicity of this winter decor. What you need is Epsom salt, glass jar, twine, lace, pinecones, candle and hot glue gun. Get the tutorial via craftsbyamanda.
Cute Pinecone Elves Tutorial
Follow the step by step tutorial on how to make cute elves for Christmas decorating via memoriesoncloverlane.
Table Decorating with Pinecones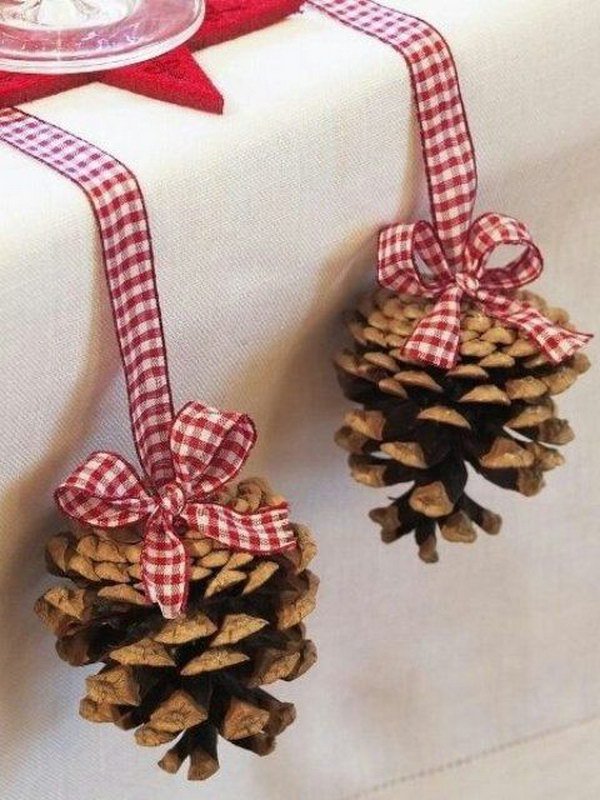 Screw picture hanging hooks into the top of pinecones and add ribbon. This is a beautiful way to add rustic to your Christmas table! Via deborabonetto.
Blue and Silver Pinecone Christmas Centerpiece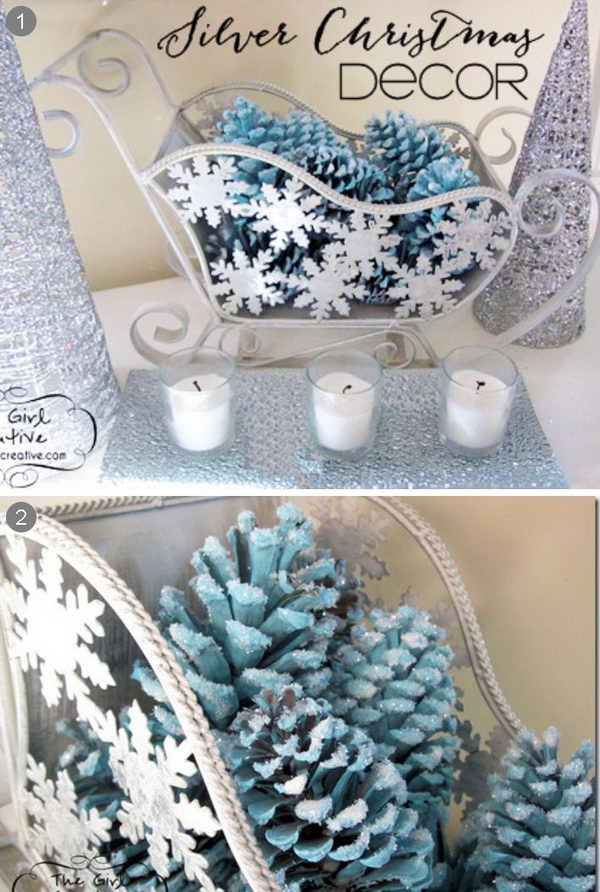 To get the chic look, you need pinecones in various sizes, spray paint mod podge, and glitter. Check out the tutorial on how to make your own via thegirlcreative.
Frosted Look Pinecone Ball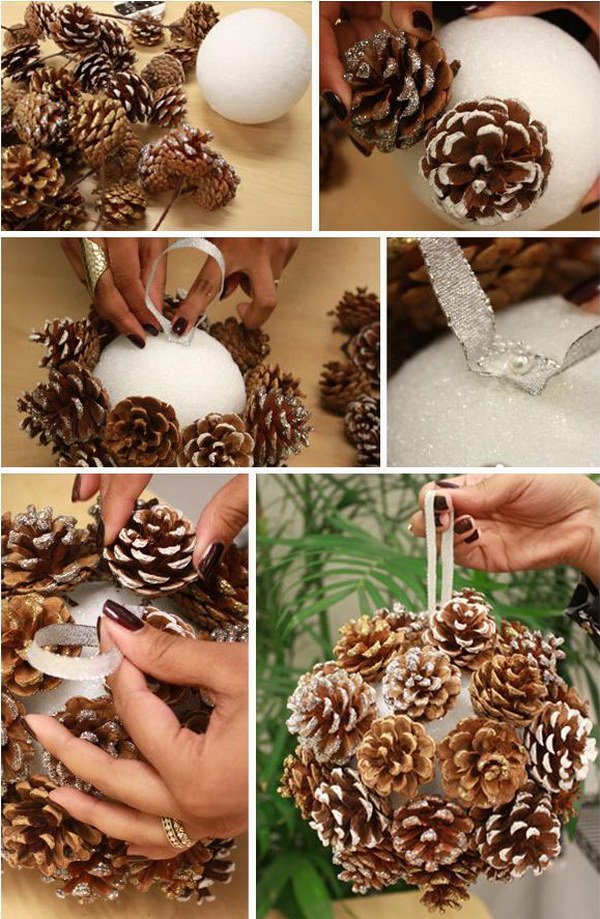 The frosted look pinecone ball is a quick and inexpensive craft project. Check out the easy to follow tutorial via source.
Pinecone Flowers and Christmas Trees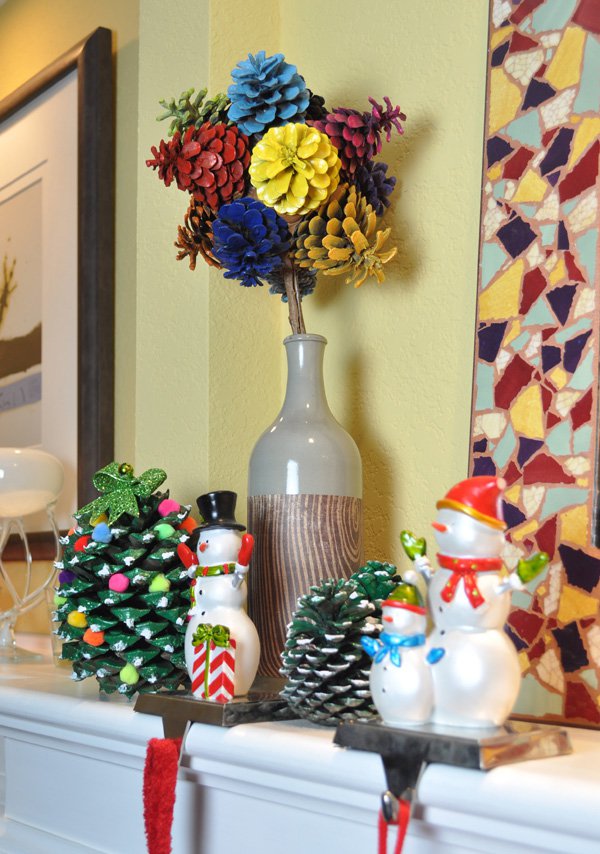 Pinecones are great for home decor. And a fresh coat of color enhances the subtle charm of pinecones. You can paint your pinecones any color you like and plus some pop to your room like these pinecone flowers and Christmas trees. Get the tutorial via chicacircle
Berries and Pinecones Wreath for Outdoor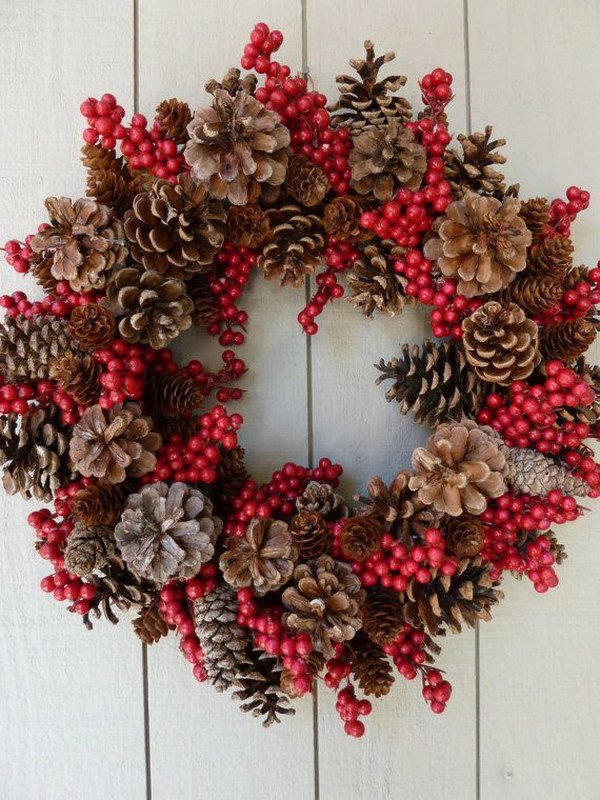 I love the color scheme of this natural wreath. It looks so elegant and festive! Viadigsdigs.
Mercury Glass Look Spray Paint Pinecones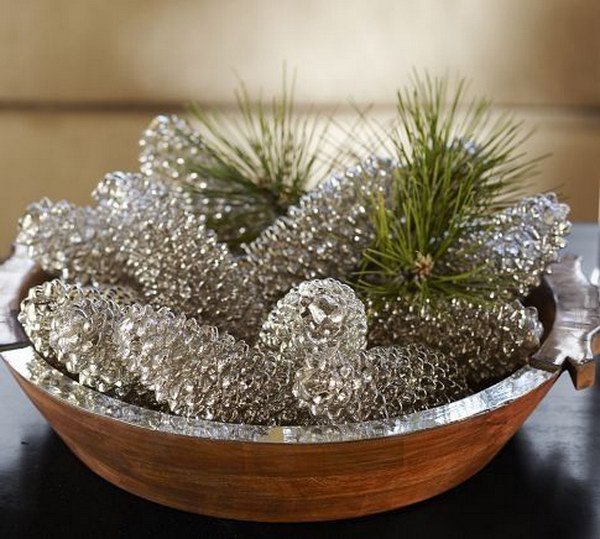 Use Krylon Looking Glass spray paint on pine cones to give that mercury glass look. This link really doesn't tell you how to do this, but it's pretty self explanatory. Via decorating-by-day.
Pinecones and Snowflakes Winter Door Hanging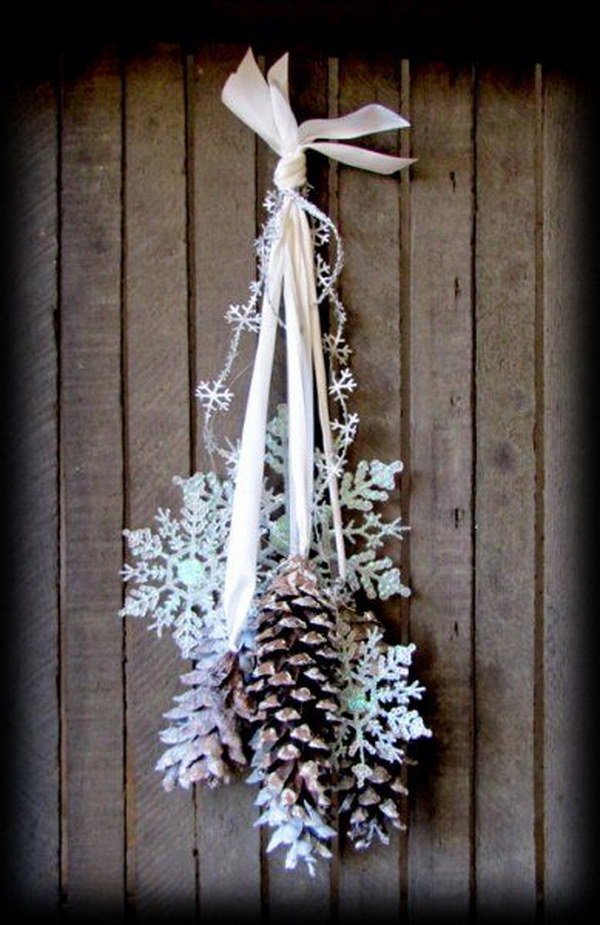 This is a quick and inexpensive winter project for your home. What you need are some snowflake ornaments from the dollar store, pinecones, ribbons, spray paint and glitter. Get the tutorial via mayarts.
DIY Snowy Pine Cone Tree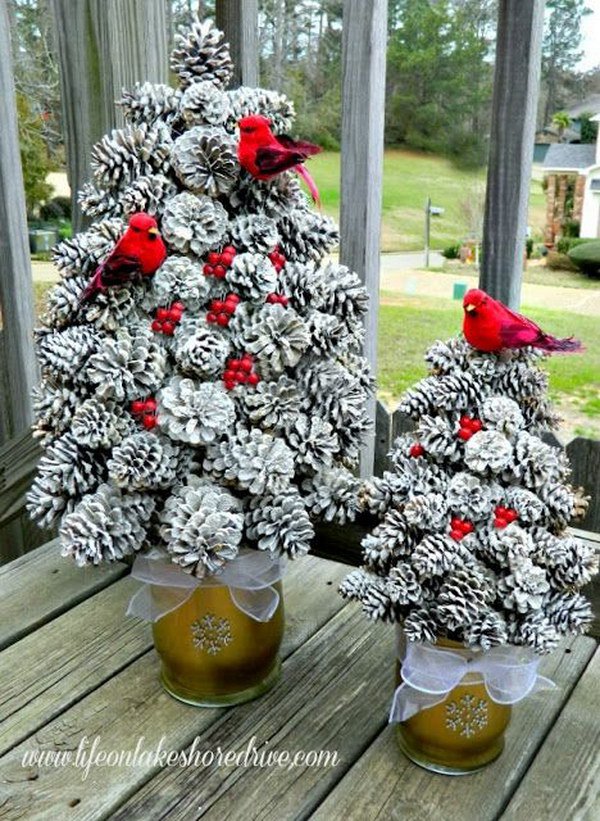 A pinecone Christmas tree are beautiful and easy to make. Learn how to get the snowy look! Tutorial via lifeonlakeshoredrive.
Pinecone Bow Ornament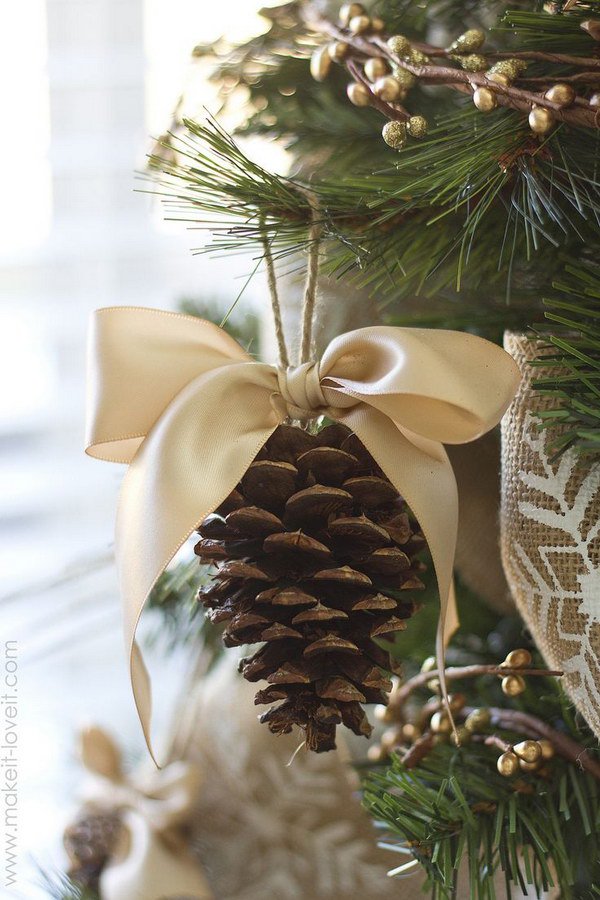 Have fun making ornaments for the Christmas tree with this simple idea that uses rustic pine cones and elegant satin ribbon. Via makeit-loveit.
DIY Pine Cone Candles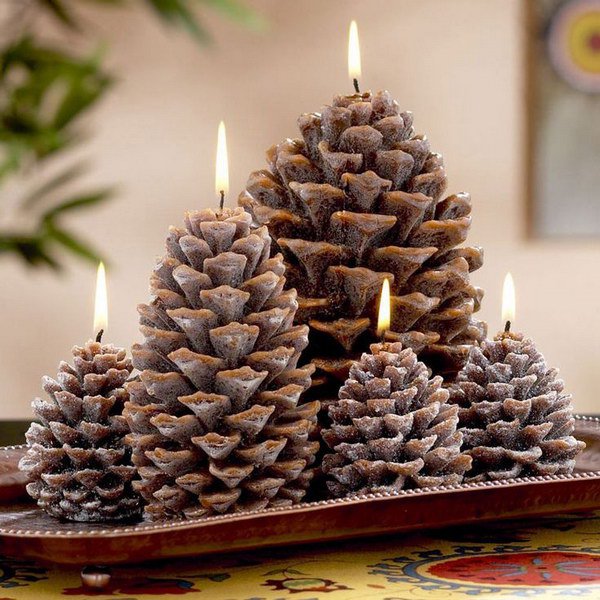 These natural beautiful Christmas candles are the perfect DIY project to do for the warm and sweet winter nights. Get the tutorial via thegreenhead.
DIY Glittery Pinecones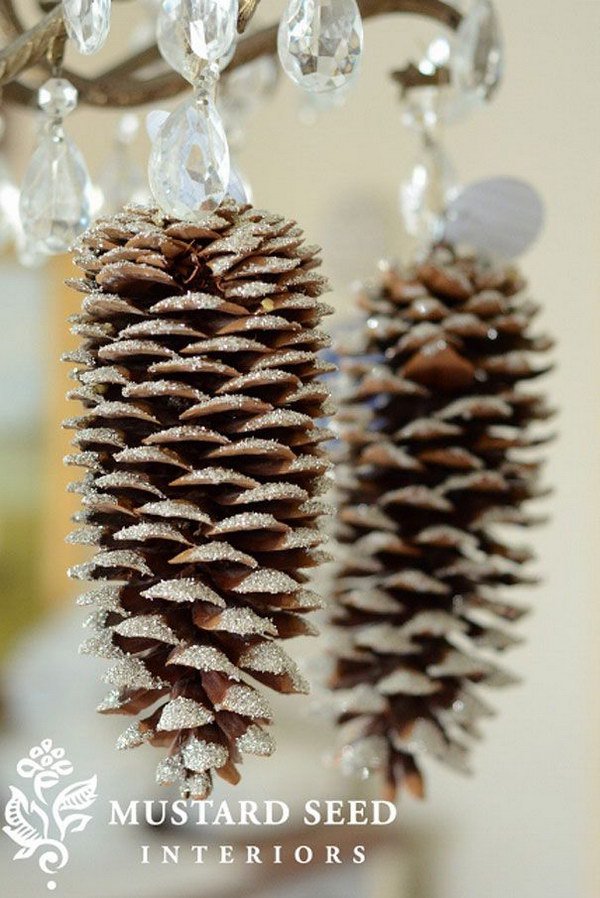 Get the tutorial via missmustardseed.
DIY Golden Pinecones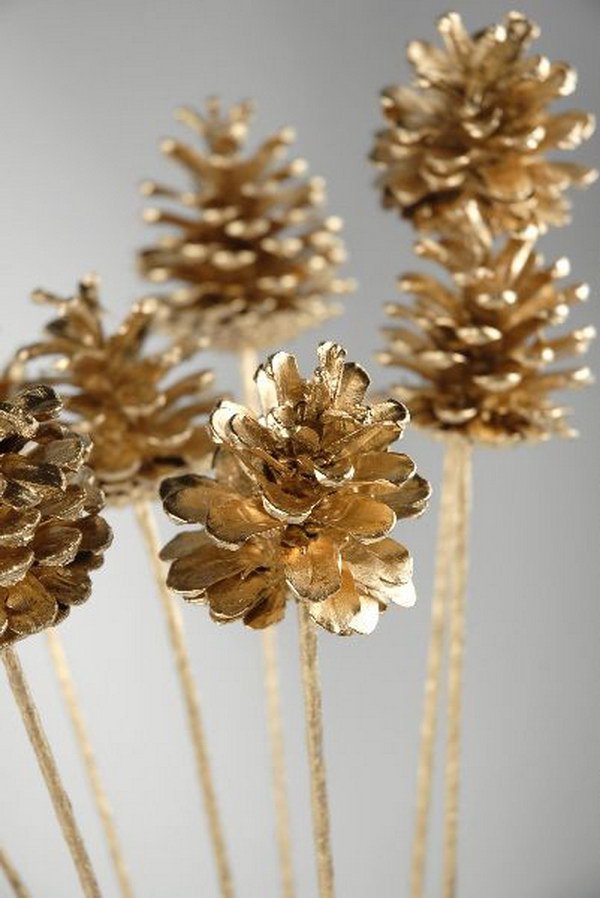 Come on by for the tour of how to make golden pinecones for a gold Christmas decorating. Via marthastewart.
Snowy Pinecone Garland Tutorial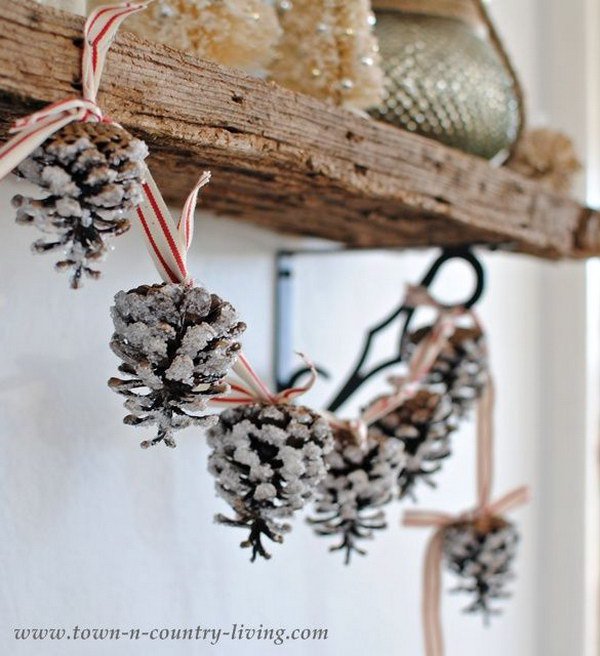 This is awesome! source.
Christmas Decoration with Pinecones and Lighted Branches

Love this idea with the branches lights and pinecones. Would be a great decoration on your tables for a large event during the holidays. Get the tutorial via trendytree.
DIY Christmas Bucket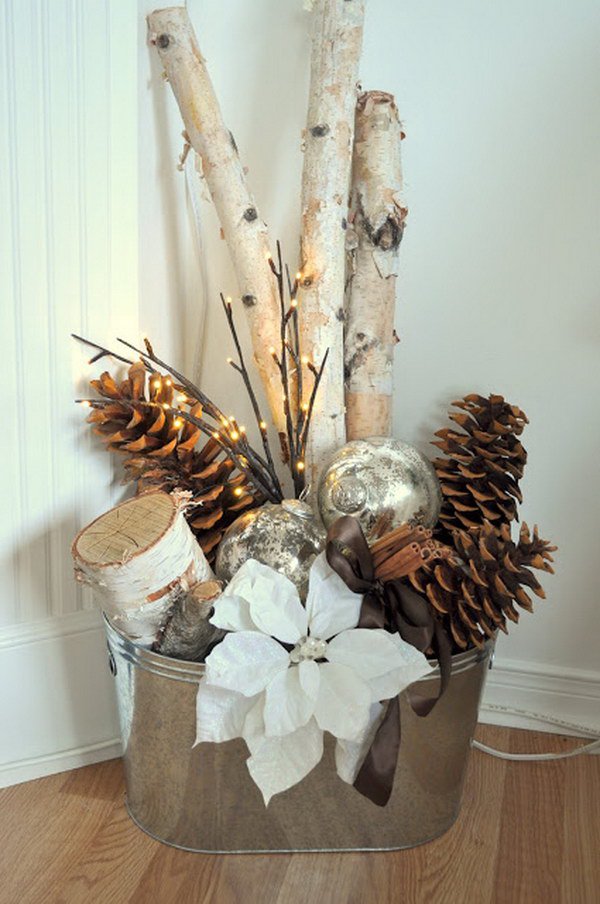 Great way to use natural "found" objects to warm up your spaces this winter. Get the tutorial via restorationhouseblog.
Pinecone and Birch Branch Centerpiece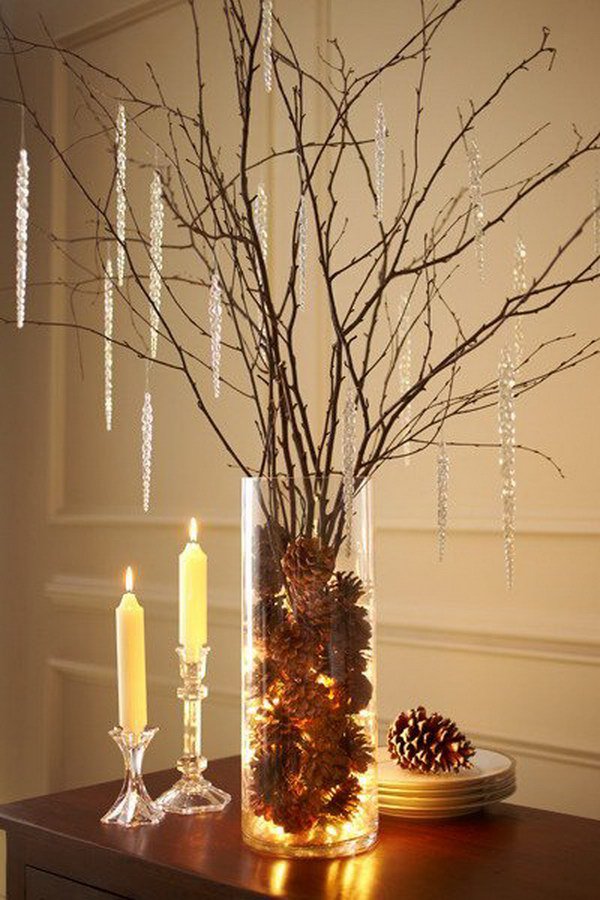 Use a pail full of birch branches, pine cones, clear lights, white and silver ornaments to make a great centerpiece for your Christmas table. Via apartmenttherapy.
Pinecones and Ornaments in a Glass Jar for Table Centerpiece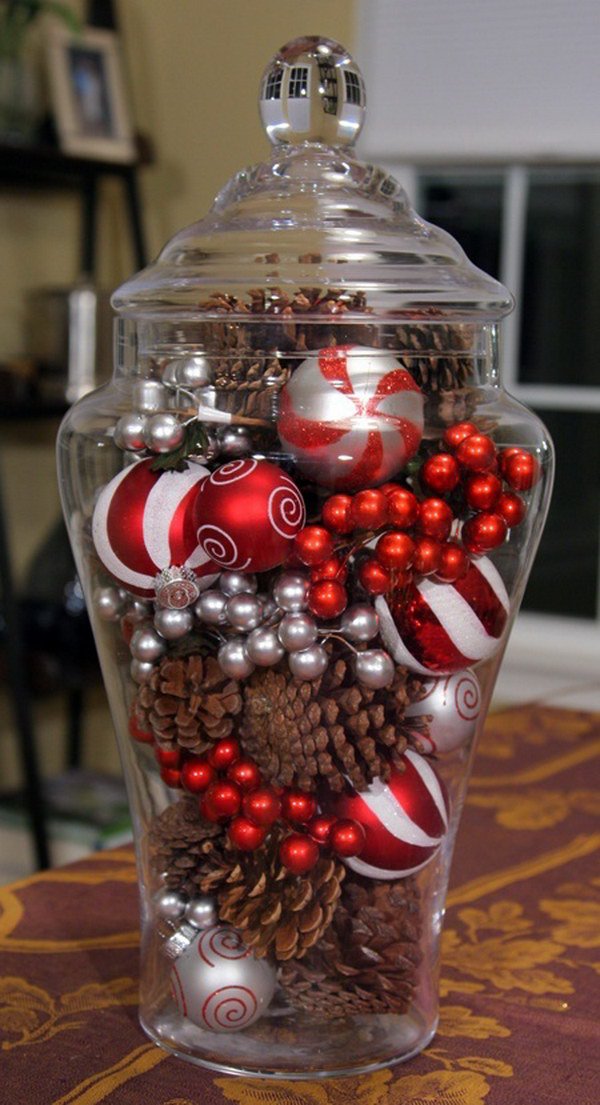 The pine cones and ornaments together make for a very festive table with simple ornaments and pinecones from the yard. Via bonbonrosegirls.
Pinecone Candle Table Setting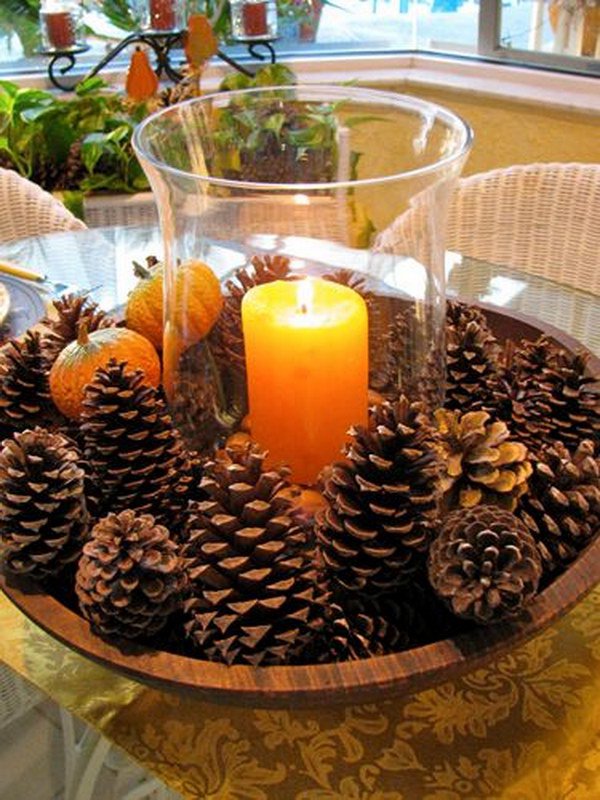 Check out this five minutes decoration project. Just place pine cones in a large bowl and place a hurricane vase holding a candle in the middle. Get the tutorial via ritamay-days.
DIY Festive Pinecone Chandelier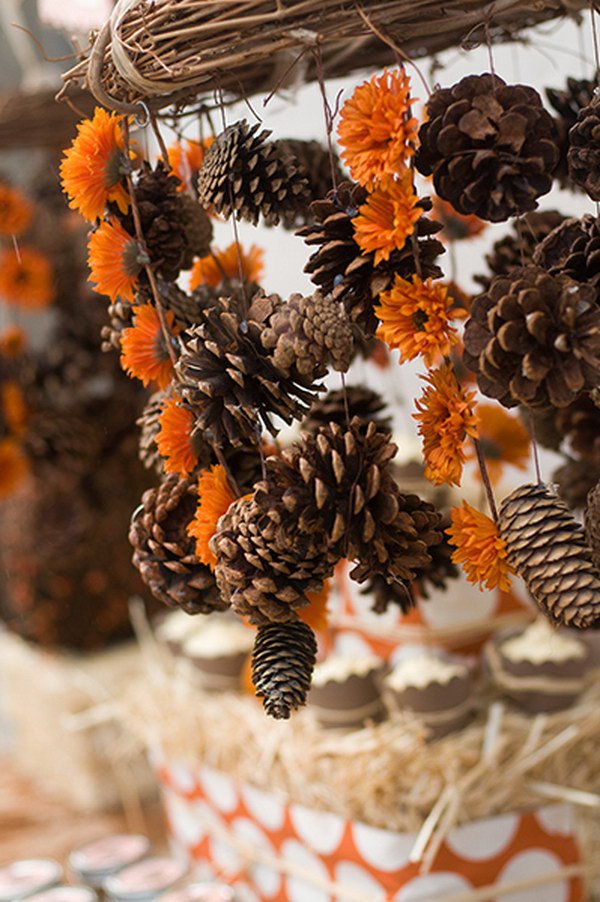 Get the tutorial via dollarstorecrafts.
White Pumpkins and Pinecones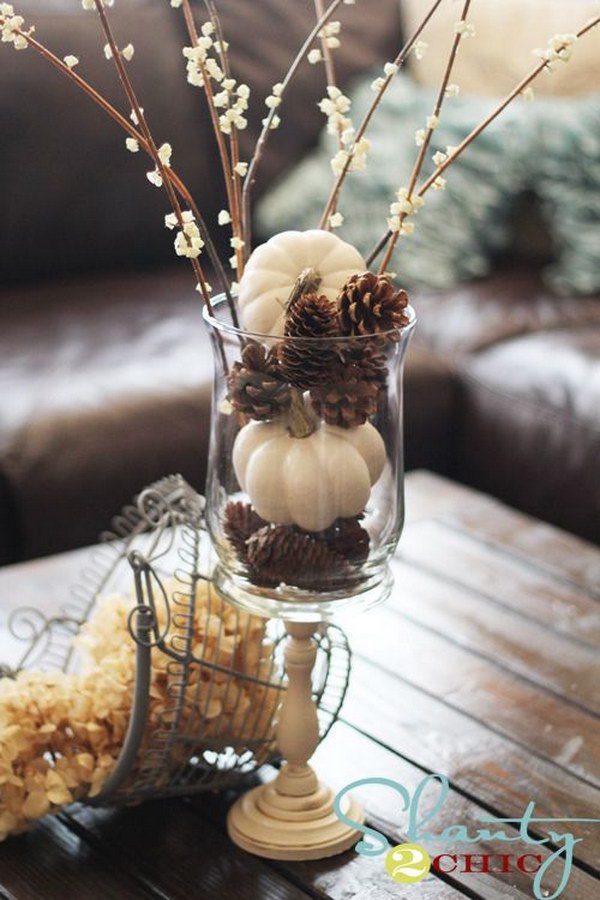 Use your pinecones and spray painted pumpkins to fill the vase and create a beautiful centerpiece. Get the tutorial via shanty-2-chic.
Hang Pinecones for Christmas Window Decorations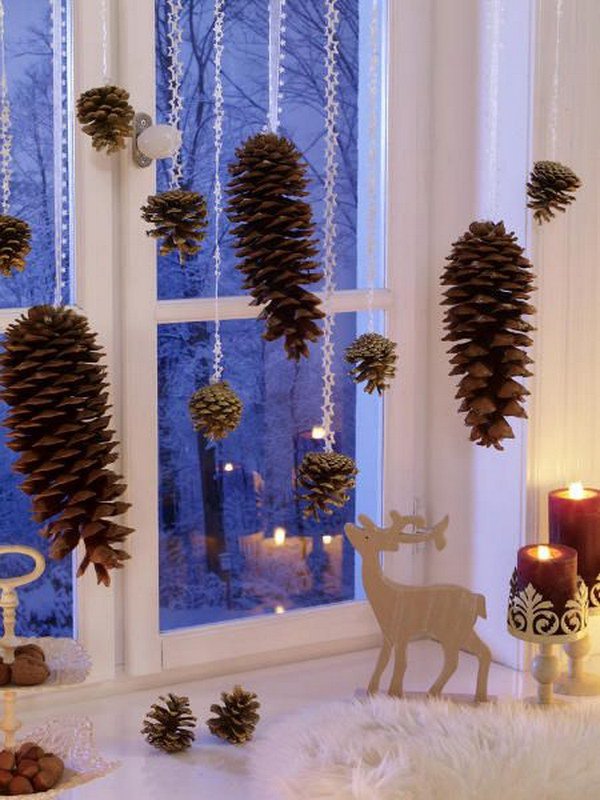 Via wohnidee.
Blue Glittered Pinecones in a Glass Jar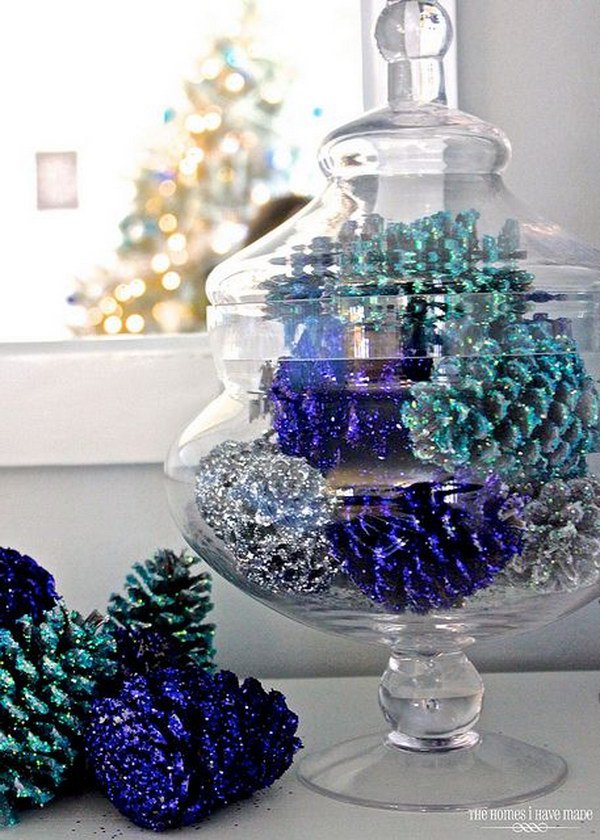 Decorate your home for the holiday by making these glittery blue pinecones. Tutorial via thehomesihavemade.
Pinecone Thanksgiving Candles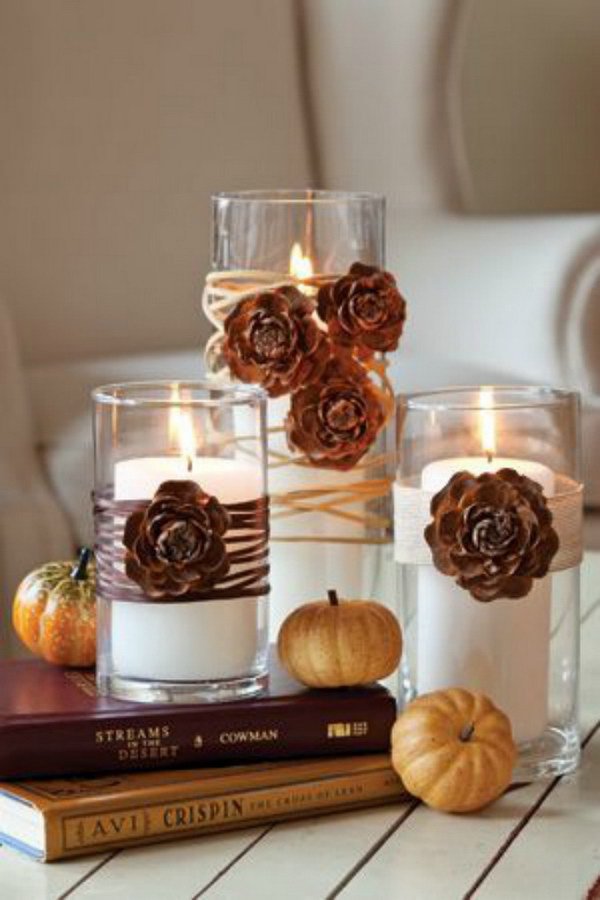 Take a variety of glass cylinders, place candles inside, and wrap them with ribbon, twine, pinecone flowers and leather to make a beautiful inexpensive display. source.
Pinecone and Acorn Flower Napkin Rings

Rustic and elegant napkins rings for Thanksgiving. Get the tutorial via stonegableblog.
Pinecone Place Card Holders Tutorial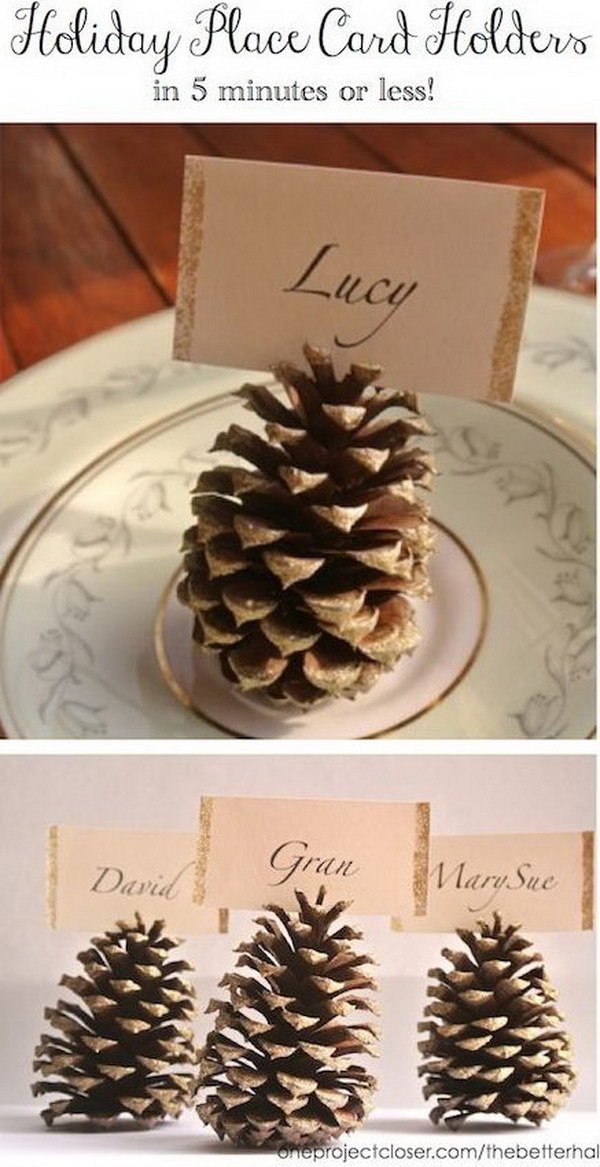 So simple, yet creative! If you made them the cinnamon ones, it would make the room smell like Christmas! Get the tutorial via oneprojectcloser.
Pottery Barn Inspired Pinecone Cluster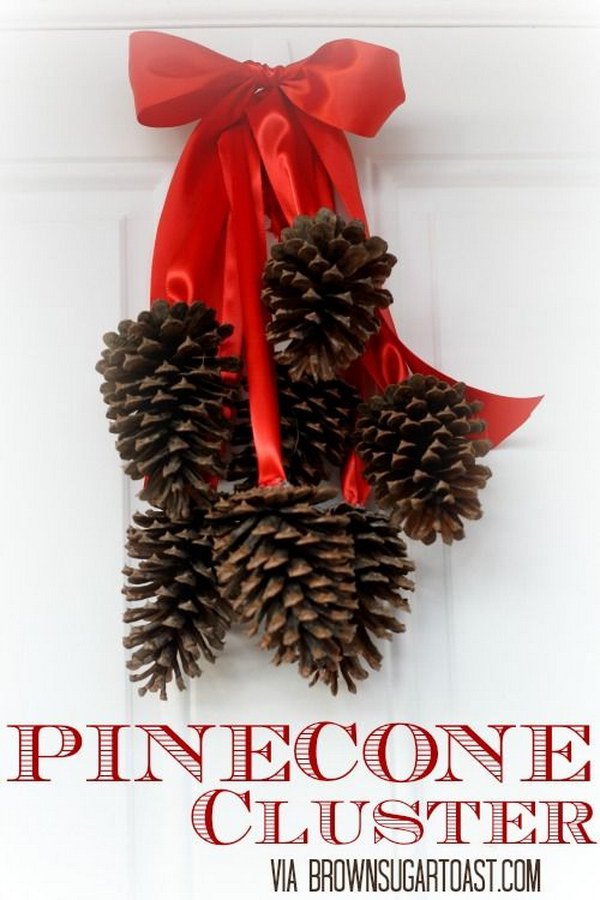 How beautiful! I'm in love with the cute touch to the door! Gather pinecones in your yard and add a chunky ribbon. Get the tutorial via brownsugartoast.
DIY Pinecone Candles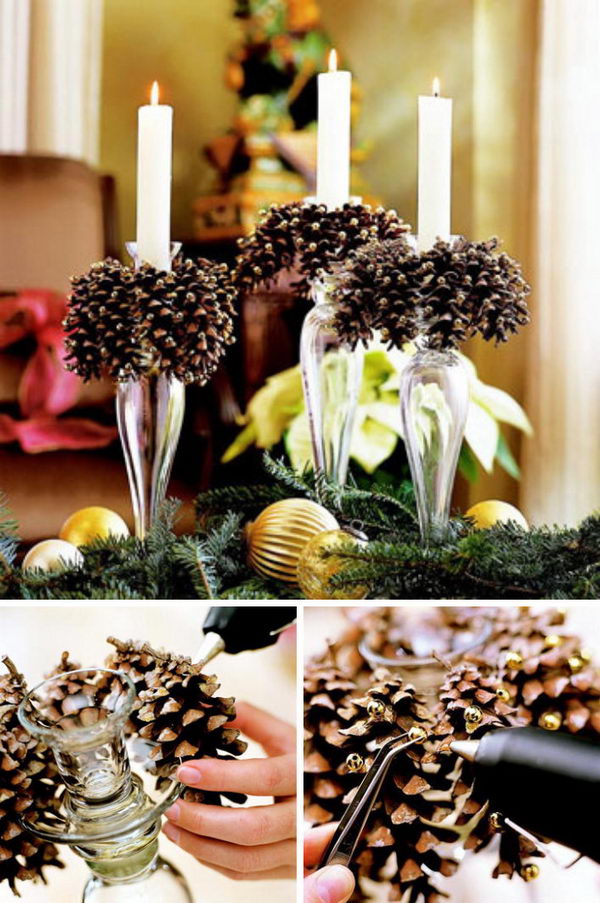 Via ofdesign.
DIY Pinecone Garlands

Simple and inexpensive to add fun to your holiday decoration. All you need are pine cones, paint and twine. Get the tutorial via ukcraftblog.
Pretty Pinecones for a Dining Room Chandelier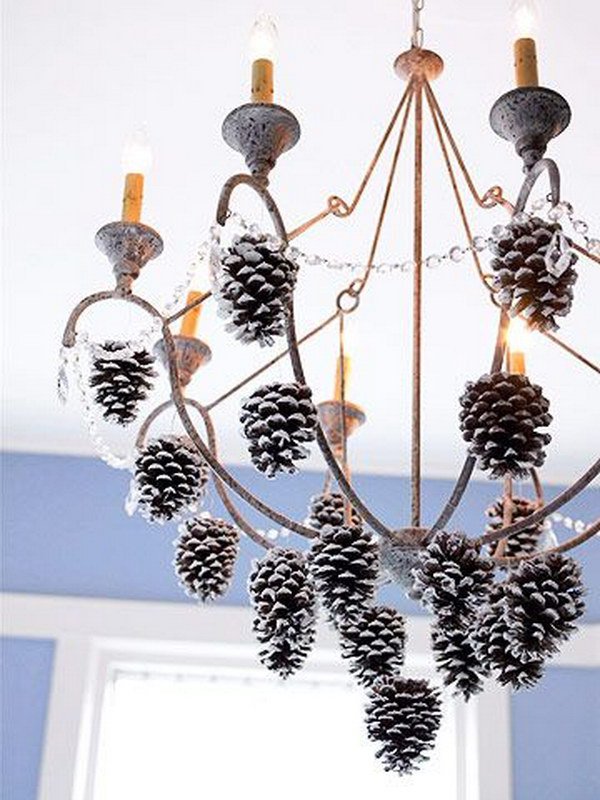 Via bhg.
Pinecone and Ribbon Hanging Decoration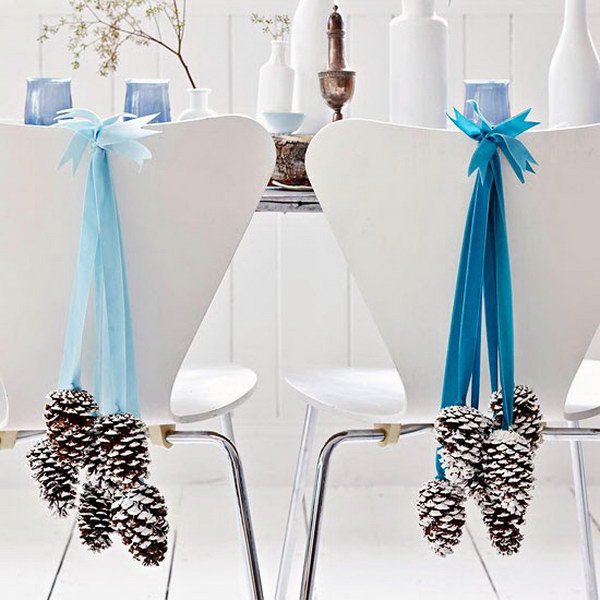 All the decorative details add a elegant look and instant charm to any room. Via cozylittlehouse.
Jingle Bell Pinecone Ornament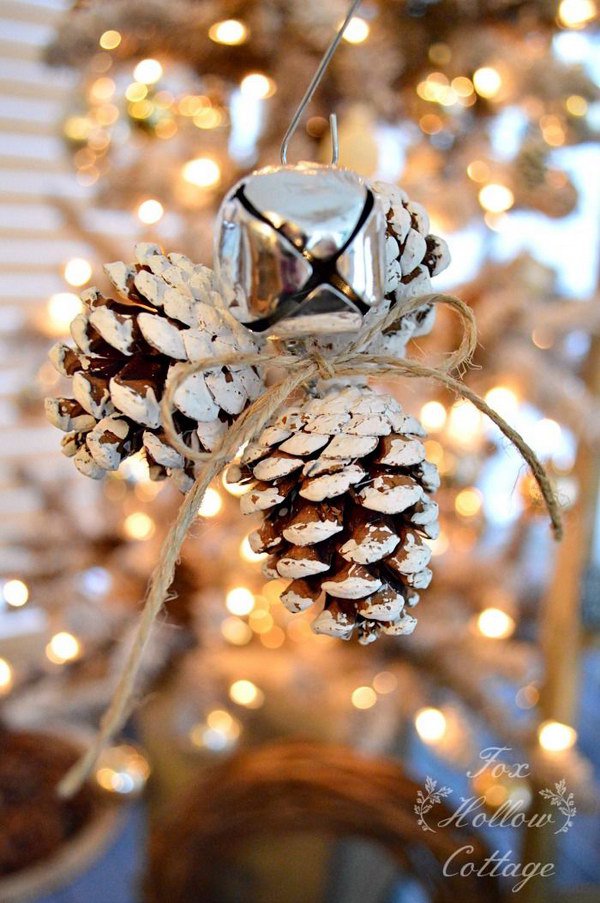 Looking for some classy but natural holiday decor? Try this jingle bell pinecone ornament! Get the tutorial via bystephanielynn.
Red Pinecone Floral Bouquet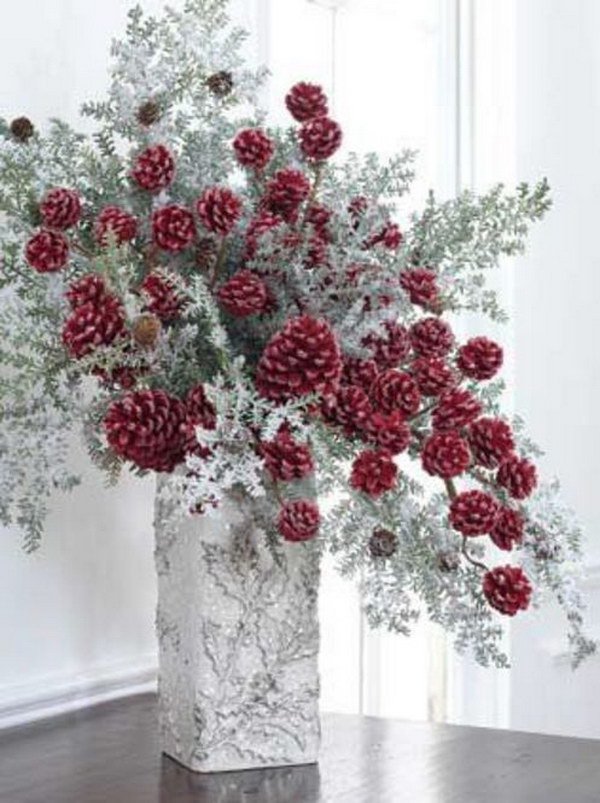 You can spray paint the backyard pinecones red. Then use them and snowy cedar branches to create a great contrast in this winter arrangement. Via razchristmas.
Pinecone Wreath Tutorial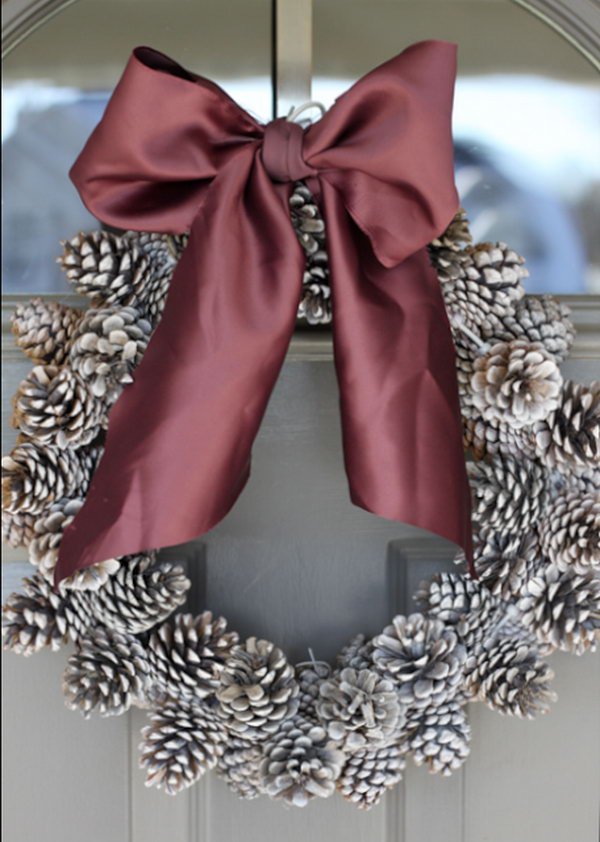 Create a rustic pinecone holiday wreath with these simple step-by-step instructions via doityourselfdivas.
---
---