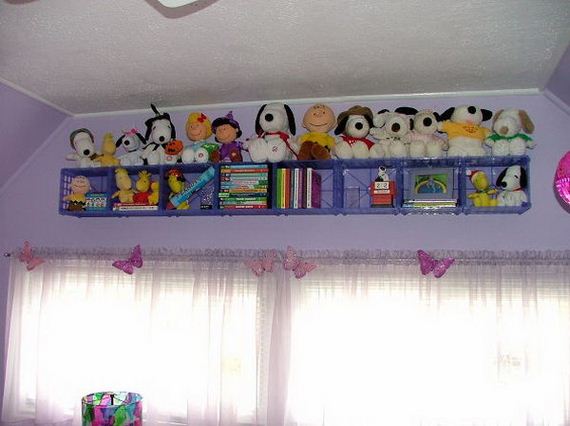 How to Organize Kids' Stuffed Toys
How to Organize Kids' Stuffed Toys
---
Turns out there are some pretty nifty people out there who have designed and re-purposed storage solutions for just this issue!
Garden Hanging Planter Storage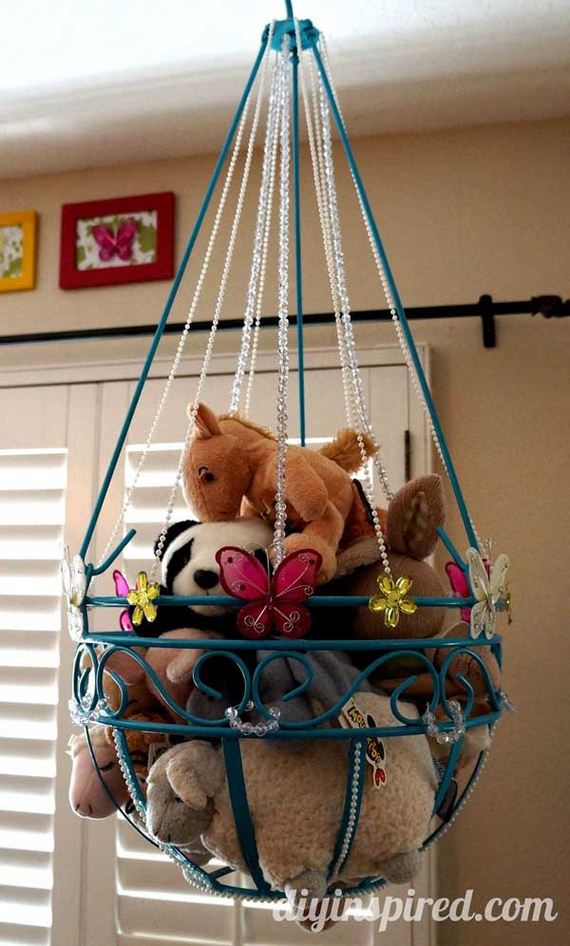 With little imagination, this adorable stuffed animal storage is transformed from the garden hanging planter. The dirty and trashy old plant hanger now has become a sweet treasure.source
Hanging Basket Stuffed Toy Storage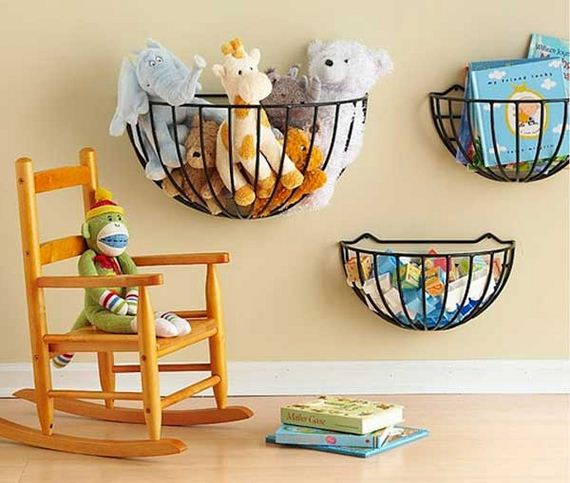 Used garden hanging baskets can be hung low enough for easy access to stuffed toys in a kid's roomsource
Under Bed Storage for Stuffed Toys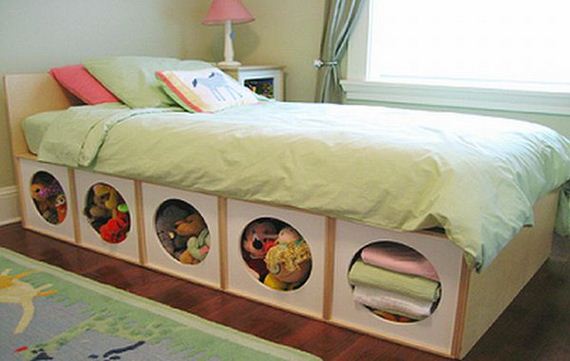 Under the bed is a creative storage area for your kids' stuffed toys.source
Stuffed Animal Swing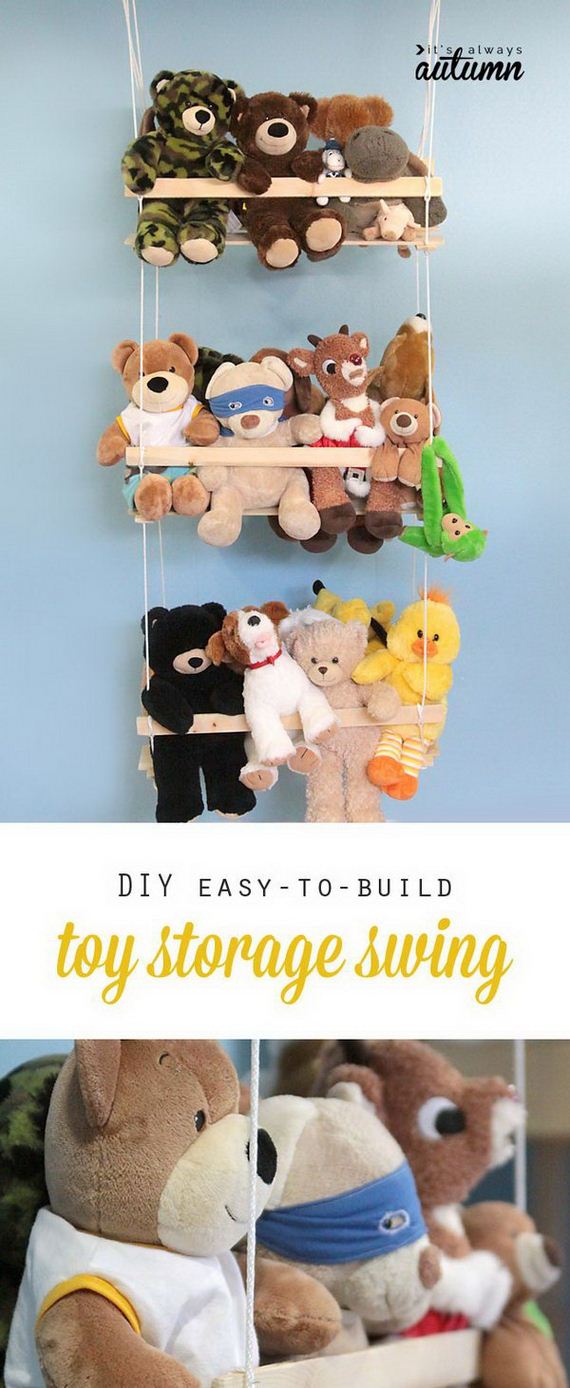 An equally adorable idea to organize the stuffed toys. This DIY project is so easy to build. Get the step-by-step instructions here.
DIY Wood Animal Zoo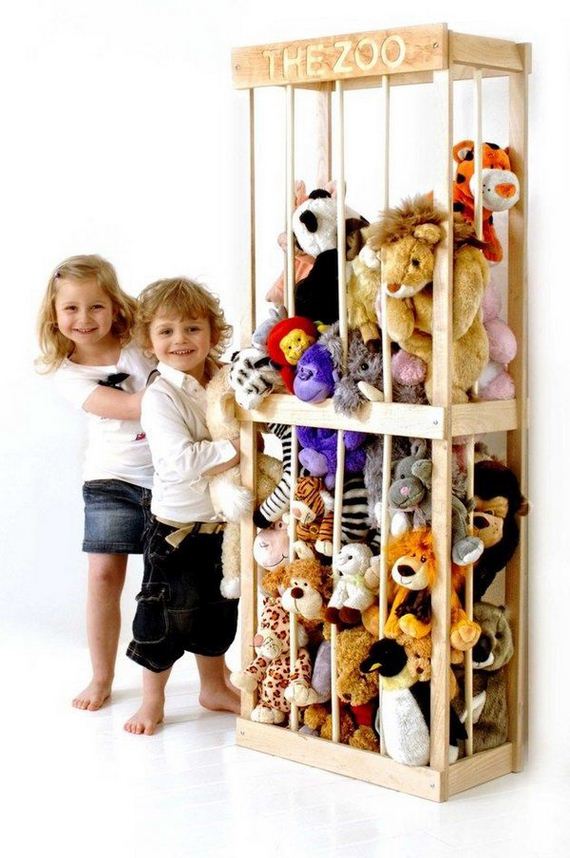 A really cute idea for keeping all those stuffed animals contained! source
Shoe Holder as a stuffed Toy Storage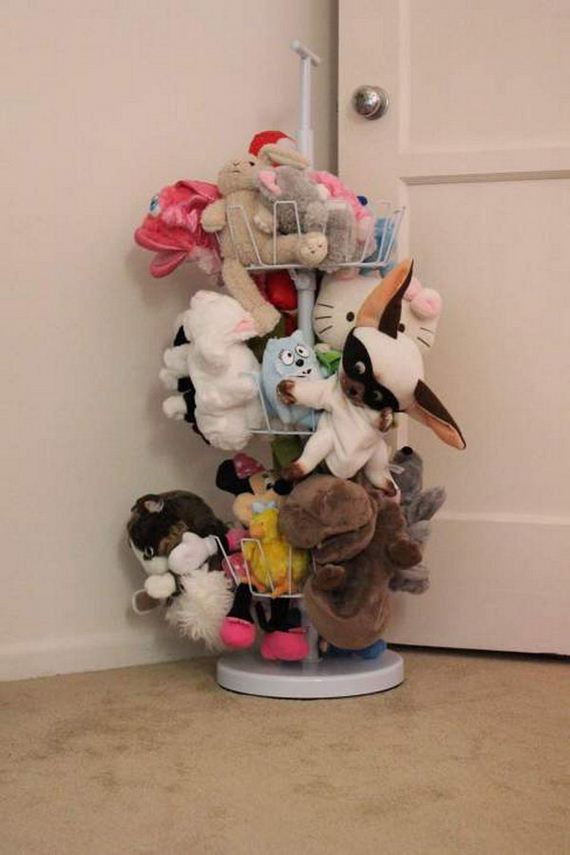 The wire shoe holders work out perfectly as a container of stuffed toys. source
Store Stuffed Toys in a Fabric Canopy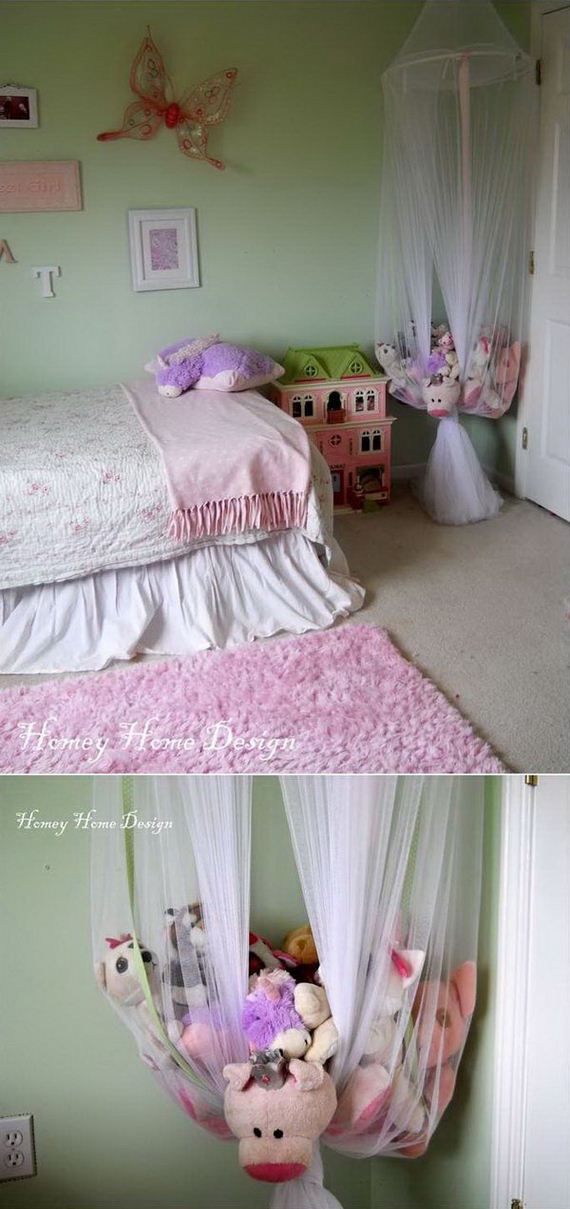 Cute Animal Zoo with Wooden Frames and Bungee Cords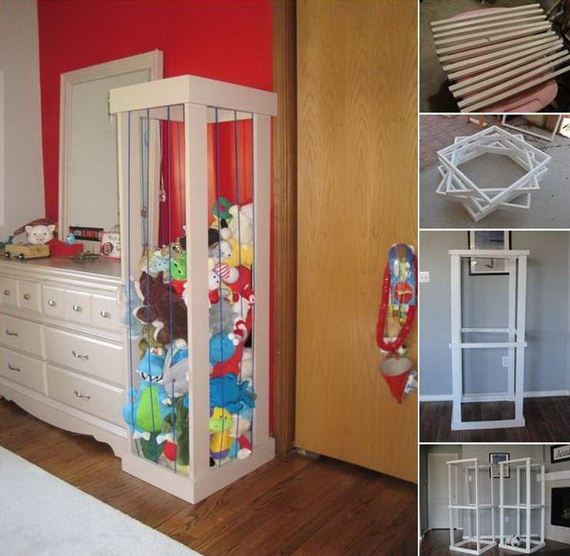 See more detailed instructions here.
Stuffed Animal Net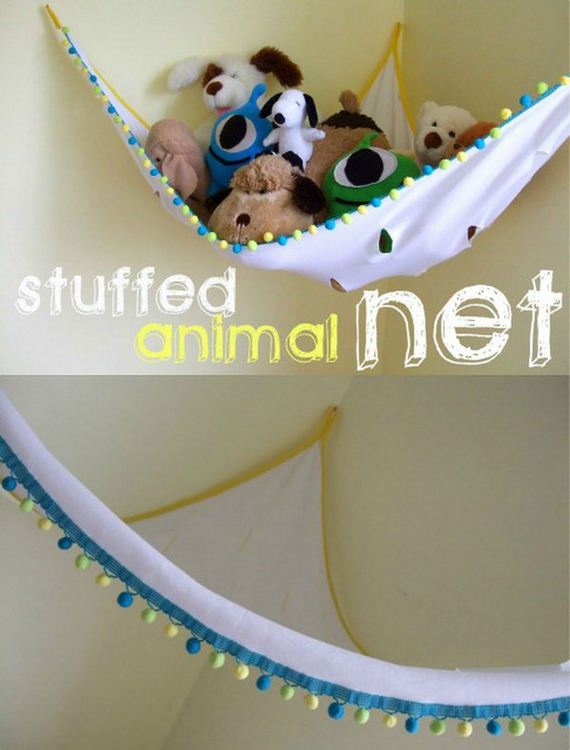 A stuffed animal net is a great way to create space in your child's room. It is fairly easy to create at home. Here is a crafty one for you. Learn how to make ithere.
Crochet Stuffed Toy Storage Solution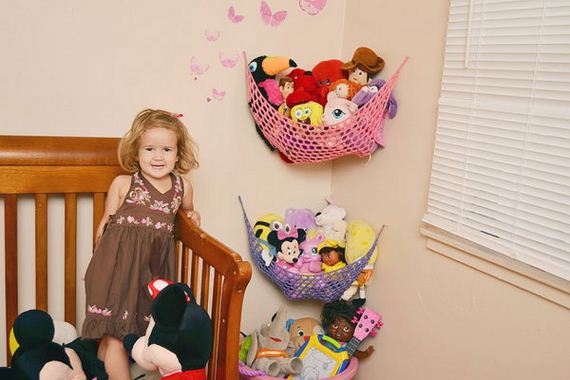 Hang garden baskets on a wall at a low height so the kids can reach them and put them back. Hang up in a corner and enjoy. hung them up low enough for her to enjoy them.source
Put Their Stuffed Animals Inside A Cute Mesh Pillow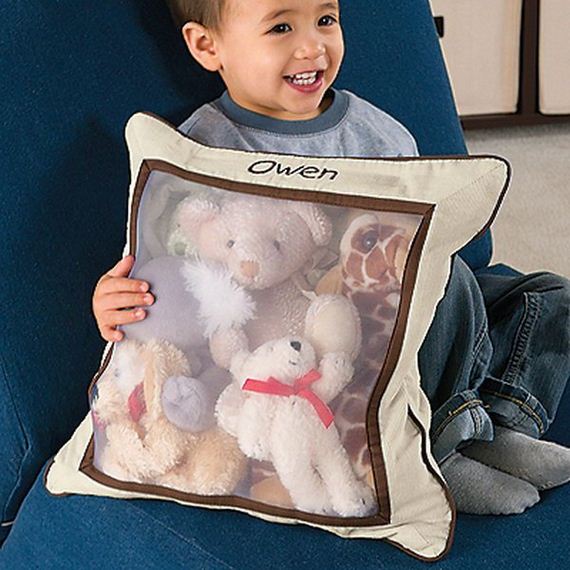 Make a Storage or Shelf with plastic crates for Daughters Room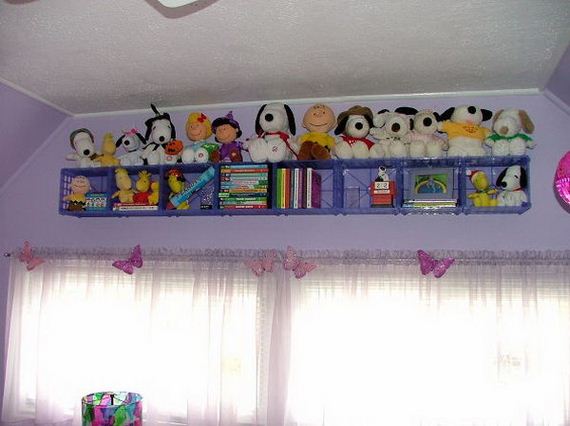 You can get these plastic crates at a dollar store. Then connect them together with a small peg and hole and a snap on the sides. Attach them on the wall. Store Them In or On Wall Mounted Plastic Milk Crates source
Spray Paint Them White Then Mount Them In This Corner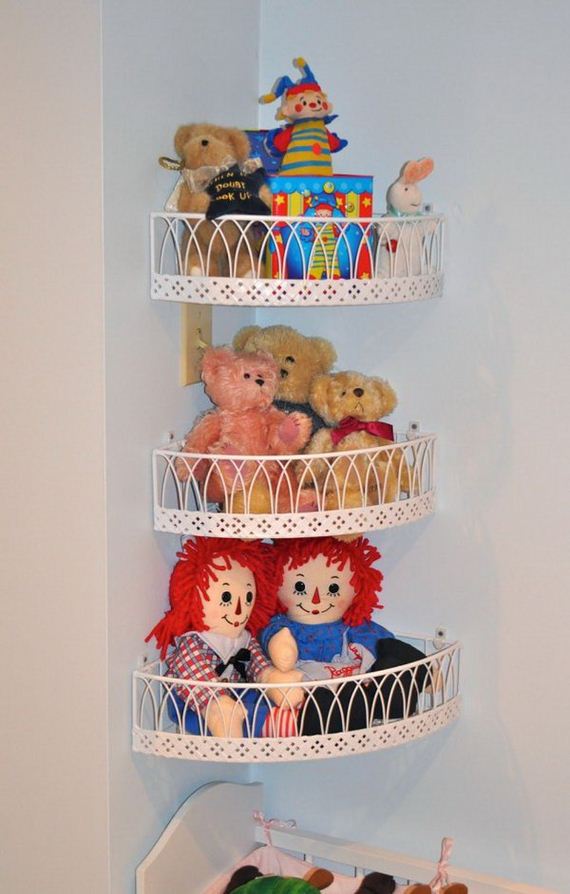 I think they look so pretty and are just adorable for storing dolls and teddy bears above the girl's baby doll furniture :source
Stuffed Animals In Shoe Organizers And Hang Laundry Baskets For Toys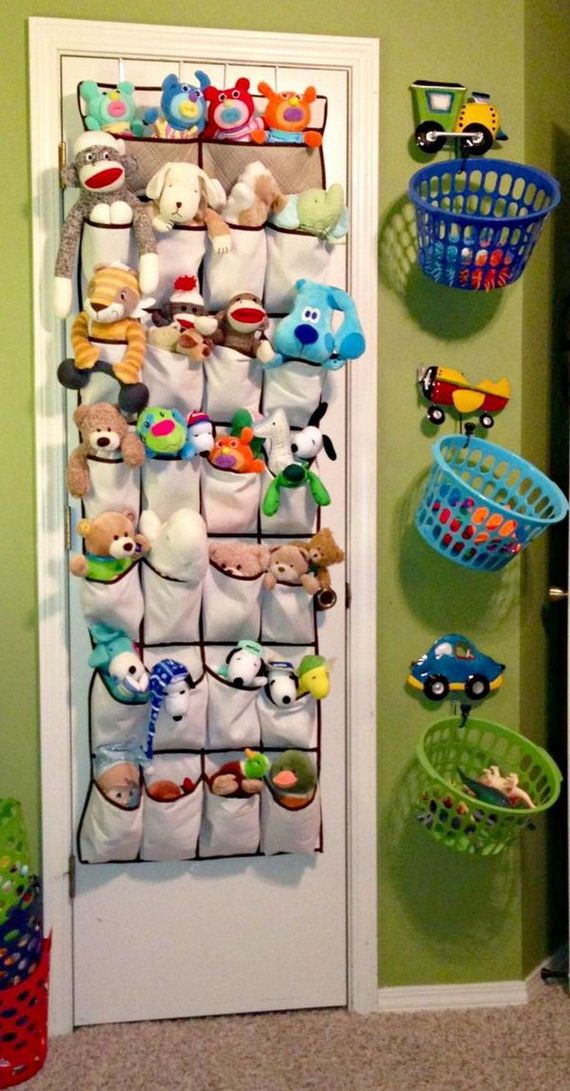 This shoe organizer would be another great idea for small stuffed animals. source
Stuffed Animal Chair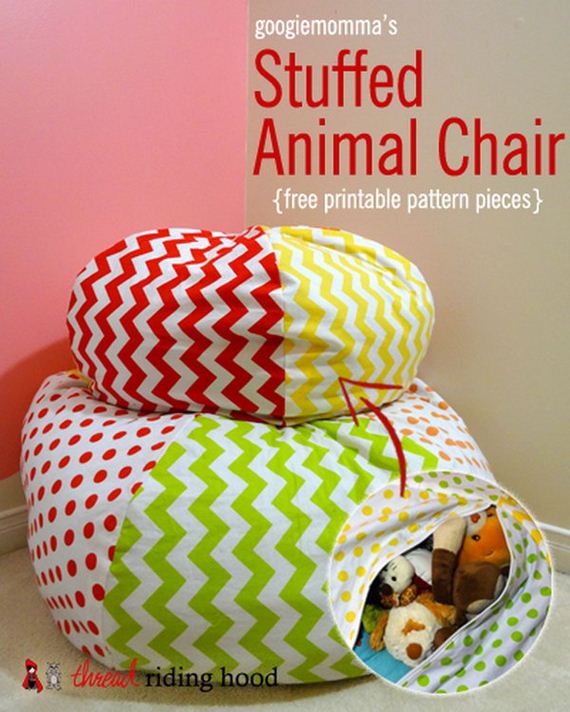 Tulle Hammock Storage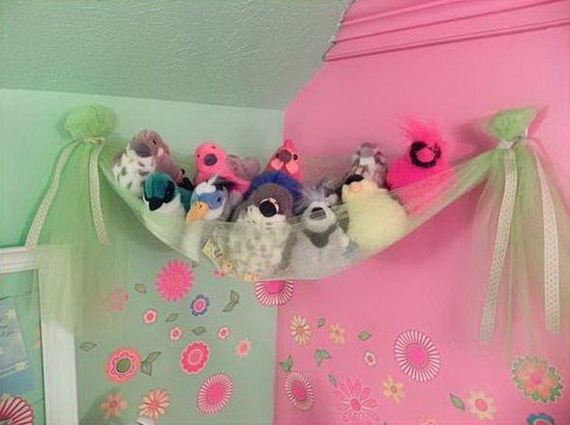 How About This Tulle Hammock? This tulle hammock makes great storage and it's an ideal charming decor piece for the playroom as wellsource
Cloth Sacks At The Footboard to Store Stuffed Toys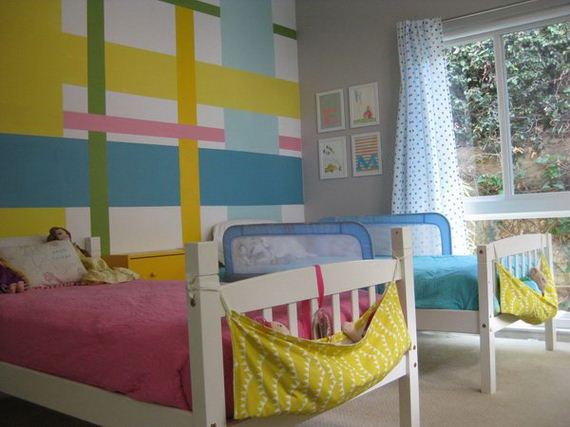 If you like sewing, you can take some fabric and make these cloth sacks and hang them at the footboard of your kid's bed. source
Reusing Planters to Organize Stuffed Animals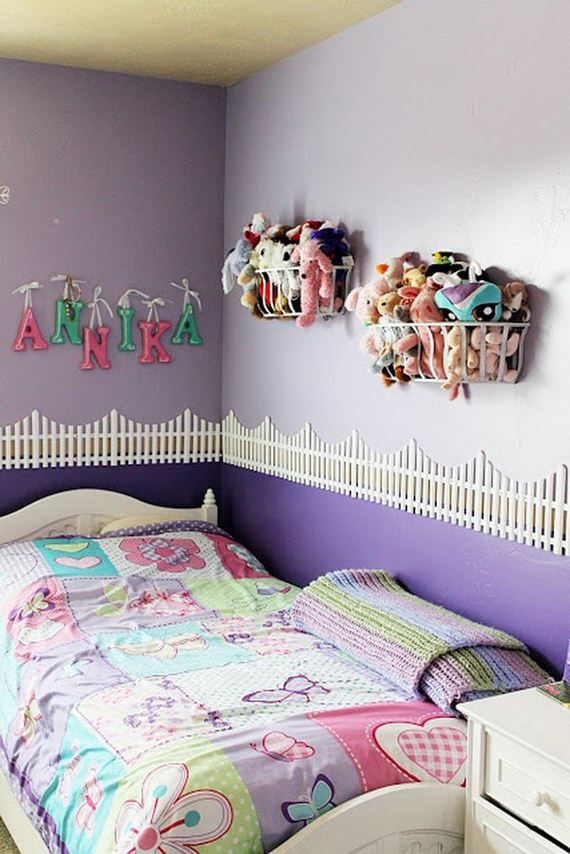 The old planters are always the perfect solution for storing the stuffed animals. You can spray paint them any color as you need to match the room. They look pretty cute on the wall and serve as room decor as well! source
Use a Plain Trash Can as a Place to Hold Stuffed Toys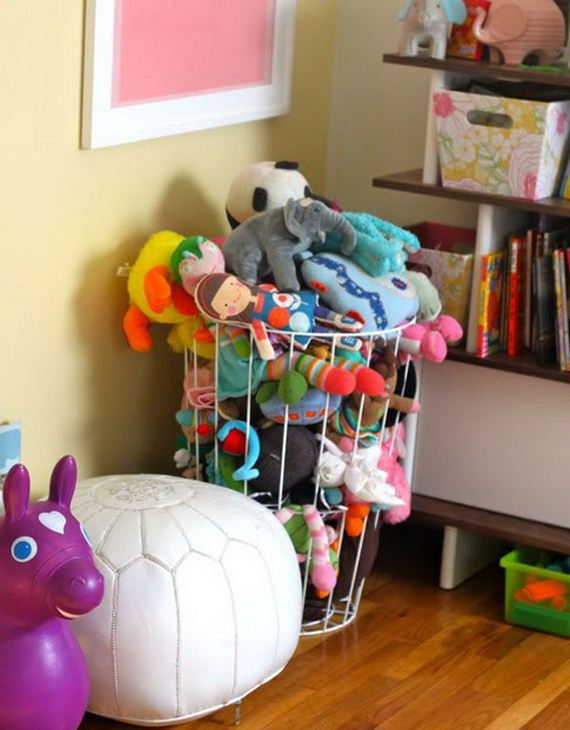 Hang a Rope with Clothespins for an Easy Stuffed Toy Storage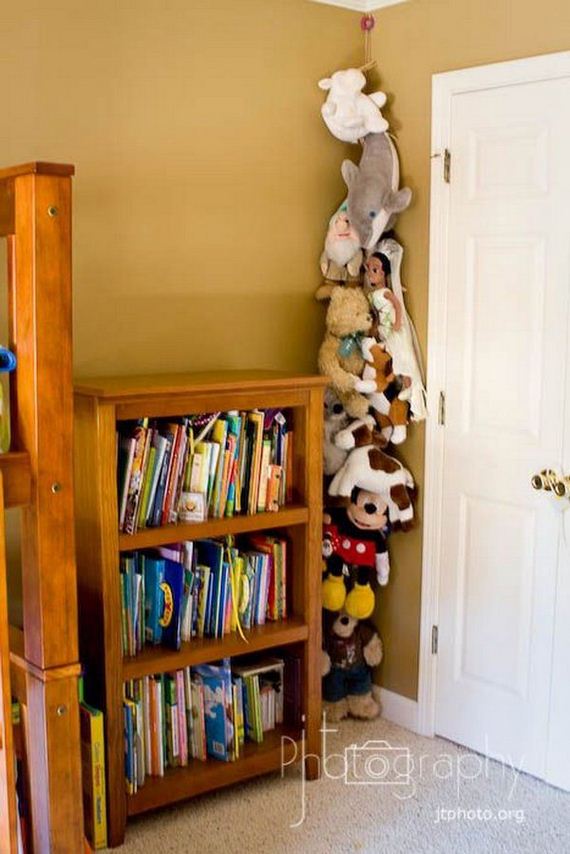 Hanging Fabric Storage Baskets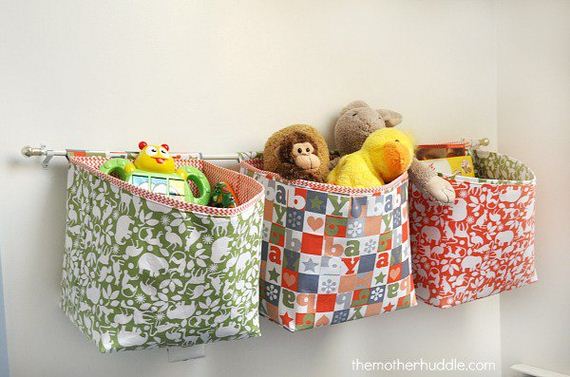 Get the tutorials here.
DIY Wire Hanging Storage Baskets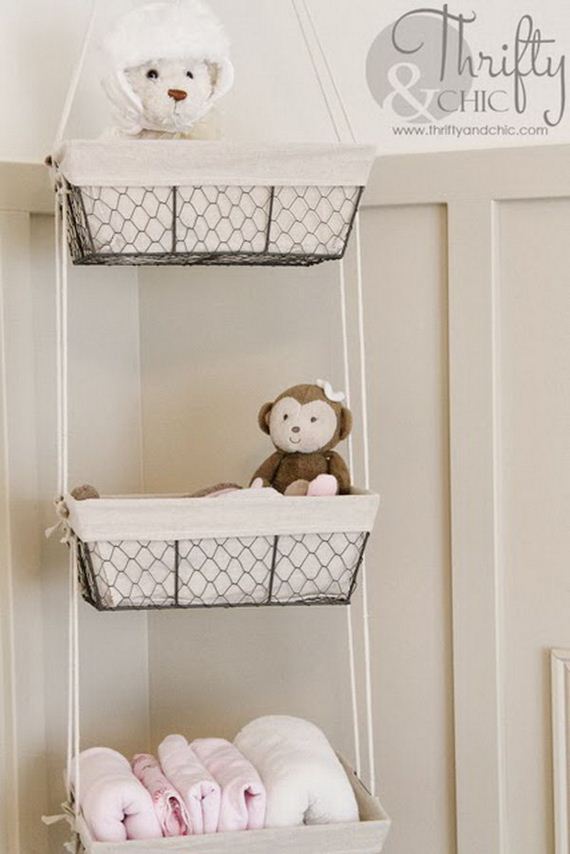 Tote Bag Storage Idea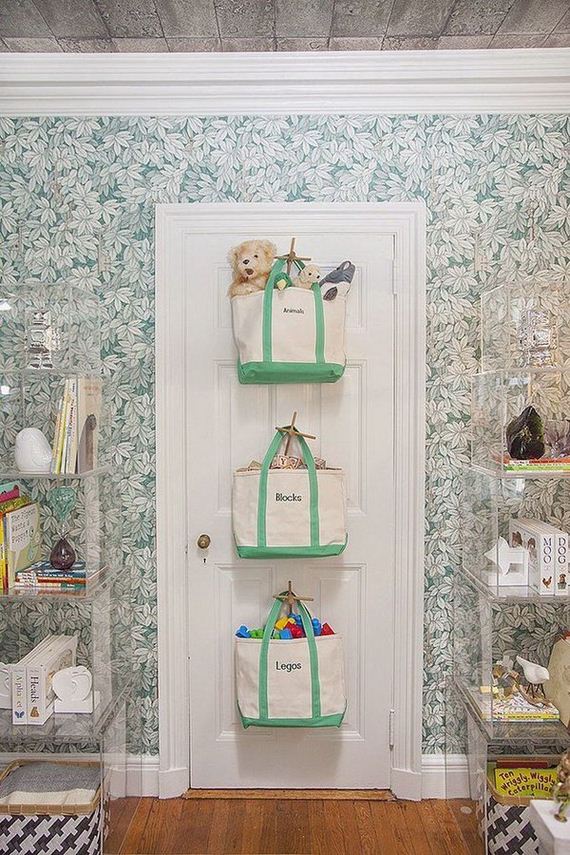 Hang tote bags on the back of the door in place of toy bins.source
IKEA Komplement Clothes Hanger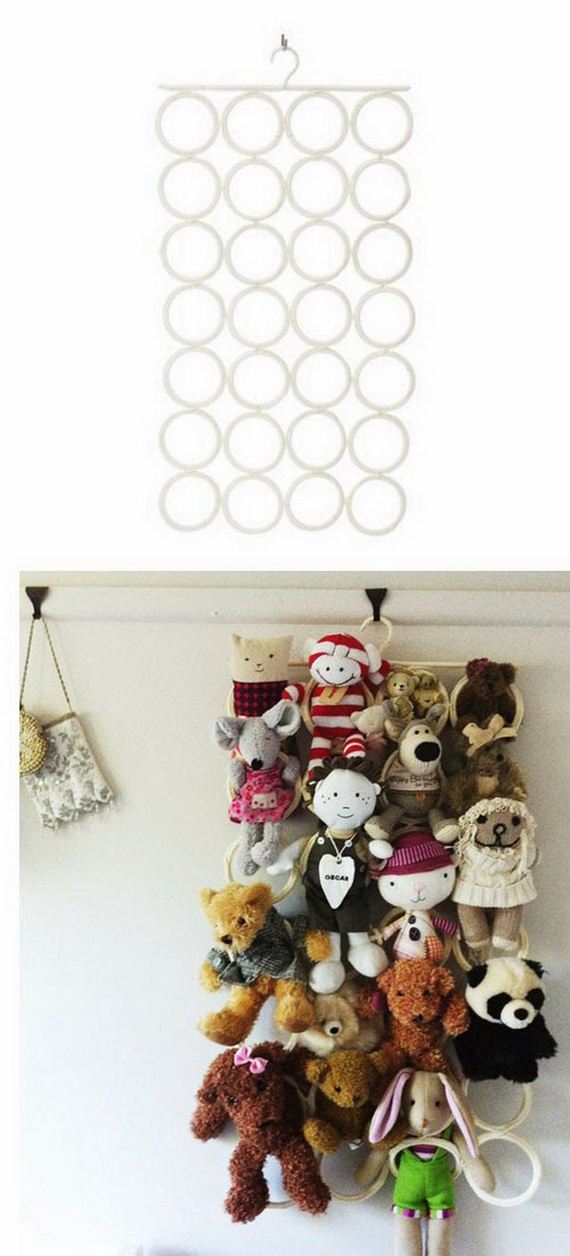 The Komplement multi-use hanger from IKEA is used as a way to organize stuffed toys. source
Organize Some Small Wire Baskets On The Wall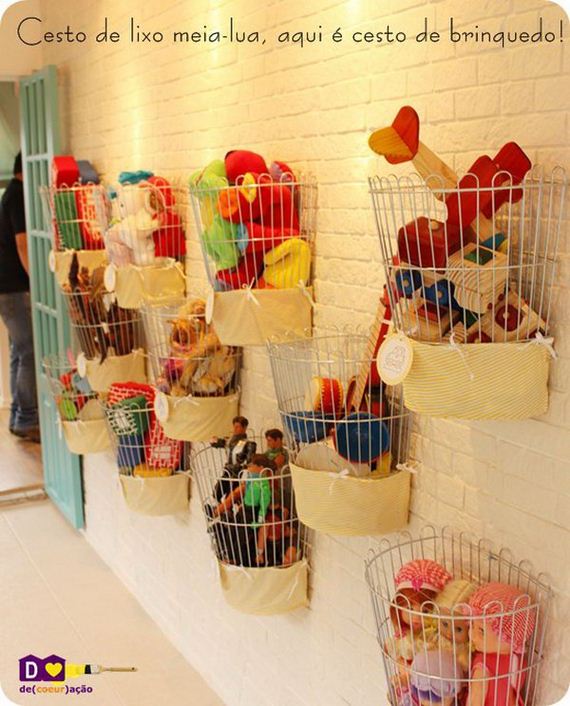 They can also served as the kids' home decor.source
Wall Mounted Buckets Serve as Cute Storage for Stuffed Animals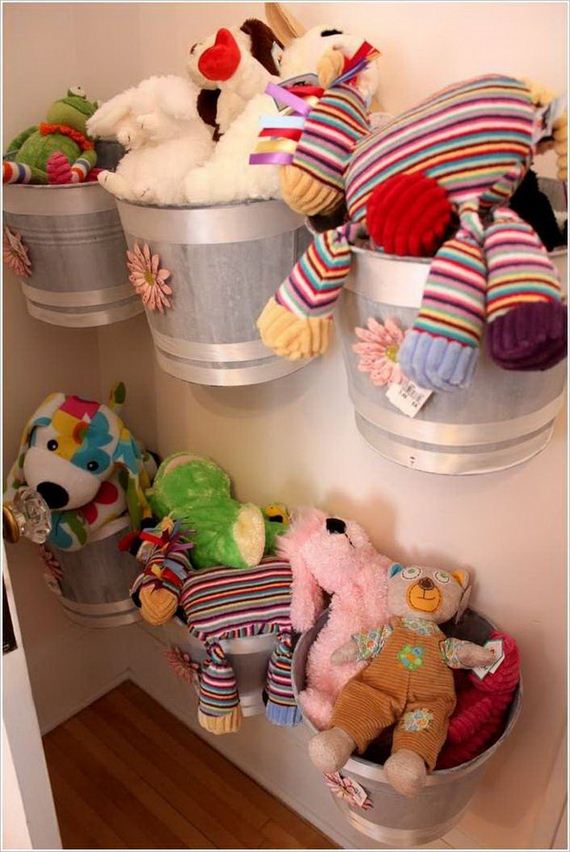 See morehere.
Reuse The Old Ladder As Stuffed Animal Storage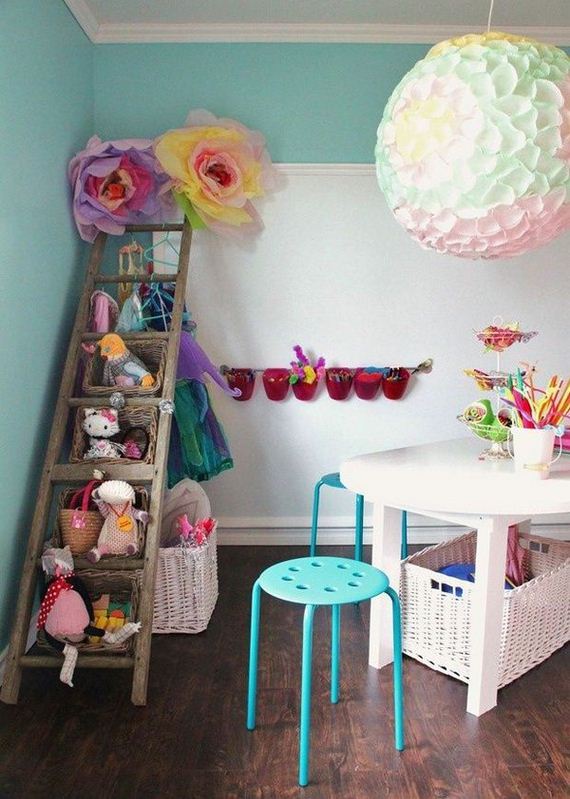 Love this one! So simple! Reuse the old ladder as stuffed animal storage & dress up clothes all in one!source
---
---