Incredibly Useful Life Hacks
Incredibly Useful Life Hacks
---
There's bound to be something useful here for everyone to use in their every day lives. These little gems of DIY ideas are bound to surprise and amaze you!
How to Wash and Whiten Yellowed Pillows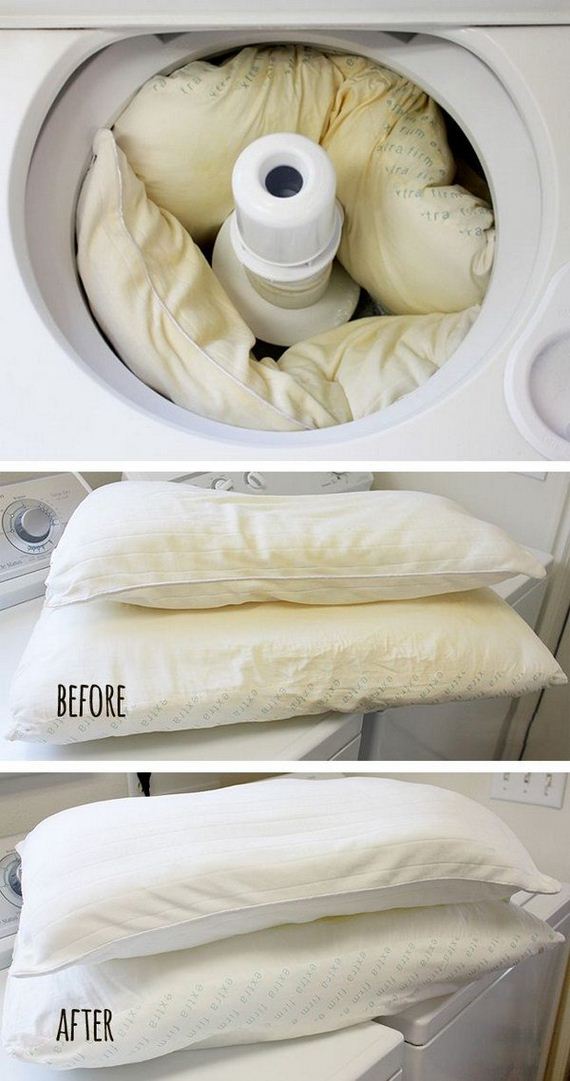 Are you getting enough of the yellowed pillows in your home? Here is an easy tutorial shows you how to wash pillows in your washing machine?! And they come out bright white like they're brand new again! It really does work and you are worthy a try! Tutorial via onegoodthingbyjillee
How to Cut the Wine Cork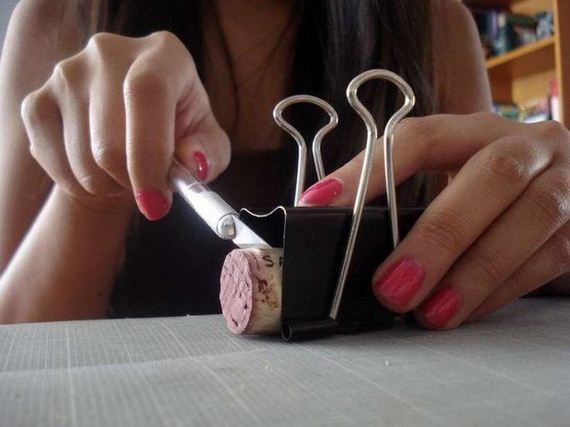 Wine corks can be turned into many creative and beautiful crafts for home décor, kids' crafts, accessories, tools and more. But cutting wine corks must be the hardest time because they easily crumble under pressure. Here's a great tutorial on how to rapidly and safely cut wine corks. And please soak corks in hot water for 10 minutes before cutting them. Via instructables. See more beautiful wine cork crafts via.
How to Remove Paint From Hardware without Paint Strippers
If you want to strip paint from metal without the nasty fumes and mess of chemical strippers, just fill a slow cooker with water and set the dial to high. The heat and moisture will soften the paint, and often it will fall off as a single piece. Tutoiral via familyhandyman.
How to Remove Calcium Build Up from Faucet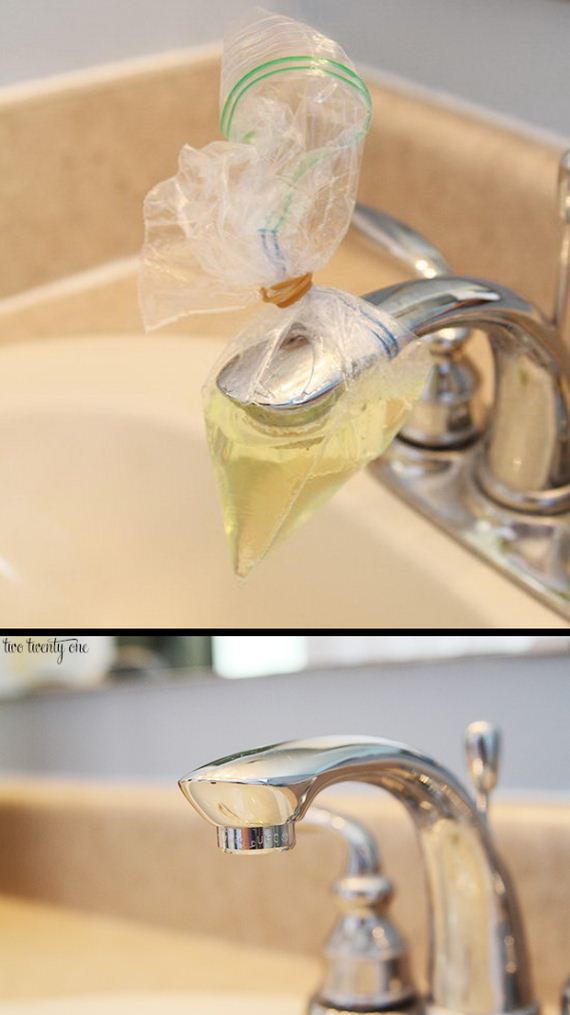 Remove calcium build up from faucet using a plastic baggie filled with CLR and water. You'll find getting your faucets clean and sparkling again is so simple! Tutorial via twotwentyone
How to Easily Remove Labels off of Anything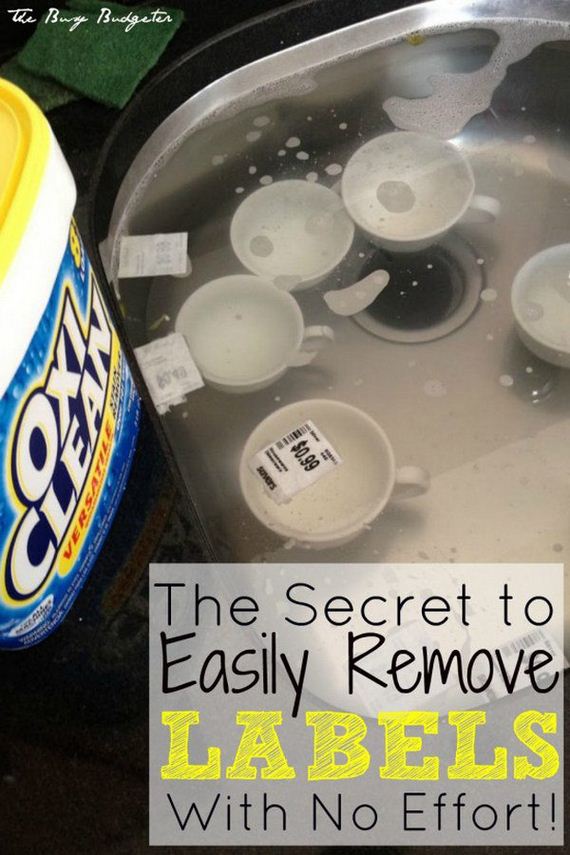 Remove labels with no mess. Just stick them in the water with oxy clean and they float right up to the surface! Tutorial via busybudgeter
How to Drill Glass Tutorial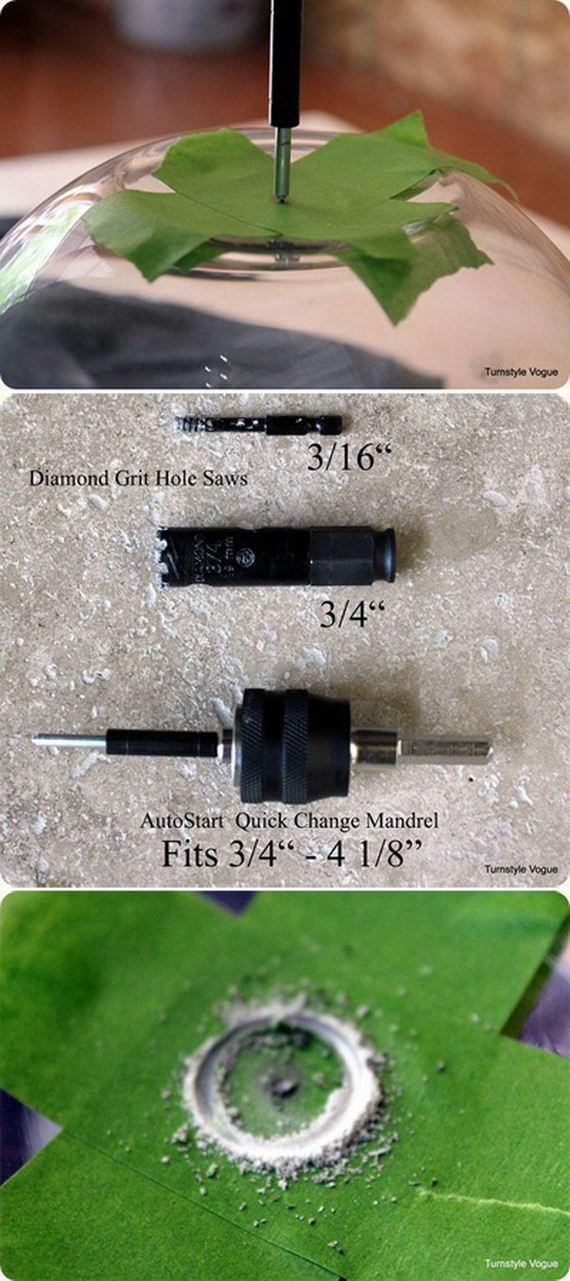 Glass crafters often find that they need to drill holes in glass to complete their project. This tutorial with drill bit pictures and process will surely help you. Tutorial via turnstylevogue
How to Flatten Glass Bottles in a Kiln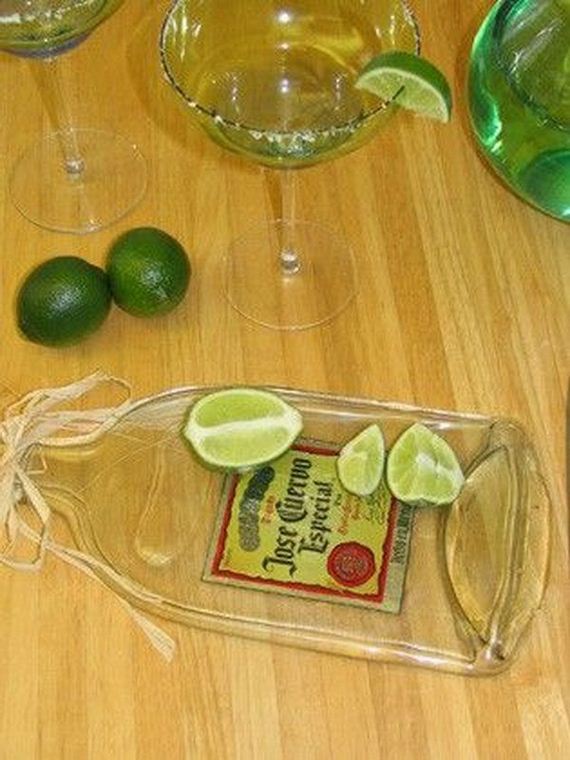 Flatten glass bottles in a kiln to make cutting boards or small serving trays! Detailed tutorial with great pictures to make your own serving trays from wine bottles. Via ehow
How to Remove Spray Paint from Your Skin with Coconut Oil and Baking Soda

Throw away those toxic cleaning products. Just use coconut oil and baking soda to clean spray paint from your skin. Simple and natural! Tutorial via mom4real
How to Tint Mason Jars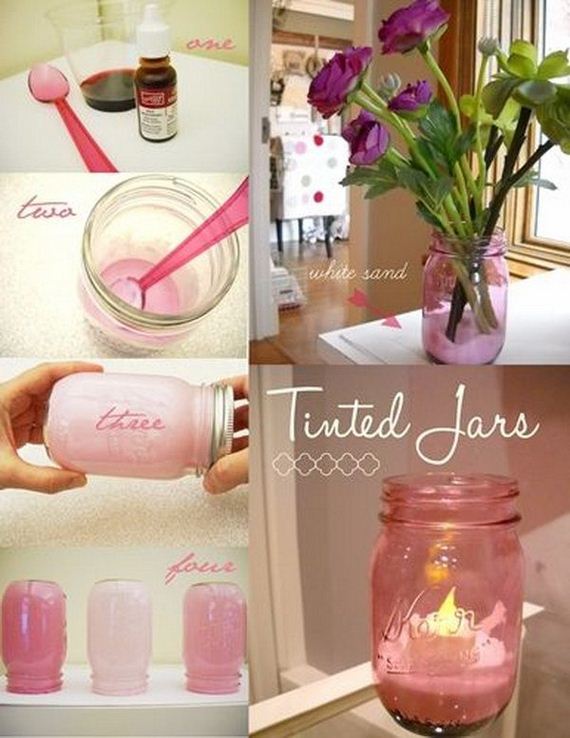 Learn how to color tint mason jars into beautiful vases in minutes with this easy tutorial. Via source
How to Easily Make a Bow

Tutorial via funsubstance
Make a Paper Mache Pumpkin for Fall with Balloon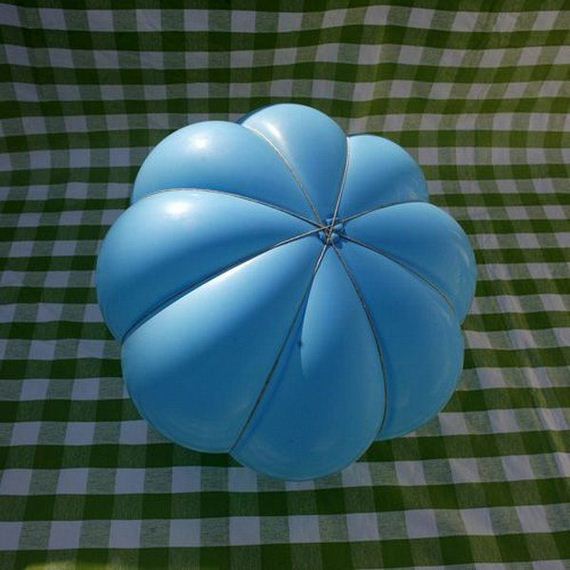 Pre-shape the balloon with string before you begin covering with paper. Tutorial via instructables
Creative Veggie Stamps

Use flower heads, fruits, and vegetables to make cool watercolour style abstract flower print shapes on cards, paper, or fabric. And you can use this simple way to make any pattern you like. Tutorial via passionforpaperandprint
How to Make Your Own Antique-Look Mirror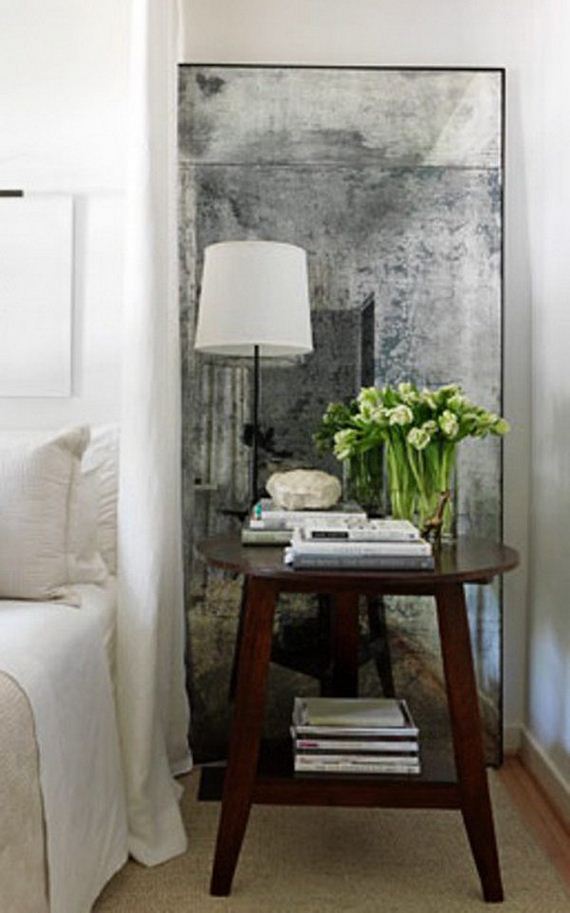 You can use a mix of hydrochloric acid and water in a spray bottle to make your own antique -look mirror. Check out this very good tutorial. It can be done with any regular mirror. Tutorial via salvagesavvy
How to Make Chalkboard Paint of Any Color

Do you know chalk paint is that it is very easy and inexpensive to make yourself. See the directions show you the steps for how to make chalk paint from clumsycrafter
How to Get Rid of Paint Spills, Splatters, and Mistakes Even after They've Dried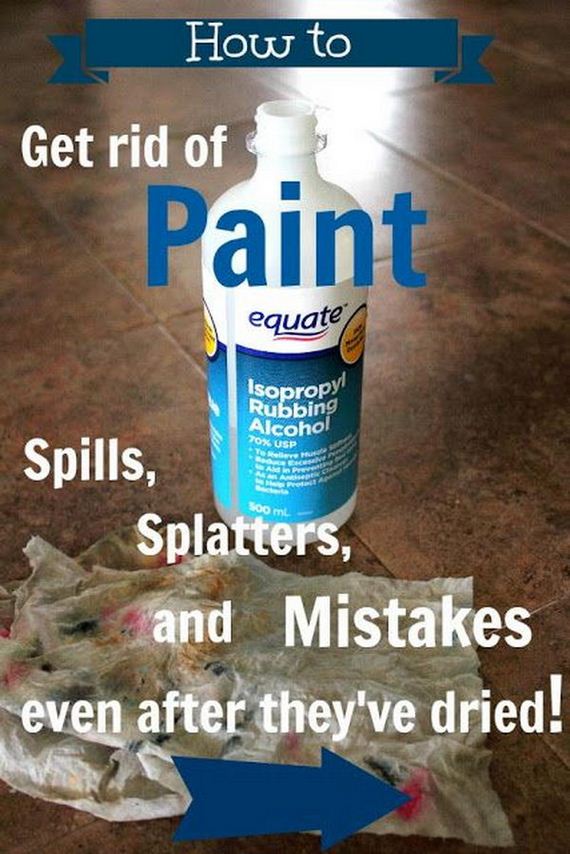 Use rubbing alcohol to easily get rid of paint spills, splatters, and mistakes even after they've dried. Tutorial via creeklinehouse
How to Easily Clean Stove Grates (No Scrub Way)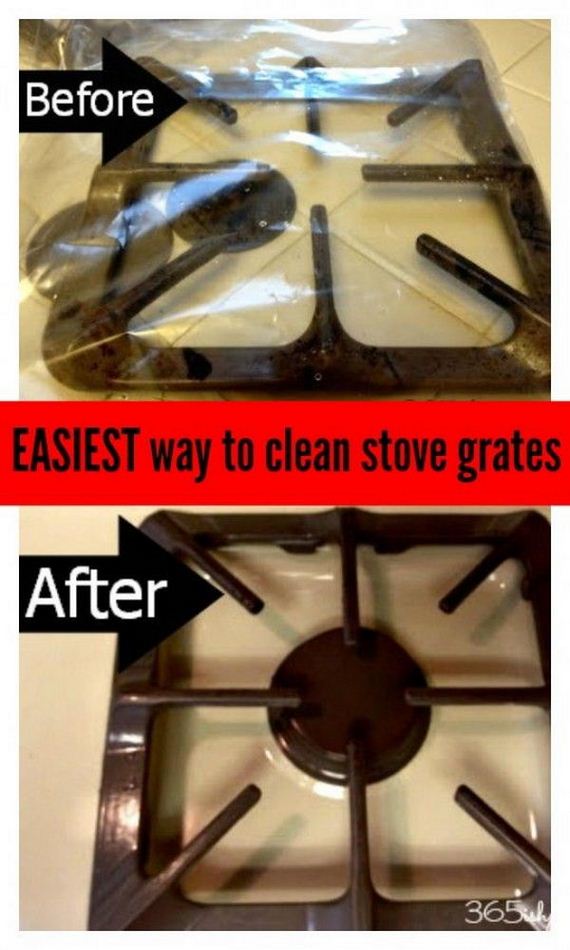 Use gallon zip lock baggies and 2-3 tbsp ammonia to really clean your stove grates. Just place in an airtight bag with ammonia, leave outside overnight! It really works! Tutorial via 365ishpins
How to Paint the Perfect Stripes

Stop the paint bleed when you paint stripes? This great tutorial will show you exactly how to get a perfect line when you paint stripes on a wall. Tutorial via diyfunideas
How to Fix Dents in Wood Floors or Furniture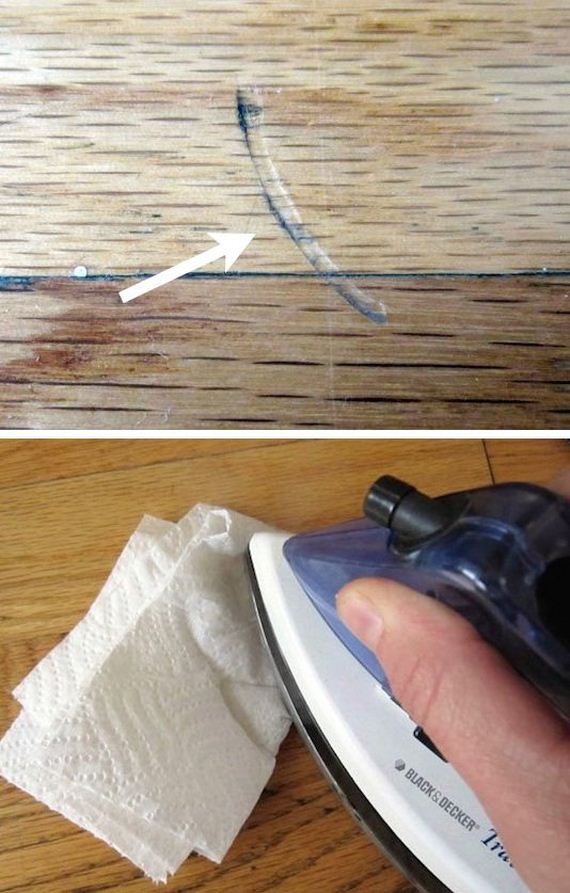 Use an iron and a wet cloth or paper towel to fix the dents in wood. The steam from the iron and wet cloth or paper towel expands the wood where it has been dented in. Tutorial via apartmenttherapy
How to Easily Fix a Door That Won't Close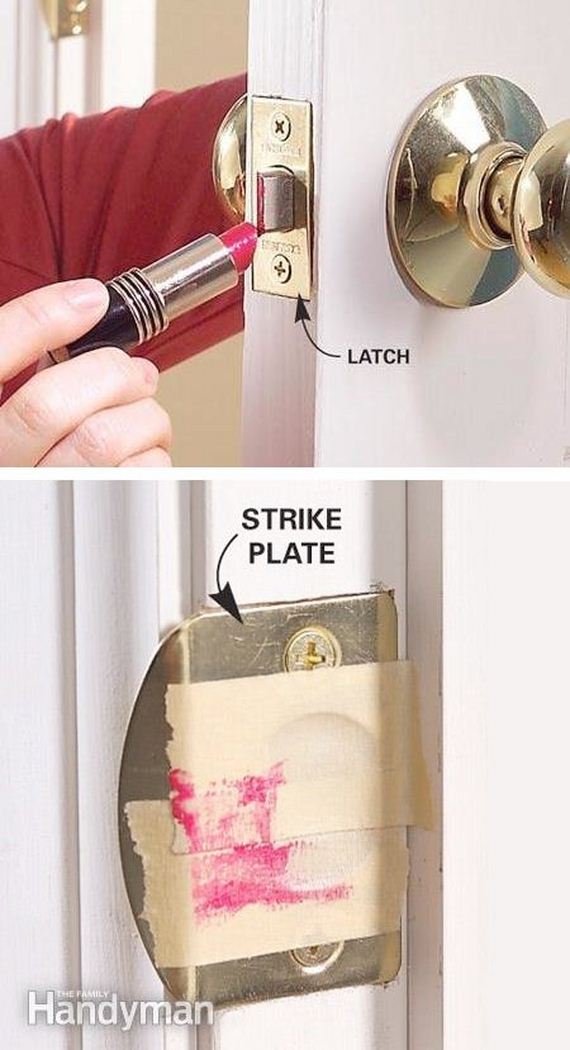 Bifold doors often start to sag after several years and they won't shut or latch properly. The adjusting is not an easy task. But with this method the fix is usually easy. Use a bit of lipstick and tape to test and see exactly where your strike plate needs to be moved to get the door to close properly. Tutorial via familyhandyman
How to Remove Stripped Screws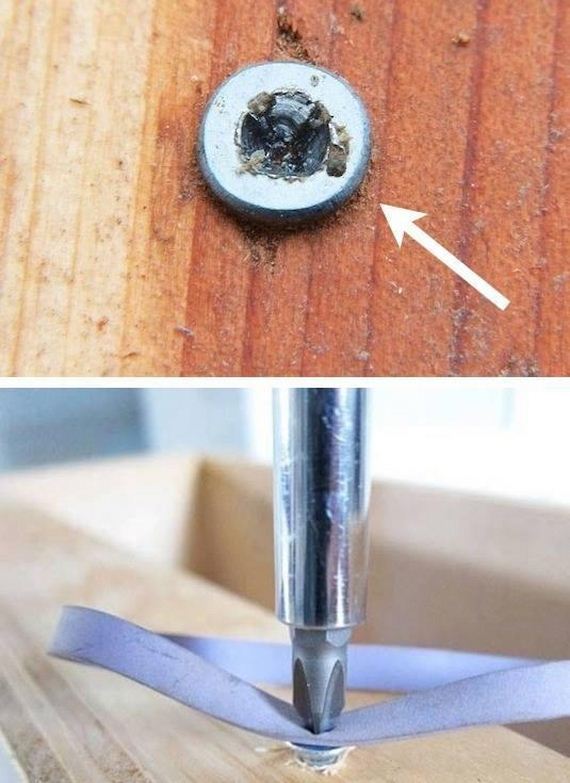 Place a sufficiently wide rubber-band on the top of the screw head to give it enough grip to remove. Tutorial via todayifoundout
How to Easily Clean Your Iron with Only Salt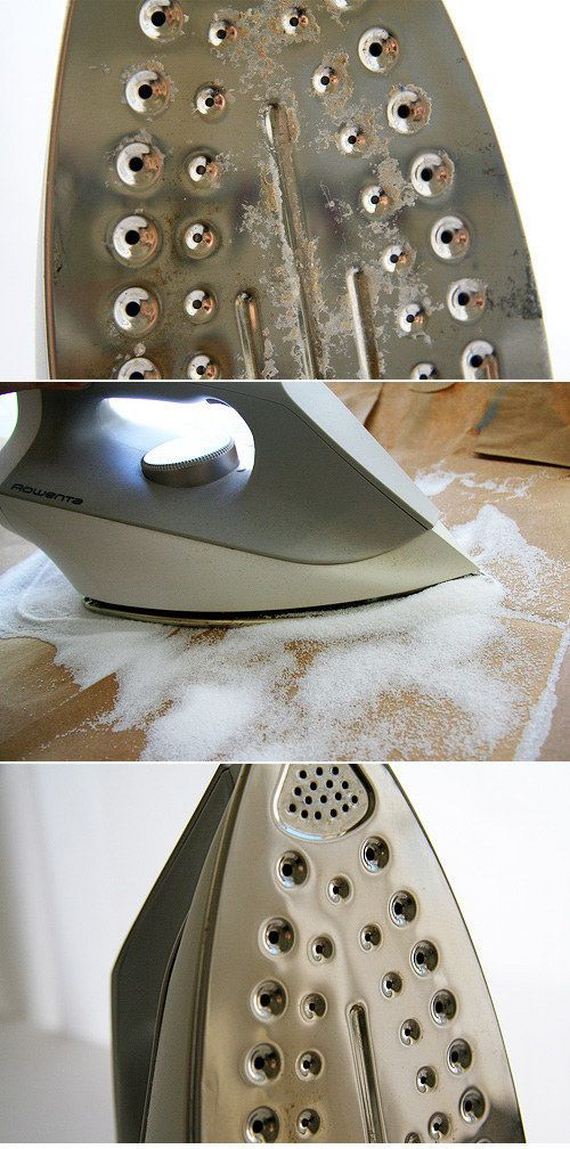 1. Sprinkle a generous amount of salt onto your ironing board. 2. Turn your iron to the highest setting, ensuring that the steam option is set to off. 3. When heated, iron over the salt–what happens is that the dirt sticks to the salt, leaving nothing but a wonderfully, shiny iron! Tutorial via promaids
How to Fix a Cracked iPhone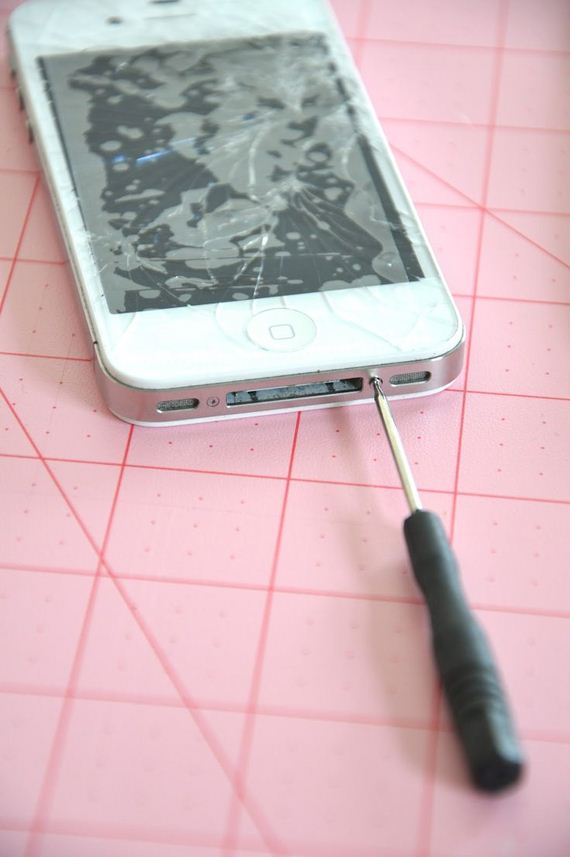 Having your broken screen fixed at an Apple store will cost you at least $200. Replace your iPhone broken screen with a kit from Amazon for 25 bucks and a great tutorial! This would really helped & save your money. Tutorial via littlebitfunky
---
---