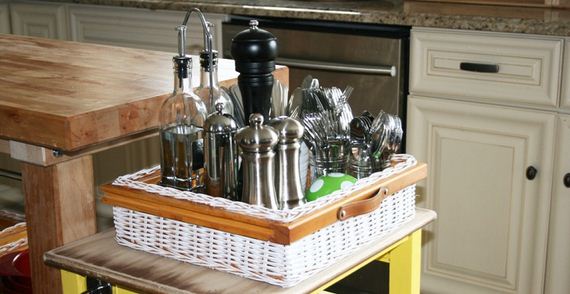 The Best DIY Kitchen Organization Ideas
The Best DIY Kitchen Organization Ideas
---
Here you have 10 different choices – from improvised drawers to storage bars, shelves, racks and many more. At the end, don't forget to enjoy this useful article and to share with us which one caught your eye the most.
1. Basket to Organize Your Kitchen Counter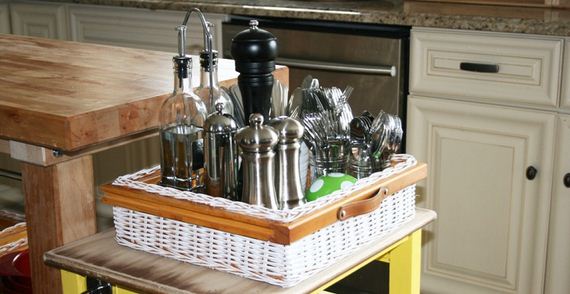 via msuhomes.com
This is an easy project that allows you to see all your kitchen stuff in one place – salt shakers, forks, spoons and knifes, and all their different sizes. All you need is one basket or lazy Susan that will stand in a visible place so they will be easily accessible for you. 
2. Breakfast Storage Bar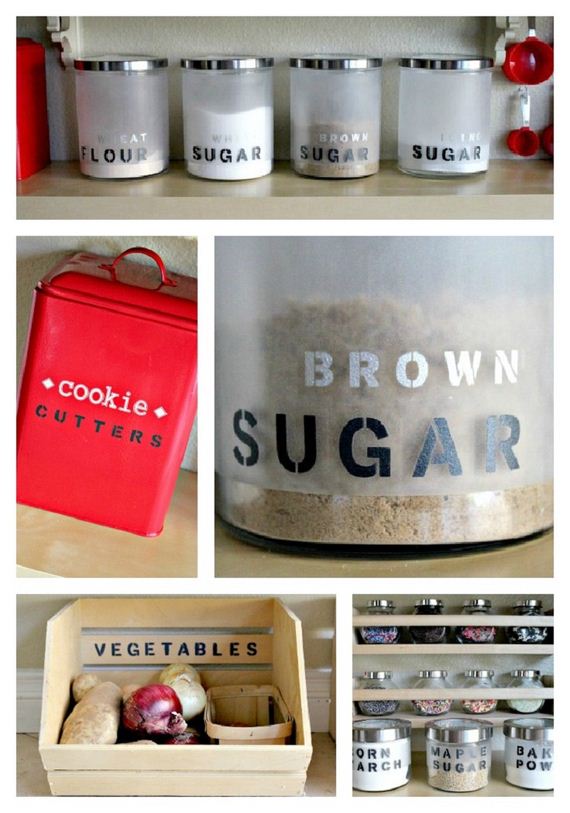 via tonyastaab.com
To make your small kitchen more organized and accessible you can use this idea as a big help. You just need your unused breakfast bar space and turn it into a beautiful place where everything is perfectly stored. You need shelves and containers, and to make things even more fun find glass paint and write on every jar and container for what it is meant for. Open the link to find the full instructions.
3. Organize Your Kitchen – DIY Chalkboard Labels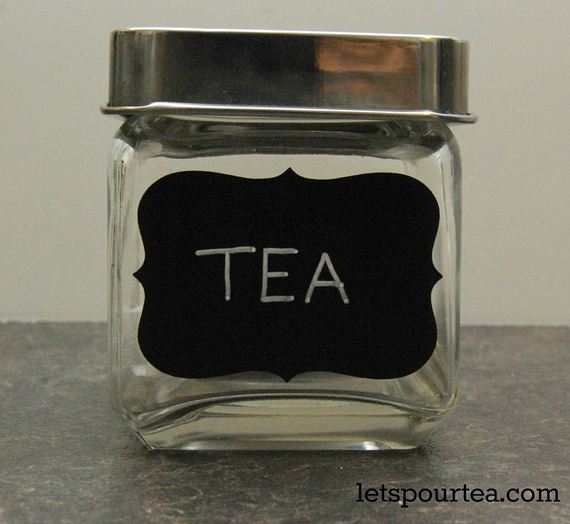 via letspourtea.com
If you have trouble finding what exactly is in your canisters, then it's time for labeling! You will need some black contact paper, cut it in the shapes and sizes that you want, and write above it. The last step is stick it on your canisters.
4. Craft Storage and DIY Pinboard Tutorial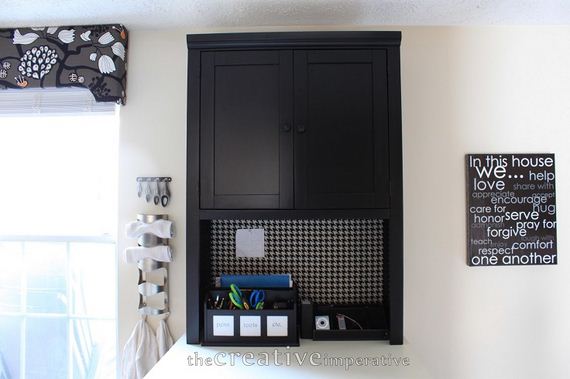 via thecreativeimperative.blogspot.com
To use your blank walls in the kitchen you can put something like this half-opened little cabinet, and in the opened space make a fabric covered pinboard that will serve you to pin all the important notes. Open the link to fin the whole tutorial.
5. Use Rail to Store Cleaning Products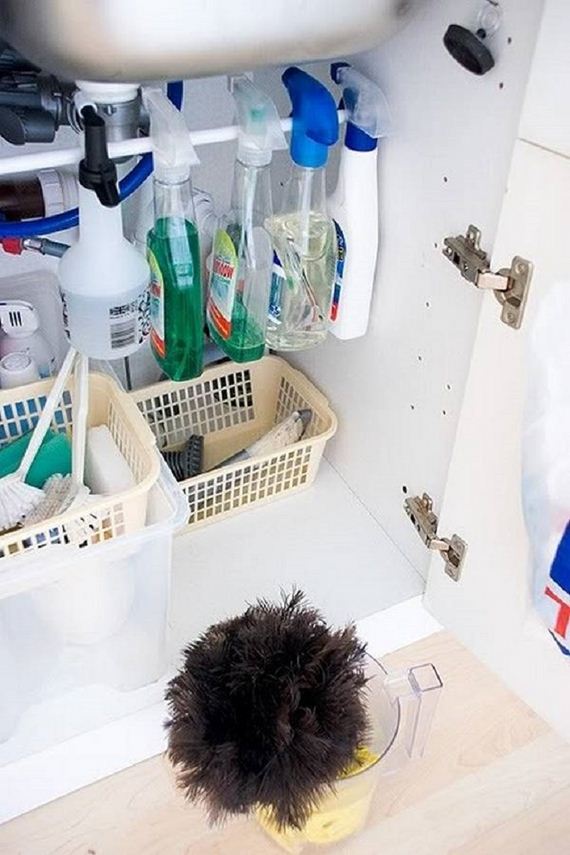 via hackthelife.net
This super easy idea can be done in a second and will save you a lot of space. Just place a rail under your sink so you can hang all of your cleaning products that have a spray pump. Simple as that!
6. Magnetic Space Racks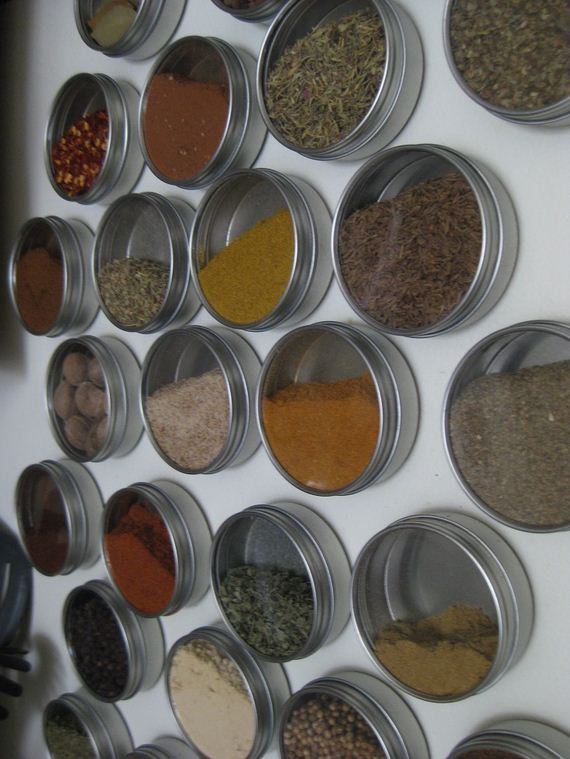 If you have tiny kitchen and want to save space as much as possible, then magnetic space racks are the perfect solution for you! Just find little container like the ones on the picture, fill them up whit the kitchen ingredients you use the most, place magnets in the back and attach them on the fridge. A perfect storage on a budget!
7. DIY Canned Food Organizer Tutorial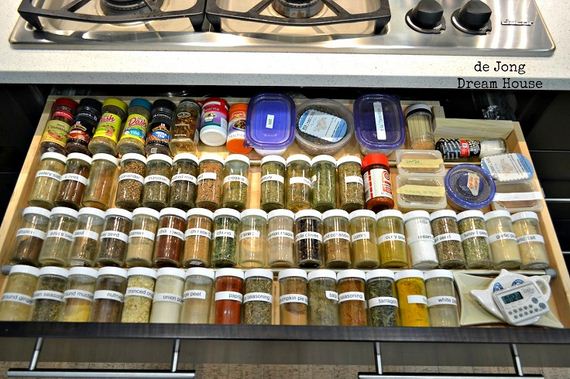 The best way to keep your spices is to keep them together, so they will be much more accessible when your cooking. Keep this idea in mind, and make yourself a spice drawer, and the best place to put it is under your cookpot, so if you have that space available, don't hesitate a bit, it will be worth it!
8. Pantry Shelves – DIY Detailed Tutorial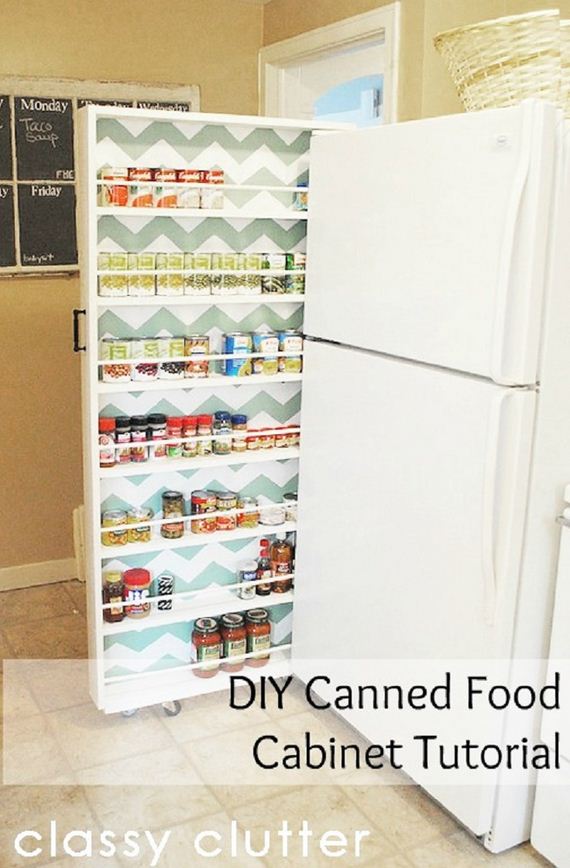 Make yourself a fancy organizer for your canned food, and you will definitely consider this idea if you have small kitchen and not enough space for everything. Open the link to fin the full detailed tutorial for this cabinet.
9. DIY Pallet Shelf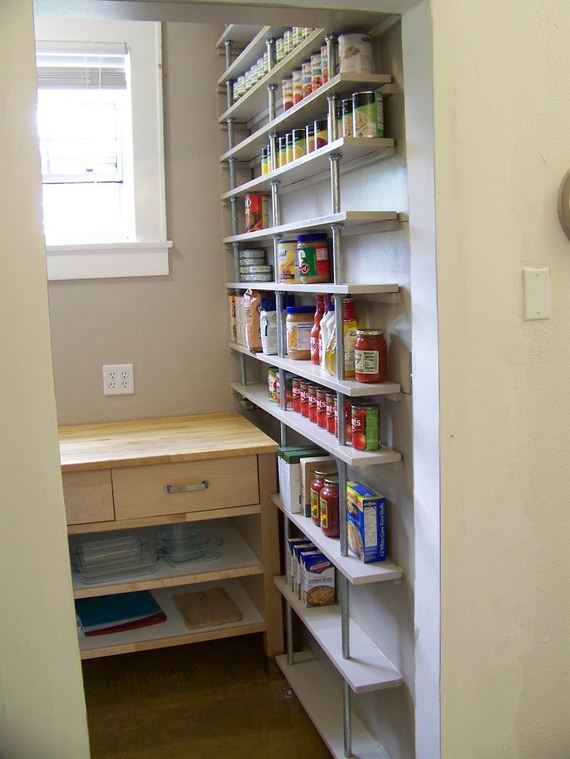 via ckandnate.com
Everything that comes to your mind which doesn't have a proper space in your kitchen, now it can have it with this simple solution. Open the link below the picture to get all of the instruction that you will need for making this useful pantry shelves done.
10. Compact Wine Rack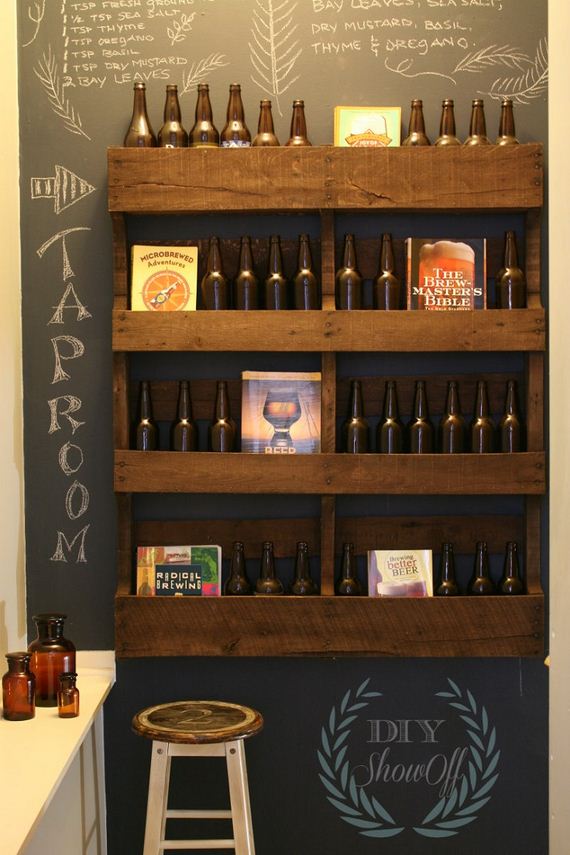 via hometalk.com
If you are wine lover and have different kinds of wines in your home, we guess that storing them can be a tough task to accomplish if you have a small space in your kitchen. For that matter, we thought that this will be a big help for you, so find out how to make this wine pallet rack.
---
---