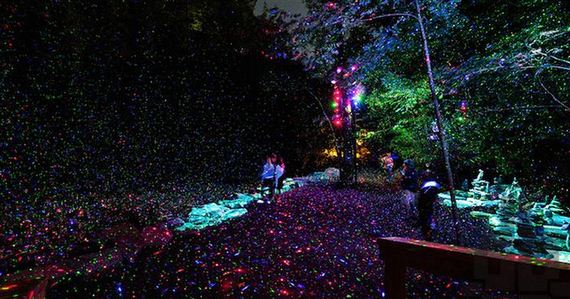 This Real Life Enchanted Forest in Quebec is Absolutely Breathtaking
This Real Life Enchanted Forest in Quebec is Absolutely Breathtaking
---
Parc de la Gorge de Coaticook in Quebec, Canada is already very popular with hikers, particularly because it can boast about having the longest suspended walking bridge in the world, but it's something a little more magical that's drawing in tourists these days.
The park commissioned the Moment Factory studio to create an unbelievable sight: Foresta Lumina. Thanks to their stunning work, the forest takes on an eerily magical feel as a result of the decorations and illumination, which charm the forest each night.
After the sun has set and darkness falls, the forest is completely transformed. It is absolutely gorgeous.
The trail is two kilometres long, winding through the illuminated forest. Visitors have the opportunity to explore the park and take in the beauty of Foresta Lumina each night.
Guests are not only exposed to the incredible illumination, but they also encounter characters from local myths and legends throughout their journey.
The forest looks absolutely incredible, and if you're in the area, it's definitely worth a visit before October when the exhibit ends. If you can't make it, check out this awesome video, which will give you an eerie sense of what Foresta Lumina is like.
---
---