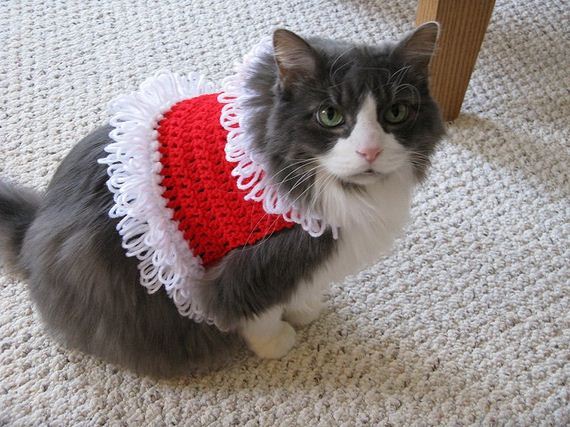 Cute and Warm Pet Crochet Patterns
Cute and Warm Pet Crochet Patterns
---
Check out these 15 hilarious but toasty warm sweaters that will keep your pets warm until the days get longer and the sun gets warmer.
1. Santa pet sweater by DIY Maven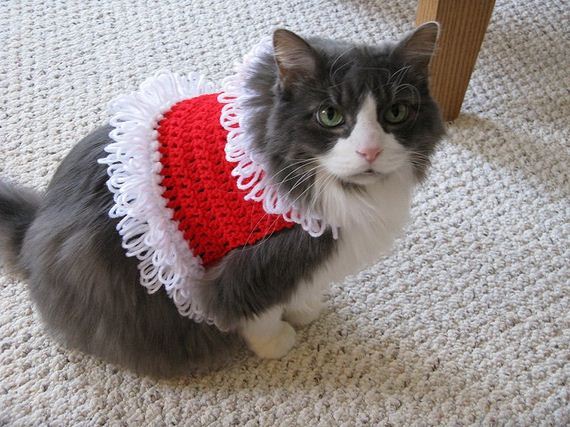 Christmas might be over, but that doesn't mean you won't still find us chasing the cats around the house trying to dress them up like Santa or Mrs. Clause. In fact, we actually just made this hilarious little fringed sweater in real life and, even though it's past December 25th, our cat was wearing it this morning! We do love a good pet sweater that gives us toasty furred friends and some funny novelty all at once.
2. Bebe's holiday pet sweater by Nadia Fuad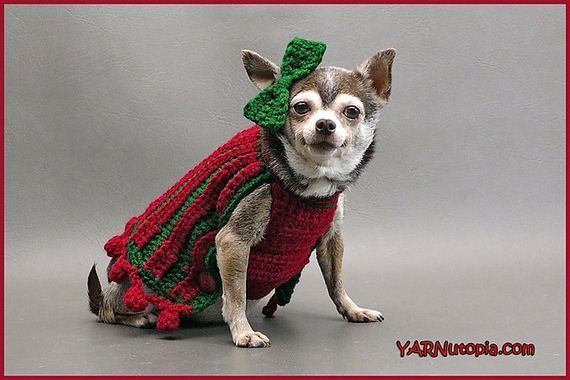 This little sweater for tiny dogs or cats might not be specifically holiday themed in it's pattern, but we sure do think it's cute looking in classic Christmas colours! If you'd rather not have your pets look like they're feeling a little too belatedly festive, try making this same cute pattern but in differently coloured stripes.
3. Fur trimmed pet sweater by Crochet Kitten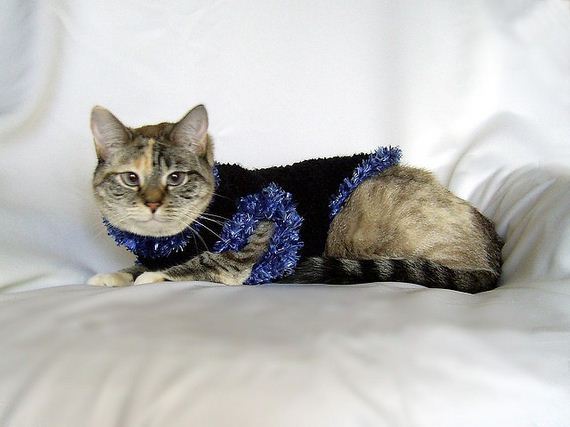 As if your pets don't have enough fur of their own already, this pattern suggests dressing them in more. To be honest, though, the effect of the fun fur against a cat or dog's coat is so funny that we don't even mind for a second. Try pairing the fur with another smoother, more tightly wound yarn to give the little sweater some contrast and really make the fur edges stand out.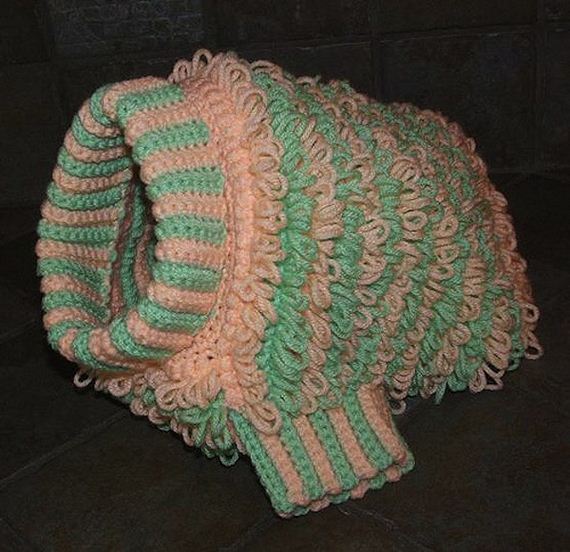 If you're going to dress your pet up in sweaters, you might as well go all out with the silliness, right? That sure seems to be the mantra that this pattern designer was going for! We think these little loops are nothing short of hilarious, especially in such novelty colours. Imagine how this garment would look on a hairless cat!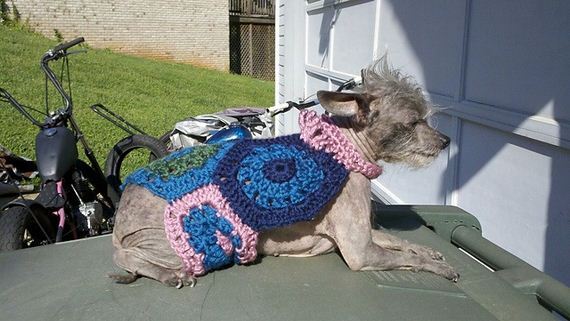 Does your little dog naturally not grow hair because of their breed, but you notice them shivering a lot? Then a warm winter sweater is exactly what they need! This hexagonal granny patch pattern is kind of hilarious looking as a sweater because it looks like a vintage afghan, but your chilly puppy won't mind one bit and it's a great way to use up some of the yarn ends in your stash!
6. Candy cane pet sweater by Alicia Moore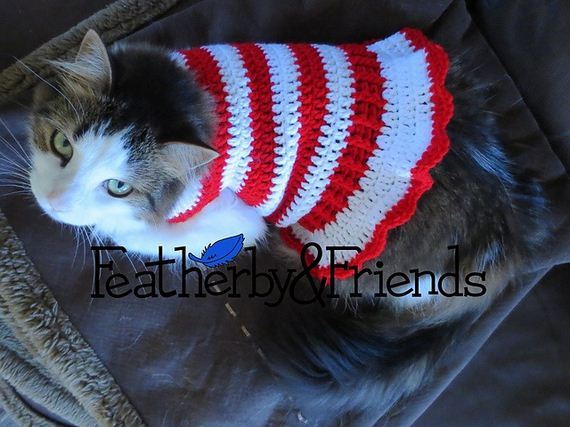 Are you still technically on Christmas holidays, so you're still feeling the holiday sweater vibe for your little furry friends? Then try stripes! We adore this cute little ruffling crocheted sweater that's supposed to look like the stripes of a candy cane. This design would look good on just about any pet you might have running around your home.
7. Bejuled pet sweater by Katie Rempe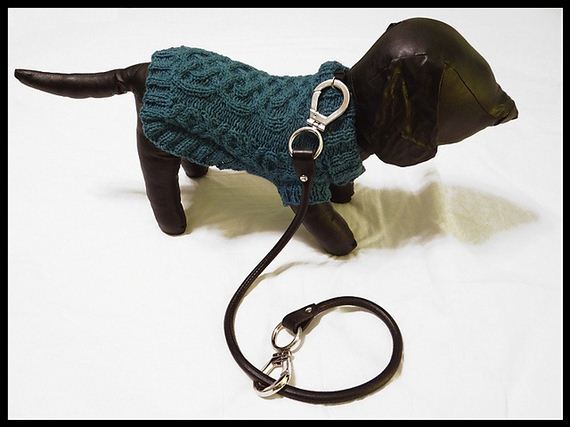 Are you looking for a design that's a little less Christmas and a little more classy? Then cables should do the trick! Try this adorable knit sweater that's particularly good for dogs because the bottom is open, so it won't interfere with their legs when you take them on walks. The cables might look fancy, but they're actually quite easy to do.
8. Autumn Stripes sweater by Stacie LaBean
Do you have some yarn ends in nicely coloured winter hues? Then crocheting stripes is an easy way to use them up! We love this little turtleneck sweater complete with sleeves and a full front to keep your pet extra toasty on fall, winter, and spring walks until the sun comes out. The pattern is simple enough but the stripes make it look almost intricate by the time you're done.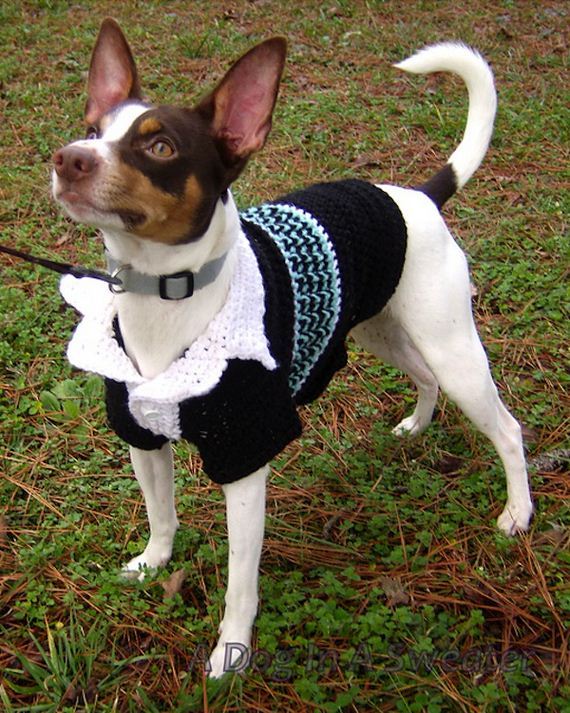 Maybe your pet has quite a personality and you'd like to make them a stylish little shirt to match, just to keep them even just slightly warmer this winter? Then this hilarious and adorable little polo shirt is a great option! We can't get over the fancy collar, especially since it's complete with buttons just like a real fancy blouse.
10. Flouncy Chicken sweater by Kris Moore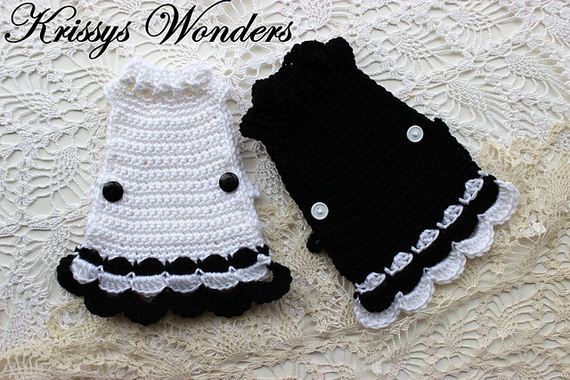 Yes, you did read that right: these ruffly little garments are chicken sweaters! Chickens do, after all, live in un-insulated huts and even they can get chilly despite their feathers. These sweaters are constructed so that they cover the chickens' backs and fronts but leave their wings free for comfort and ease of movement.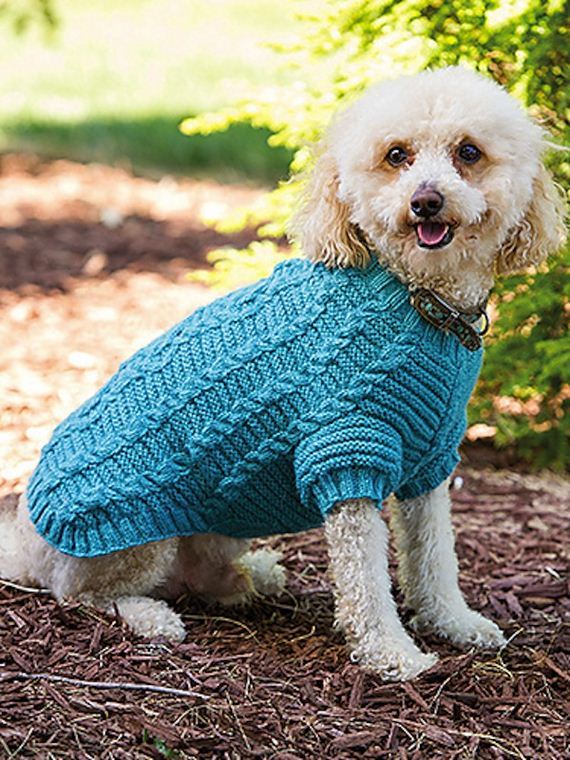 Did you like the cabled dog sweater we wrote about just above this, but you'd actually rather the garment you make your dog to have at least a little bit of a front, just so he's a little bit warmer than if only his back was covered? Then check out this adorable design! It's cabled in a way that's impressive but not too complicated and ribbed the other way for contrast.
12. Turtleneck sweater by Shiri Mor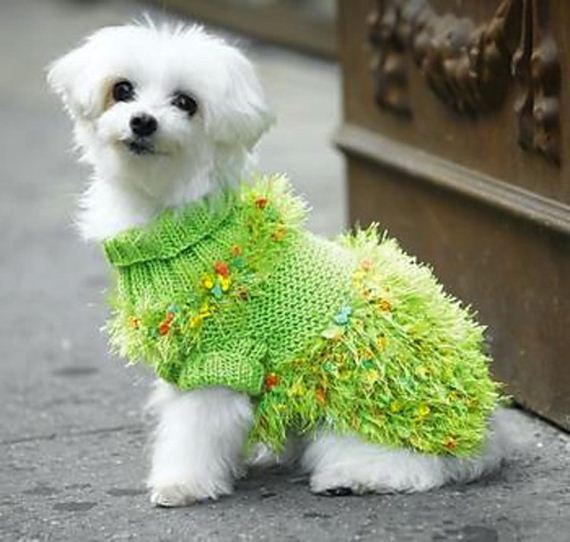 Were you a huge fan of the first fun fur option we included on our list but you think it's so funny that you actually wanted more fun fur to really make your pet a stylish top? Then this patter that features a whole furry half might be more to your taste! We love how smart the turtleneck looks and it'll keep your furry friend even warmer too.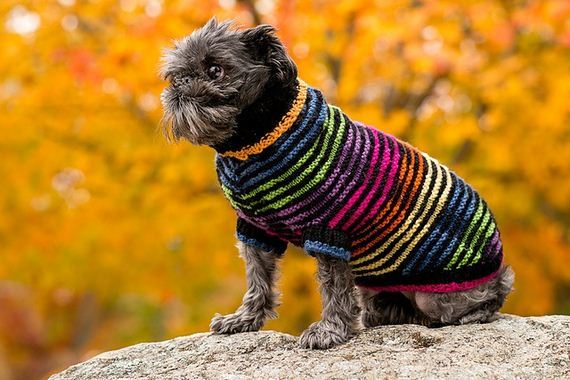 Did you like the the crocheted striped sweater we talked about above but you're better with a pair of knitting needles than you are with a crochet hook? Then here's an alternative for you! Just like the other, it's a great way to use up the coloured yarn ends in your stash and make them into something you'll actually use.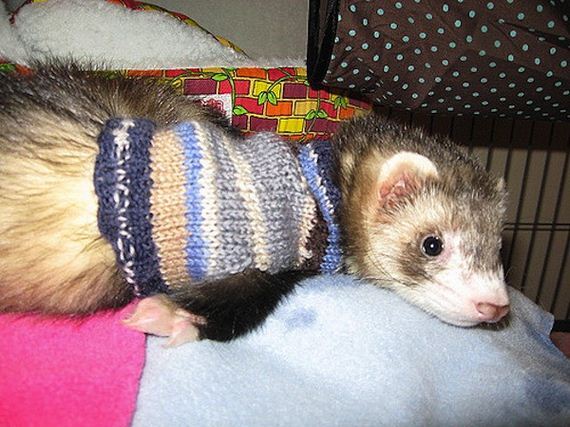 Dogs, cats, and hens aren't the only pets you can make cure little winter sweaters for! In fact, the smaller your pet is, the quicker you can make them a cute little sweater that will keep them warm all season. We adore the idea of making a teeny, tiny little sweater for a ferret to stop him from shivering and make him look quite smart indeed.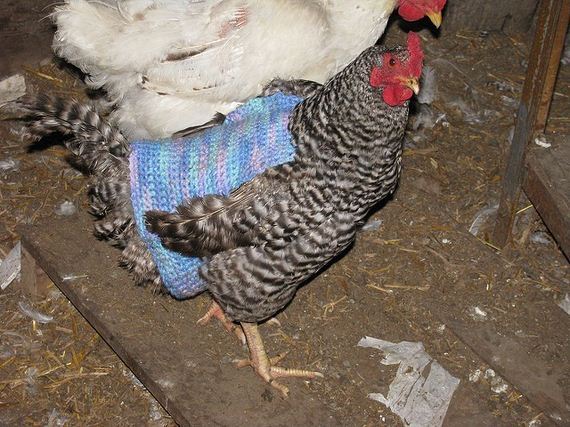 ---
---